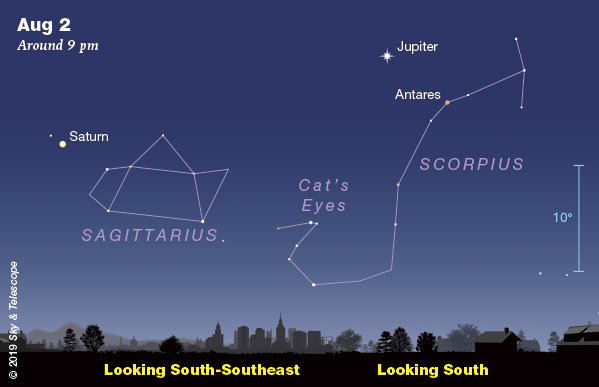 Friday, August 2
• Bright Vega passes closest to overhead around 11 p.m., depending on how far east or west you live in your time zone. How closely it misses your zenith depends on how far north or south you are. It passes right through your zenith if you're at latitude 39° north (Washington DC, Cincinnati, Kansas City, Lake Tahoe). How closely can you judge this just by looking?
Deneb crosses its closest to the zenith almost exactly two hours after Vega.
Saturday, August 3
• The Big Dipper hangs diagonally in the northwest after dark. It's starting to "scoop water," which it will dump from on high to become "spring showers" in the evenings a half year from now.
From the Dipper's midpoint, look three fists to the right to find Polaris (not very bright) glimmering due north as always.
Polaris is the handle-end of the Little Dipper. The only other parts of the Little Dipper that are even modestly bright are the two stars forming the outer end of its bowl. On August evenings you'll find them to Polaris's upper left (by about a fist and a half at arm's length). They're called the Guardians of the Pole, since they circle around Polaris throughout the night and throughout the year.
Sunday, August 4
• After nightfall, Altair shines high in the southeast. Above Altair by a finger-width at arm's length is little orange Tarazed.
A bit more than a fist-width to Altair's left or lower left is little Delphinus, the Dolphin, leaping leftward.
Above the midpoint between Altair and Delphinus is even fainter, smaller Sagitta, the Arrow.
Monday, August 5
• The waxing crescent Moon hangs in the west-southwest as twilight fades. Look for Spica about 7° to its lower left (for North America). Much higher above the Moon is brighter Arcturus.
Tuesday, August 6
• Now spot Spica about 13° to the Moon's lower right at dusk, and brighter Arcturus much higher to the Moon's upper right.
• The Perseid meteor shower is already under way, modestly so; it should peak around the morning of August 11th. The later in the night you watch the sky the better. See August 10 below.
Here's the International Meteor Organization's near-real-time graph of Perseid activity this year, based on standardized-method, scientific meteor counts coming in from visual observers around the globe.
Wednesday, August 7
• First-quarter Moon (exact at 1:31 p.m. EDT). This evening the Moon shines in Libra, west (right) of Jupiter and the head of Scorpius.
As twilight fades away, look for Beta Librae about 5° above the Moon and Alpha Lib a similiar distance to the Moon's lower right (for North America). Both are about magnitude 2.5.
• Today we cross the midpoint of astronomical summer — halfway from the June solstice to the September equinox — at 7:52 a.m. Eastern Daylight Time (11:52 UT).
Thursday, August 8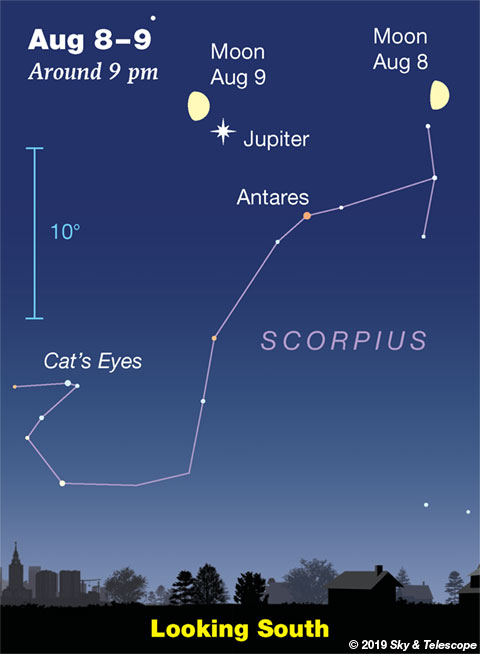 • The waxing Moon, just past first quarter, poses just over the vertical row of stars that mark the head of Scorpius, as shown here (for North America).
Friday, August 9
• The waxing gibbous Moon shines with Jupiter this evening, as shown here. Jupiter, 40 times larger than the Moon, is 1,830 times farther away.
Jupiter's own four big moons, roughly similar in actual size to ours, show as pinpoints in a small telescope or good binoculars; they're lined up east and west of the planet. This evening you'll find Europa to Jupiter's east and Io, Callisto, and Ganymede to its west, counting outward. See the guide to Jupiter's moons all this month, good worldwide, in the August Sky & Telescope, page 51.
Saturday, August 10
• Narrow windows for good Perseid viewing. The annual Perseid meteor shower is predicted peak late on the night of August 12-13, but the waxing gibbous Moon won't set that night until just before the beginning of dawn.
You may do better a day before that, on the morning of the 12th, if you catch the hour or so of dark sky between moonset and the start of dawn (for North America). And, there's a possibility this year of a second peak in the meteor rates due right around then for North America (around 10h UT August 12th).
A day earlier on the morning of the 11th — late tonight, in other words — we get two dark hours before dawn, but the meteor rates will probably be low. However, there are indications that this year's Perseid shower is bringing some unusual early fireballs.
Not sure when dawn begins? At this time of year it's about 1 hour 45 minutes before your local sunrise time if you're in the world's midnorthern latitudes (near 40° N.)
________________________
Want to become a better astronomer? Learn your way around the constellations. They're the key to locating everything fainter and deeper to hunt with binoculars or a telescope.
This is an outdoor nature hobby. For an easy-to-use constellation guide covering the whole evening sky, use the big monthly map in the center of each issue of Sky & Telescope, the essential guide to astronomy.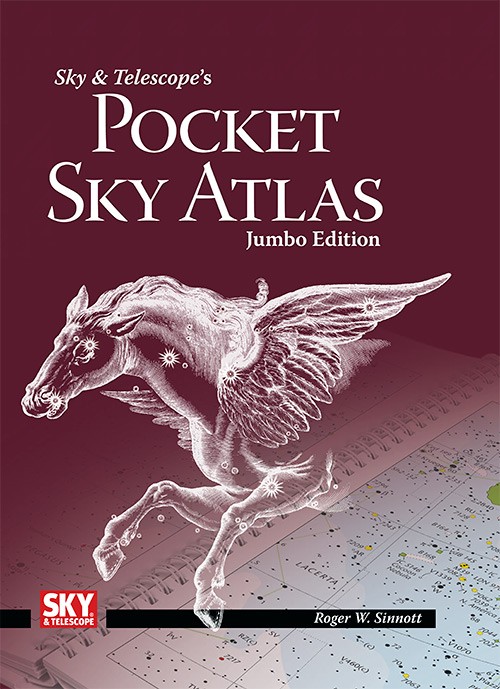 Once you get a telescope, to put it to good use you'll need a detailed, large-scale sky atlas (set of charts). The basic standard is the Pocket Sky Atlas (in either the original or Jumbo Edition), which shows stars to magnitude 7.6.
Next up is the larger and deeper Sky Atlas 2000.0, plotting stars to magnitude 8.5; nearly three times as many. The next up, once you know your way around, are the even larger Interstellarum atlas (stars to magnitude 9.5) and Uranometria 2000.0 (stars to magnitude 9.75). And read how to use sky charts with a telescope.
You'll also want a good deep-sky guidebook, such as Sue French's Deep-Sky Wonders collection (which includes its own charts), Sky Atlas 2000.0 Companion by Strong and Sinnott, or the bigger Night Sky Observer's Guide by Kepple and Sanner.
Can a computerized telescope replace charts? Not for beginners, I don't think, and not on mounts and tripods that are less than top-quality mechanically (meaning heavy and expensive). And as Terence Dickinson and Alan Dyer say in their Backyard Astronomer's Guide, "A full appreciation of the universe cannot come without developing the skills to find things in the sky and understanding how the sky works. This knowledge comes only by spending time under the stars with star maps in hand."
---
This Week's Planet Roundup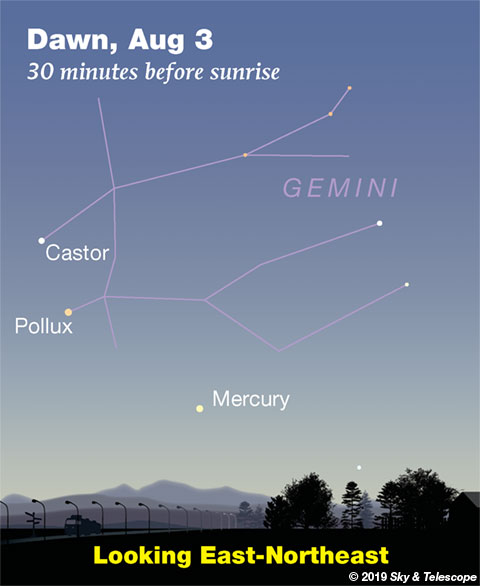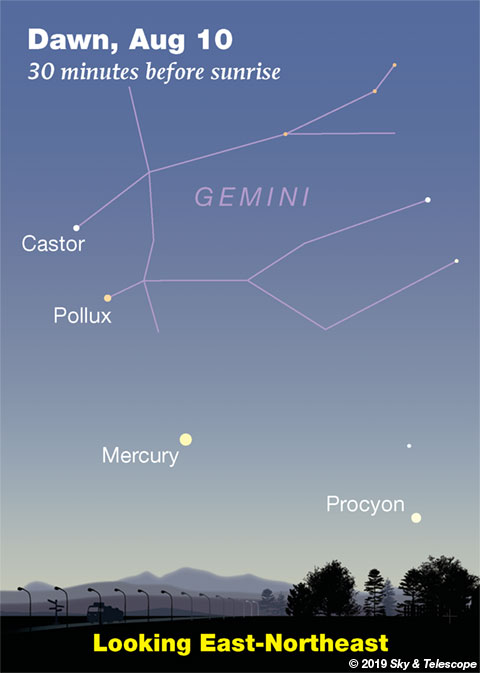 Mercury is becoming visible in early dawn, as it climbs up from the east-northeast horizon this week and brightens from magnitude +1.4 to –0.2. Use binoculars to look for it very low about 45 minutes before sunrise. It's lower right of twinklier Pollux and Castor, as shown here.
Venus and Mars are out of sight in the glare of the Sun.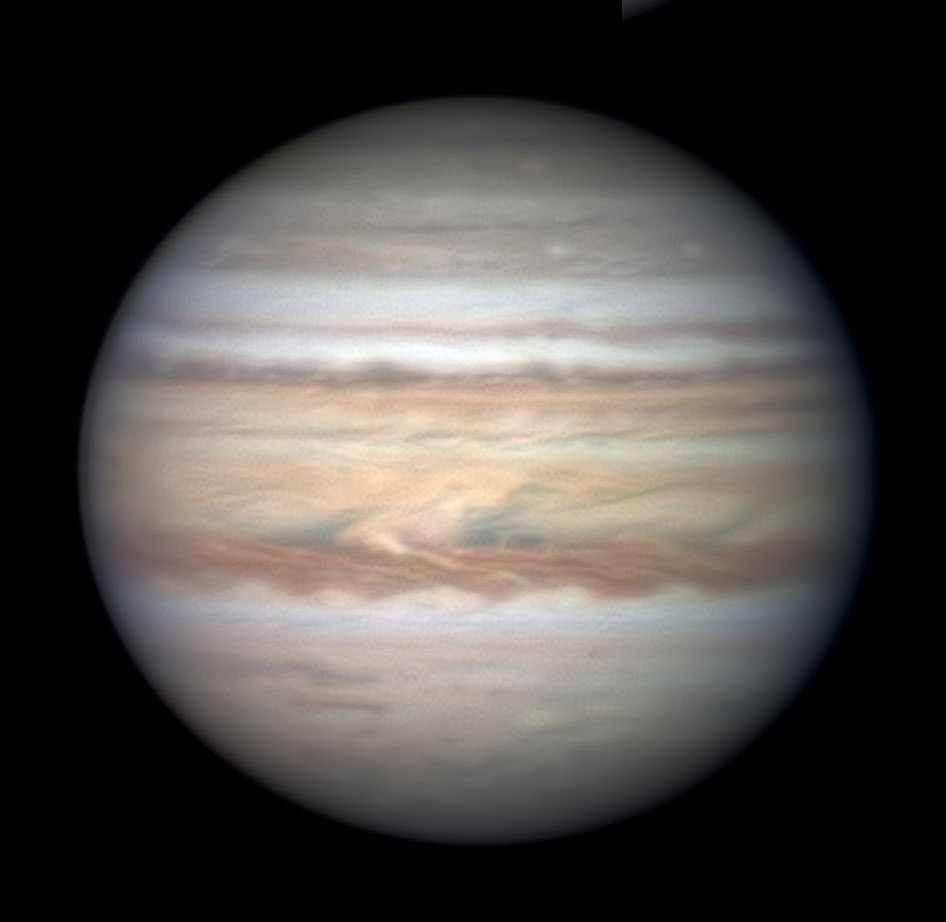 Jupiter (magnitude –2.4, between the feet of Ophiuchus) is the white point glowing in the south as twilight fades. Jupiter starts getting lower in the south-southwest soon after dark now. Orange Antares, much fainter at magnitude +1.0, twinkles 7° to its lower right.
Jupiter and Antares form a shallow, nearly isosceles triangle with Delta Scorpii (Dschubba) to their right. Delta, a long-term eruptive variable of the Gamma Cassiopeiae type, has been only a little fainter than Antares for most of the last 19 years — after it brightened by some 50% in July 2000.
In a telescope Jupiter is 42 arcseconds wide. See Bob King's observing guide to Jupiter.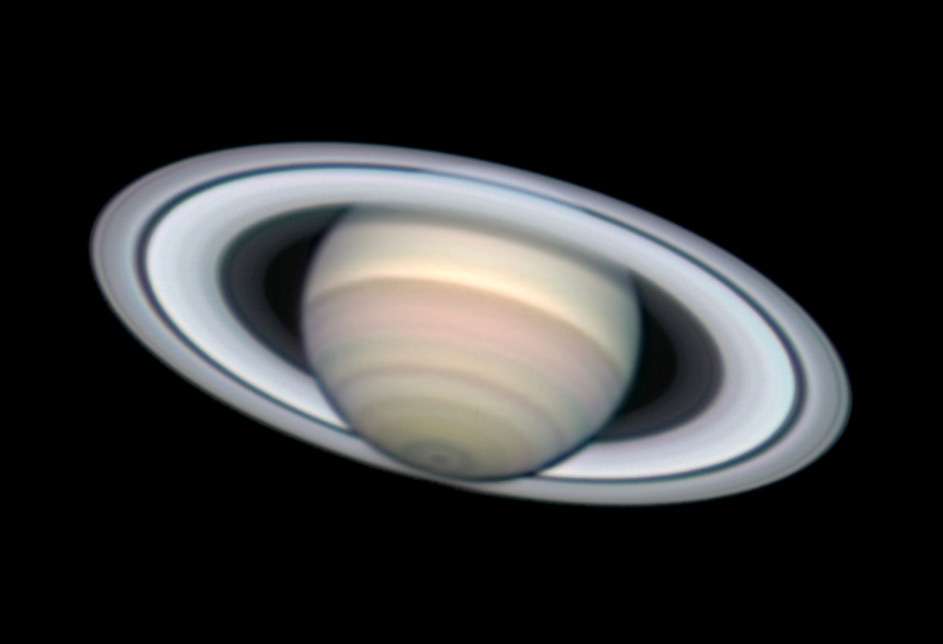 Saturn (magnitude +0.2, in Sagittarius) is the steady, pale yellowish "star" in the south-southeast during and after dusk, 31° left of Jupiter. Look to Saturn's lower right for the Sagittarius Teapot.
Uranus (magnitude 5.8, in Aries) is high in the southeast before the beginning of dawn.
Neptune (magnitude 7.8, in Aquarius) is well up in the southeast by midnight and highest in the south before the beginning of dawn. Finder charts for Uranus and Neptune.
_________________
All descriptions that relate to your horizon — including the words up, down, right, and left — are written for the world's mid-northern latitudes. Descriptions that also depend on longitude (mainly Moon positions) are for North America.
Eastern Daylight Time (EDT) is Universal Time (UT, UTC, GMT, or Z time) minus 4 hours.
_________________
Audio sky tour. Out under the evening sky with your earbuds in place, listen to Kelly Beatty's monthly podcast tour of the heavens above. It's free.
_________________
"This adventure is made possible by generations of searchers strictly adhering to a simple set of rules. Test ideas by experiments and observations. Build on those ideas that pass the test. Reject the ones that fail. Follow the evidence wherever it leads, and question everything. Accept these terms, and the cosmos is yours."
— Neil deGrasse Tyson, 2014