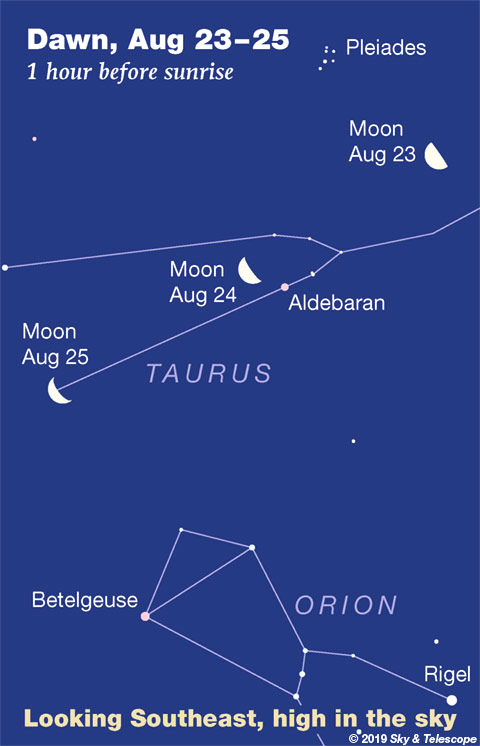 Friday, August 23
• Last-quarter Moon; exactly so at 10:56 a.m. on this date. The Moon rises tonight around midnight (depending on your location), below the Pleiades. Accompanying the Moon will be orange Aldebaran. By the beginning of dawn on Saturday morning the 24th they stand high in the southeast, as shown here.
Saturday, August 24
• In the early-morning hours of Sunday the 25th, the waning Moon is quite close to 3rd-magnitude Zeta Tauri, one of the Taurus horn-tips, as indicated here. The Moon's bright limb occults the star for the western US and Mexico before or during dawn. Zeta's reappearance from behind the dark limb, up to an hour or more later, will be much easier to witness in a scope or even binoculars. In these detailed timetables, scroll about 40% of the way down for the beginning of the Reappearance timetable. ("CA" under Location means Canada.)
Sunday, August 25
• Jupiter's Great Red Spot should cross the planet's central meridian tonight around 11:37 p.m. EDT; 8:37 p.m. PDT.
Then 46 minutes later, watch Ganymede disappear behind Jupiter's preceding limb.
Monday, August 26
• Whenever bright Vega crosses nearest your zenith, as it does at nightfall now, you know that the Sagittarius Teapot must be at its highest due south even if it's hidden by buildings or trees. The Teapot is currently marked by Saturn.
Two hours later when Deneb crosses closest to the zenith, it's the turn of Delphinus and boat-shaped Capricornus down below to stand at their highest due south.
Tuesday, August 27
• August is prime Milky Way time now that the Moon is out of the evening sky. Once twilight fully ends, the Milky Way runs from Sagittarius in the south, up and left across Aquila and through the big Summer Triangle overhead, and on down through Cassiopeia to Perseus in the northeast.
Where the Milky Way goes through Aquila, plan to explore telescopic targets using "The Glorious Eagle" article, with its chart and photos, in the August Sky & Telescope, page 54.
Wednesday, August 28
• Look for bright Vega passing the zenith as twilight fades away, if you live in the world's mid-northern latitudes. Vega goes right through your zenith if you're at latitude 39° north (near Baltimore, Kansas City, Lake Tahoe, Sendai, Beijing, Athens, Lisbon).
At that time the little triangle-and-parallelogram of the rest of Lyra, much fainter, dangles straight down from Vega when you face southeast. Crane your neck up.
Thursday, August 29
• Take advantage of these moonless late evenings to use your scope to pick up the asteroid Eunomia, now magnitude 8.5, just north of the Capricornus star pattern — using the article and finder chart in the August Sky & Telescope, page 48.
Friday, August 30
• By 9 or 10 p.m. two of the most famous deep-sky objects, the Double Cluster in Perseus and the Great Andromeda Galaxy M31, are in high view in the east. Did you know they're only 22° apart? They're both cataloged as 4th magnitude but they look rather different, the more so the darker your sky. See for yourself; they're plotted on the all-sky constellation map in the center of the September Sky & Telescope, which should be all the map you need to find their precise locations naked-eye. They're below Cassiopeia and farther to Cassiopeia's right, respectively.
• New Moon, exact at 6:37 a.m. on this date EDT.
Saturday, August 31
• Altair is the brightest star on the southern side of the sky after dark. (We're not counting the planets Jupiter and Saturn, far to its lower right.) Spot Altair's little orange companion Tarazed to its upper right by just a finger width at arm's length.
Look to Altair's upper left, by a bit more than a fist, for little Delphinus, the Dolphin.
Closer above Altair is even smaller, fainter Sagitta, the Arrow.
________________________
Want to become a better astronomer? Learn your way around the constellations. They're the key to locating everything fainter and deeper to hunt with binoculars or a telescope.
This is an outdoor nature hobby. For an easy-to-use constellation guide covering the whole evening sky, use the big monthly map in the center of each issue of Sky & Telescope, the essential guide to astronomy.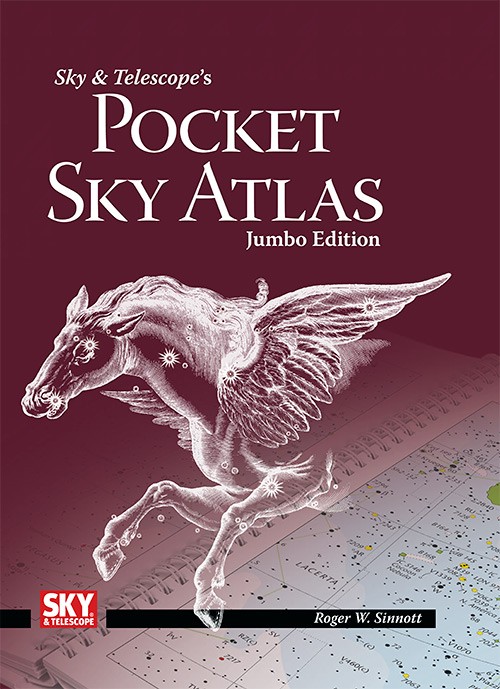 Once you get a telescope, to put it to good use you'll need a detailed, large-scale sky atlas (set of charts). The basic standard is the Pocket Sky Atlas (in either the original or Jumbo Edition), which shows stars to magnitude 7.6.
Next up is the larger and deeper Sky Atlas 2000.0, plotting stars to magnitude 8.5; nearly three times as many. The next up, once you know your way around, are the even larger Interstellarum atlas (stars to magnitude 9.5) and Uranometria 2000.0 (stars to magnitude 9.75). And read how to use sky charts with a telescope.
You'll also want a good deep-sky guidebook, such as Sue French's Deep-Sky Wonders collection (which includes its own charts), Sky Atlas 2000.0 Companion by Strong and Sinnott, or the bigger Night Sky Observer's Guide by Kepple and Sanner.
Can a computerized telescope replace charts? Not for beginners, I don't think, and not on mounts and tripods that are less than top-quality mechanically (meaning heavy and expensive). And as Terence Dickinson and Alan Dyer say in their Backyard Astronomer's Guide, "A full appreciation of the universe cannot come without developing the skills to find things in the sky and understanding how the sky works. This knowledge comes only by spending time under the stars with star maps in hand."
---
This Week's Planet Roundup
Mercury (magnitude –1.4 early this week) gleams lower in the dawn every morning and is gone before week's end. Early in the week, look for it about 30 minutes before sunrise very low in the east-northeast.
Venus and Mars remain out of sight behind the glare of the Sun.
Jupiter (magnitude –2.3, between the feet of Ophiuchus) is the white dot hanging in the south-southwest as twilight fades away. Get your scope on it early before it sinks lower into poorer seeing. Orange Antares, much fainter at magnitude +1.0, twinkles 7° to Jupiter's lower right. In a telescope Jupiter is 40 arcseconds wide and shrinking.
On August 7th, amateur imager Ethan Chappel was videorecording Jupiter when a tiny bright flare appeared on it and faded over the course of about a second — much like the six previous meteor impacts in Jupiter's atmosphere that have been detected in the modern era of video planetary imaging. See Texas Amateur Detects Possible Impact on Jupiter.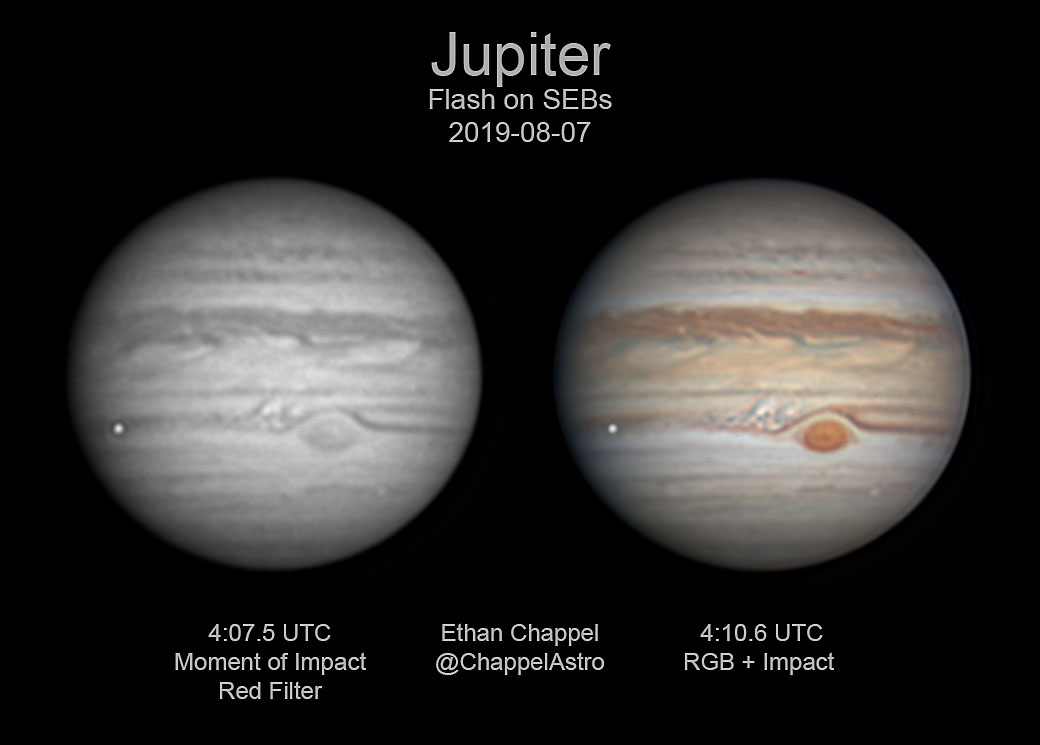 Saturn (magnitude +0.3, in Sagittarius) is the steady, pale yellowish "star" in the south-southeast during and after dusk, 30° left or upper left of Jupiter. Below Saturn is the handle of the Sagittarius Teapot.
Uranus (magnitude 5.8, in Aries) is high in the south just before the beginning of dawn.
Neptune (magnitude 7.8, in Aquarius) is well up in the southeast by 11 p.m. and highest in the south by 2 a.m. Finder charts for Uranus and Neptune.
_________________
All descriptions that relate to your horizon — including the words up, down, right, and left — are written for the world's mid-northern latitudes. Descriptions that also depend on longitude (mainly Moon positions) are for North America.
Eastern Daylight Time (EDT) is Universal Time (UT, UTC, GMT, or Z time) minus 4 hours.
_________________
Audio sky tour. Out under the evening sky with your earbuds in place, listen to Kelly Beatty's monthly podcast tour of the heavens above. It's free.
_________________
"The dangers of not thinking clearly are much greater now than ever before. It's not that there's something new in our way of thinking, it's that credulous and confused thinking can be much more lethal in ways it was never before."
— Carl Sagan, 1996