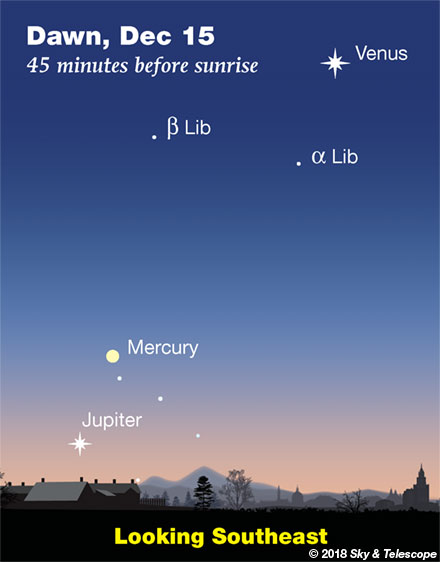 • Plan ahead: Venus will occult a 6th-magnitude star on the morning of December 21st for parts of eastern and central North America. But this observation will be tricky! See December 20th below.
Friday, December 14
• Mars shines above the Moon in early evening. Mars is about twice as big as the Moon in physical diameter, but it's currently 425 times farther away.
Look far below them for Fomalhaut. At a distance of 25 light-years, Fomalhaut is 1.4 million times farther than Mars.
• Comet 46P/Wirtanen may or may not be visible in your binoculars, much less to the naked eye, as it sails only 7 million miles by Earth this week. It's about 4th magnitude but very spread out, and moonlight is now interfering. The comet will appear round, very large (its coma is about 1° across in a dark sky) and ghostly dim, perhaps dimmer than your light pollution and moonlight. See our new article Chasing Comet 46P/Wirtanen as the Moon Looms for more info and a finder chart. A more detailed finder chart if you need it. And keep your expectations low, regardless of careless media hype that it will "light the sky."
Saturday, December 15
• First-quarter Moon (exact at 6:49 a.m. on this date). The Moon shines in the south after dusk with Mars about 10° (a fist at arm's length) to its right, under the Great Square of Pegasus.
• Orion is in good view in the southeast after dinnertime now. Gemini is to its left (as seen from the world's mid-northern latitudes). The head stars of the Gemini twins, Castor and Pollux, are at the left end of the Gemini constellation — one over the other, with Castor on top.
High above Orion is Aldebaran, at one tip of the V-shaped asterism made by the brightest stars of the Hyades cluster.
And high above Aldebaran and the Hyades are the Pleiades, a smaller but brighter cluster. The Pleiades are about as big as your fingertip at arm's length. The Hyades are 150 light-years distant and the Pleiades are about 440, which is the only reason why the Pleiades appear smaller.
Far to their left shines bright Capella, magnitude zero.
Sunday, December 16
• Have you ever watched a Sirius-rise? Find an open view right down to the east-southeast horizon, and watch for Sirius to come up about two fists at arm's length below Orion's vertical belt. Sirius rises sometime around 8 p.m. this week, depending on the date and your location.
When a star is very low, it tends to twinkle quite slowly and often in vivid colors. Sirius is bright enough to show these effects well, especially with binoculars.
Monday, December 17
• The Summer Triangle is sinking lower in the west after dusk, and Altair is the first of its stars to go (for mid-northern observers). Start by spotting bright, zero-magnitude Vega in the northwest right after dark. The brightest star above Vega is Deneb. Altair, the Triangle's third star, is farther to Vega's left or lower left. How late into the evening, and into the advancing season, can you keep Altair in view?
Tuesday, December 18
• For the next few days the asteroid 6 Hebe, magnitude 8.6, is passing just south of the dim Rosette Nebula in Monoceros with its central star group NGC 2244. They're high in late evening. See the article and finder chart in the December Sky & Telescope, page 50.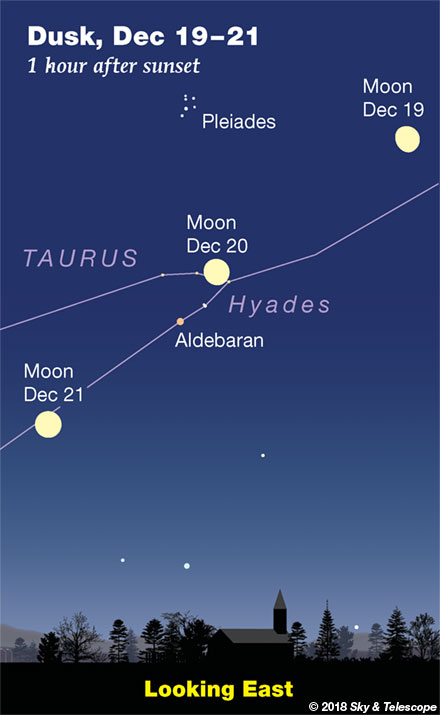 Wednesday, December 19
• The waxing gibbous Moon shines in the east this evening, with the Pleiades to its left and orange Aldebaran to its lower left.
To the right of the Moon is orange Alpha Ceti, fainter at magnitude 2.5.
At this fulsome phase the Moon displays all of sinuous Mare Frigoris, north of big round Mare Imbrium. Explore along its length with your telescope and Chuck Wood's Exploring the Moon article, "Imbrium's Eyebrow," in the December Sky & Telescope, page 52.
Thursday, December 20
• Now the Moon shines in the Hyades, near Aldebaran and below the Pleiades, as shown here.
• Venus will occult a 6th-magnitude star before or during dawn tomorrow morning the 21st for much of central and eastern North America. Venus will be a thick crescent, 41% sunlit; the star is about 10,000 times fainter. "Only the dark-side reappearance can be seen, but it can be observed well, with any telescope with high power, since the dazzling sunlit parts of Venus will be at least 15 arcseconds away," writes David Dunham of the International Occultation Timing Association. Amateurs with large scopes who can do rapid imaging or video recording may be able to document brightenings and fadings of the star as its light is refracted by layers of Venus's atmosphere. You might even record the brief, globe-encircling central flash exactly at mid-occultation on the centerline.
But if you're too far east the sky will be too bright, and too far west Venus will be too low. Maps, local timetables, and observing details and tips.
• You are remembered, Carl Sagan (November 9, 1934 – December 20, 1996).
Friday, December 21
• The Moon, nearly full this evening, forms an almost-isosceles triangle with Aldebaran to its upper right and Betelgeuse to its lower right. Aldebaran is an orange, K5 giant star 65 light-years away. Betelgeuse is an orange, slightly less hot M1 supergiant about 10 times more distant.
Saturday, December 22
• Full Moon (exact at 12:49 p.m. EST). The Moon, near perigee, is between the feet of the Castor figure and the dim Club of Orion. Farther to the left or lower left of the Moon are brighter Castor and Pollux. Farther right or lower right of the Moon is Orion, with his belt almost vertical.
The full Moon of December rides higher across the sky in the middle of the night than it does in any other month (for Northern Hemisphere skywatchers), "giving luster of midday to objects below."
• Algol should be at minimum brightness for a couple of hours centered on 11:36 p.m. EST. Algol takes several additional hours to fade and to rebrighten.
________________________
Want to become a better astronomer? Learn your way around the constellations! They're the key to locating everything fainter and deeper to hunt with binoculars or a telescope.
This is an outdoor nature hobby. For an easy-to-use constellation guide covering the whole evening sky, use the big monthly map in the center of each issue of Sky & Telescope, the essential guide to astronomy.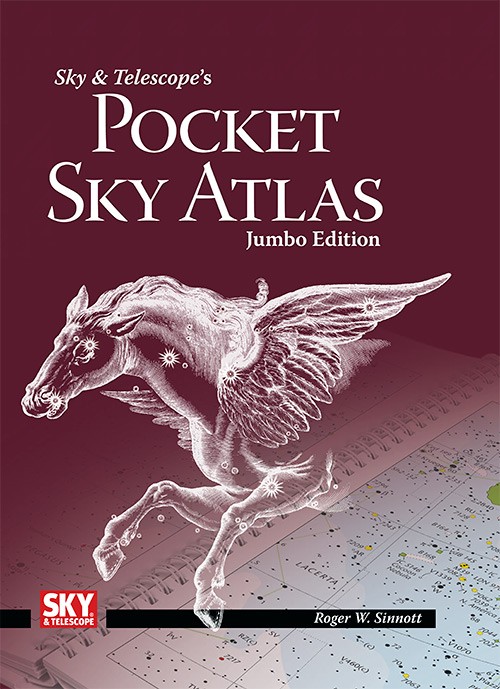 Once you get a telescope, to put it to good use you'll need a detailed, large-scale sky atlas (set of charts). The basic standard is the Pocket Sky Atlas (in either the original or Jumbo Edition), which shows stars to magnitude 7.6.
Next up is the larger and deeper Sky Atlas 2000.0, plotting stars to magnitude 8.5; nearly three times as many. The next up, once you know your way around, are the even larger Interstellarum atlas (stars to magnitude 9.5) and Uranometria 2000.0 (stars to magnitude 9.75). And read how to use sky charts with a telescope.
You'll also want a good deep-sky guidebook, such as Sue French's Deep-Sky Wonders collection (which includes its own charts), Sky Atlas 2000.0 Companion by Strong and Sinnott, or the bigger Night Sky Observer's Guide by Kepple and Sanner.
Can a computerized telescope replace charts? Not for beginners, I don't think, and not on mounts and tripods that are less than top-quality mechanically (meaning heavy and expensive). And as Terence Dickinson and Alan Dyer say in their Backyard Astronomer's Guide, "A full appreciation of the universe cannot come without developing the skills to find things in the sky and understanding how the sky works. This knowledge comes only by spending time under the stars with star maps in hand."
---
This Week's Planet Roundup
Mercury (magnitude –0.4) is having its best dawn apparition of 2018. Look for it low above the southeast horizon, 24° lower left of Venus, about 60 to 45 minutes before sunrise. And look for Jupiter below or lower right of it. Binoculars help!
Venus (magnitude –4.8, in Virgo) rises as an eerie "UFO" above the east-southeast horizon a good two hours before the first light of dawn. As dawn arrives, Venus is the brilliant "Morning Star" dominating the southeast.
In a telescope Venus is a shrinking and thickening crescent, waxing from 35% to 41% sunlit this week. For the sharpest telescopic views, follow it up higher all the way past sunrise and into the blue sky of day.
Mars (magnitude +0.2, under the Great Square of Pegasus) still shines highest in the south at nightfall and sets by midnight. In a telescope it's gibbous and quite small: 8½ arcseconds from pole to pole.
Jupiter (magnitude –1.7) is beginning to emerge from solar conjunction very low in the glow of sunrise. As early as the morning of December 15th, can you pick it up 6° below Mercury as shown at the top of this page? It gets a little less difficult every morning, but binoculars will help.
Saturn (magnitude +0.5) has disappeared into the glow of sunset.
Uranus, near the Aries-Pisces border, is pretty easy to see in binoculars at magnitude 5.7 — with a good finder chart, if you know the constellations well enough to see where to start with the chart.
Neptune, in Aquarius, is more difficult at magnitude 7.9. Uranus and Neptune are both high in the southern side of the sky these evenings. Finder charts (without Mars, which is not far from Neptune).
______________________
All descriptions that relate to your horizon — including the words up, down, right, and left — are written for the world's mid-northern latitudes. Descriptions that also depend on longitude (mainly Moon positions) are for North America.
Eastern Standard Time (EST) is Universal Time (UT or GMT) minus 5 hours.
______________________
"The dangers of not thinking clearly are much greater now than ever before. It's not that there's something new in our way of thinking, it's that credulous and confused thinking can be much more lethal in ways it was never before."
— Carl Sagan, 1996
______________________
"Objective reality exists. Facts are often determinable. Vaccines save lives. Carbon dioxide warms the globe. Bacteria evolve to thwart antibiotics, because evolution. Science and reason are not a liberal conspiracy. They are how we determine facts. Civilization's survival depends on our ability, and willingness, to do this."
— Alan MacRobert, your Sky at a Glance editor
______________________
"Facts are stubborn things."
— John Adams, 1770
---