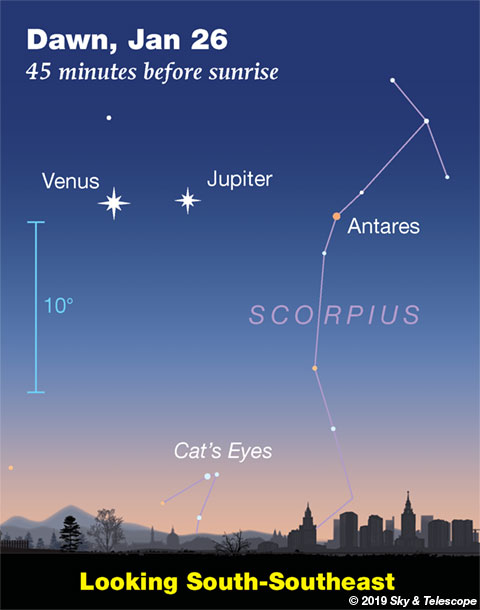 Friday, January 25
• Right after dark, face east and look very high. The bright star there is Capella, the Goat Star. To the right of it, by a couple of finger-widths at arm's length, is a small, narrow triangle of 3rd and 4th magnitude stars known as "the Kids." They're not exactly eye-grabbing, but they form a never-forgotten asterism (informal star pattern) with Capella.
Saturday, January 26
• Orion is high in the southeast right after dark, and he stands highest due south around 10 p.m. Orion is the brightest of the 88 constellations, but his main pattern is surprisingly small compared to some of his dimmer neighbors. The biggest of these is Eridanus the Euphrates River just to his west, enormous but hard to trace. Dimmer Fornax the Furnace, to Eridanus's lower right, is almost as big as Orion! Even the main pattern of Lepus, the Hare cowering under Orion's feet, isn't much smaller than he is.
Sunday, January 27
• Last-quarter Moon (exact at 4:10 p.m. EST). The Moon rises around 1 a.m. tonight in dim Libra. As it climbs high, its curved edge points lower left to the spot on the horizon where Jupiter will rise around 4 a.m. and Venus about 15 minutes later (depending on your location).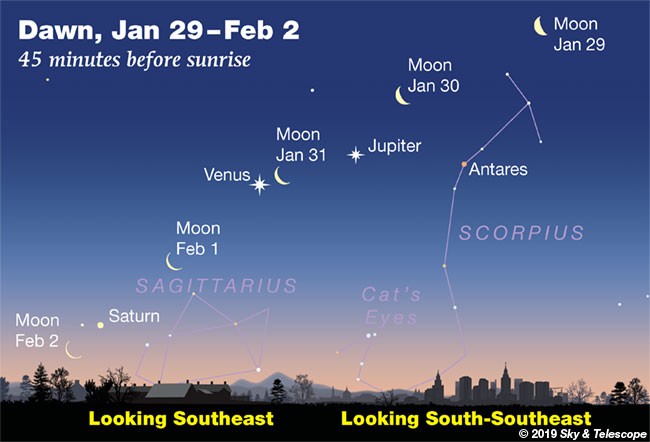 Monday, January 28
• After dark the Great Square of Pegasus is sinking low in the west, tipped onto one corner. Look for it to the right of Mars. Meanwhile the Big Dipper is creeping up in the north-northeast, tipped up on its handle.
Tuesday, January 29
• In this dark-of-the-Moon period, use binoculars to get acquainted with the little asterisms a few degrees north of the main Hyades V pattern. (Zoom in on the View here.) I call two of these the Jumping Minnow and Dragonfly, imagining warm summer afternoons by a riverbank far separated from these icy winter nights. But Matt Wedel has a different take in his Binocular Highlight column (with chart) in the February Sky & Telescope, page 43. As in the main, more familiar part of the Hyades, this field sports a number of notable star pairs.
Wednesday, January 30
• As dawn begins to brighten on Thursday morning, Antares, Jupiter, Venus, and the waning crescent Moon form a graceful arc, 35° long, in the southeastern sky.
But the stars of this show are the Moon and Venus. They form a strikingly close bright pair, about 2° apart at the times of dawn in the Americas. Think photo opportunity!
Thursday, January 31
• After dinnertime look due east, not very high, for twinkly Regulus. Extending upper left from it is the Sickle of Leo, a backward question mark. "Leo announces spring," goes an old saying. Actually, Leo showing up in the evening announces the cold, messy back half of winter. Come spring, Leo will already be high.
• In Friday's dawn, the thinning crescent Moon hangs lower left of Venus. Look for dim Saturn a similar distance (if you're in North America) on the opposite side of the Moon from Venus, very low.
Binoculars help.
Friday, February 1
• As soon as it's fully dark, spot the bright, equilateral Winter Triangle in the southeast. Sirius is its brightest and lowest star. Betelgeuse stands above Sirius by about two fists at arm's length. To the left of their midpoint is Procyon.
And, standing 4° above Procyon is 3rd-magnitude Gomeisa, Beta Canis Minoris, the only other easy naked-eye star of Canis Minor.
Saturday, February 2
• The sky's biggest asterism — at least the biggest that's widely recognized — is the Winter Hexagon. It fills the sky toward the east and south these evenings.
Start with brilliant Sirius at its bottom. Going clockwise from there, march up through Procyon, Pollux and Castor, Menkalinan and Capella on high, down to Aldebaran, then to Rigel in Orion's foot, and back to Sirius.
Betelgeuse shines inside the Hexagon, off center.
________________________
Want to become a better astronomer? Learn your way around the constellations. They're the key to locating everything fainter and deeper to hunt with binoculars or a telescope.
This is an outdoor nature hobby. For an easy-to-use constellation guide covering the whole evening sky, use the big monthly map in the center of each issue of Sky & Telescope, the essential guide to astronomy.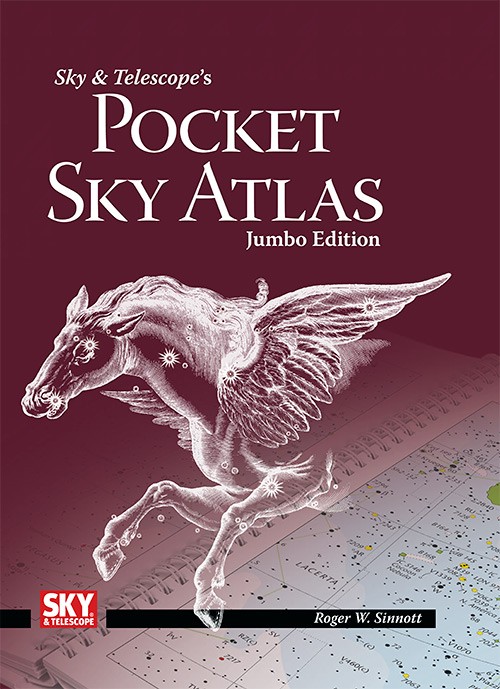 Once you get a telescope, to put it to good use you'll need a detailed, large-scale sky atlas (set of charts). The basic standard is the Pocket Sky Atlas (in either the original or Jumbo Edition), which shows stars to magnitude 7.6.
Next up is the larger and deeper Sky Atlas 2000.0, plotting stars to magnitude 8.5; nearly three times as many. The next up, once you know your way around, are the even larger Interstellarum atlas (stars to magnitude 9.5) and Uranometria 2000.0 (stars to magnitude 9.75). And read how to use sky charts with a telescope.
You'll also want a good deep-sky guidebook, such as Sue French's Deep-Sky Wonders collection (which includes its own charts), Sky Atlas 2000.0 Companion by Strong and Sinnott, or the bigger Night Sky Observer's Guide by Kepple and Sanner.
Can a computerized telescope replace charts? Not for beginners, I don't think, and not on mounts and tripods that are less than top-quality mechanically (meaning heavy and expensive). And as Terence Dickinson and Alan Dyer say in their Backyard Astronomer's Guide, "A full appreciation of the universe cannot come without developing the skills to find things in the sky and understanding how the sky works. This knowledge comes only by spending time under the stars with star maps in hand."
---
This Week's Planet Roundup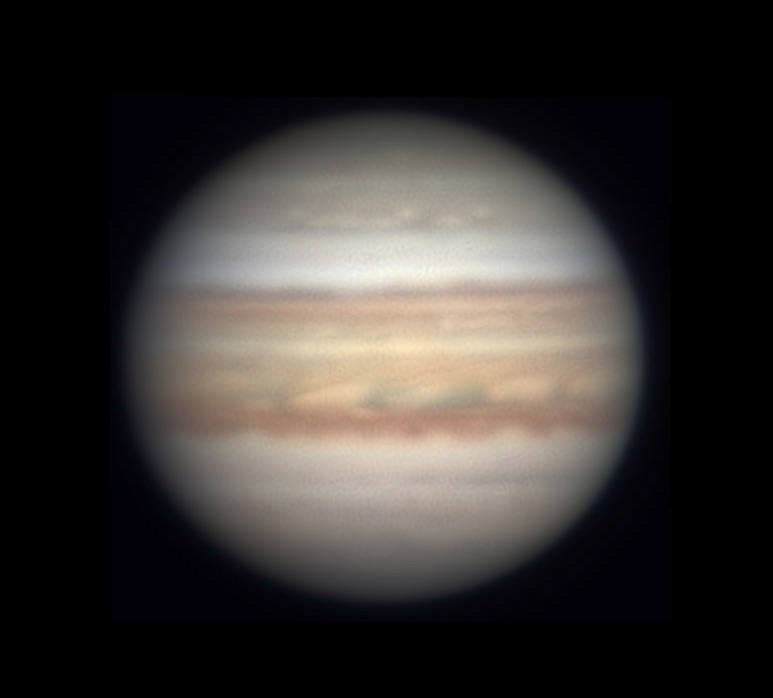 Mercury is out of sight in conjunction with the Sun.
Venus (magnitude –4.3) and Jupiter (magnitude –1.9) rise above the east-southeast horizon well before the first glimmer of dawn. They dominate the southeast by the time dawn begins to brighten. Every morning now they're drawing farther apart. On January 26th you'll find Jupiter 4° to Venus's right, as shown at the top of this page. By February 1st they're separated by 9°.
About 8° or 9° to the right of Jupiter, look for twinkly orange Antares. At magnitude +1.0 it's not nearly as eye-catching.
In a telescope Venus is dazzling white and slightly gibbous. Jupiter appears half again as large, but its surface brightness is some 50 times dimmer than Venus's due mostly to Jupiter's 7-times-greater distance from the illuminating Sun.
Mars (magnitude +0.8, in Pisces left of the Great Square of Pegasus) still glows high in the southwest at nightfall and sets around 11 p.m. In a telescope it's a tiny gibbous blob: 6 arcseconds from pole to pole.
Saturn is beginning to emerge low in the glow of dawn. About 30 minutes before sunrise, use binoculars to look for it just above the horizon far to the lower left of Venus.
Uranus (magnitude 5.8, at the Aries-Pisces border) is still well up in the southwest right after dark. It's visible in binoculars if you have a good finder chart (and know the constellations well enough to see where to start with the chart).
Neptune (magnitude 7.9, in Aquarius) is already quite low in the west-southwest right after dark.
______________________
All descriptions that relate to your horizon — including the words up, down, right, and left — are written for the world's mid-northern latitudes. Descriptions that also depend on longitude (mainly Moon positions) are for North America.
Eastern Standard Time (EST) is Universal Time (UT or GMT) minus 5 hours.
______________________
Audio sky tour. Outside under the evening sky with your earbuds in place, listen to Kelly Beatty's monthly podcast tour of the heavens above. It's free.
______________________
"Rational and innocent entertainment of the highest kind."
—John Mills, 19th century Scottish manufacturer and founder of Mills Observatory, on amateur astronomy.
______________________