Friday, March 15
• Look for Arcturus, the Spring Star, very low in the east-northeast after nightfall and higher in the east later in the evening. By modern measurements Arcturus is visual magnitude –0.05, making it the fourth-brightest nighttime star. It's bested only by Sirius, Canopus, and Alpha Centauri (if you combine the light of Alpha Cen A and B, because the pair appears single to the unaided eye).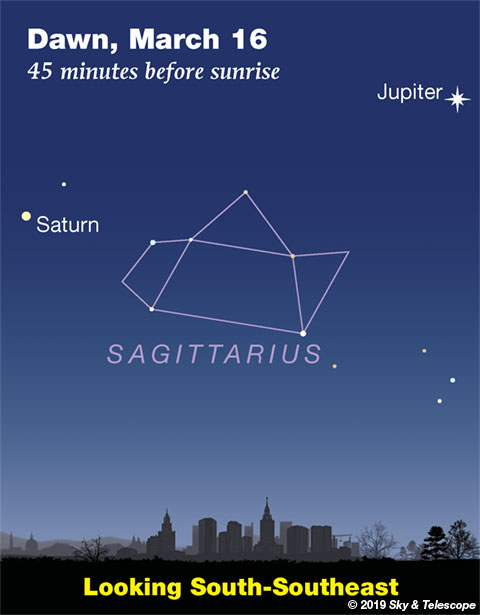 Saturday, March 16
• Very high after dark, Castor and Pollux point almost at the waxing gibbous Moon near them.
• The Big Dipper glitters softly high in the northeast these evenings, standing on its handle. You probably know that the two stars forming the front of the Dipper's bowl (currently on top) are the Pointers; they point to Polaris, currently to their left.
And, you may know that if you follow the curve of the Dipper's handle out and around by a little more than a Dipper length, you'll arc to Arcturus, rising in the east.
But did you know that if you follow the Pointers backward the opposite way, you'll land in Leo?
Draw a line diagonally across the Dipper's bowl from where the handle is attached, continue far on, and you'll go to Gemini.
And look at the two stars forming the open top of the Dipper's bowl. Follow this line past the bowl's lip far across the sky, and you crash into Capella.
Sunday, March 17
• This is the time of year when Orion declines in the southwest after dark, with his Belt roughly horizontal. When does Orion's Belt appear exactly horizontal? That depends on where you're located east-west in your time zone, and on your latitude.
Can you time this event? If you're near your time zone's standard longitude, expect it around 9:15 this evening (daylight-saving time). . . more or less.
Monday, March 18
• The bright waxing gibbous Moon traverses the sky in company with 1st-magnitude Regulus tonight. They're only a couple of degrees apart in early evening (for North America). Watch them pull farther apart hour by hour.
Tuesday, March 19
• The Moon, almost full, shines in the dim hind feet of Leo. Upper right of it after dark is Regulus, about a fist and a half at arm's length away.
Left of the Moon by about half that distance is Denebola, Leo's tailtip. Denebola is 0.8 magnitude dimmer than Regulus (meaning about half as bright) and it'll also be closer to the Moon's dazzling glare. Depending on the clarity of your air, Denebola may or may not be a challenge to pick out.
Wednesday, March 20
• Full Moon (exact at 9:43 p.m. EDT), and this qualities as a supermoon; it's just two days after perigee. The Moon shines a trace bigger and brighter than usual, in the head of Virgo under Leo.
• Coincidentally, today is also the equinox. Spring begins (in the Northern Hemisphere) at 5:58 p.m. EDT, when the center of the Sun crosses the equator heading north for the season. The Sun rises and sets almost exactly east and west, and very nearly 12 hours apart. (And no, eggs don't balance any better than they usually do!)
Thursday, March 21
• Now that it's spring, the signature fall-and-winter constellation Cassiopeia is retreating downward after dark. But for skywatchers at mid-northern latitudes Cassiopeia is circumpolar, never going away completely. Look for it fairly low in the north-northwest these evenings. It's standing roughly on end.
By midnight or 1 a.m. it's at its lowest due north, lying not quite horizontally.
• Algol, descending in the northwest, should be at minimum light for a couple hours centered on 10:04 p.m. EDT (7:04 p.m. PDT). Algol takes several additional hours to rebrighten.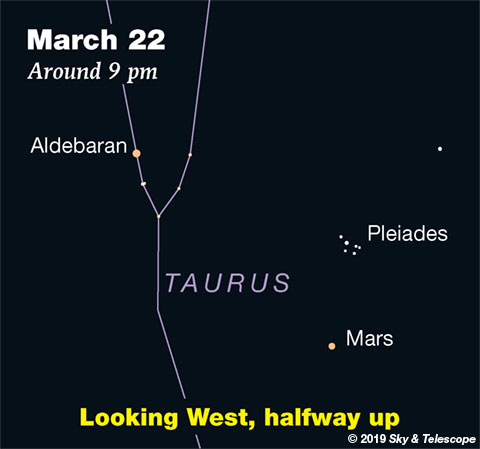 Friday, March 22
• Immediately after dark, before moonrise for most of North America, Sirius shines brilliantly in the south-southwest. To its lower left, by about a fist at arm's length, is the triangle of Adhara, Wezen, and Aludra from right to left. They form Canis Major's hind foot, rear end, and tailtip, respectively.
Just upper left of Aludra, forming a 3rd- and 4th-magnitude arc 7° long, are the three uppermost stars of the constellation Puppis. No it's not a puppy, despite following right behind the Big Dog. It's the Poop Deck (stern) of the giant ancient constellation Argo Navis, the ship of Jason and the Argonauts. These three stars are the only stars of Argo that are readily visible naked-eye from mid-northern latitudes.
Saturday, March 23
• Once the waning gibbous Moon well up in the southeast in very late evening, use binoculars to help pick out Beta and Alpha Librae, both about 3rd magnitude, on the left and right of it, respectively. Alpha (Zubenelgenubi) is a wide binocular double star: magnitudes 2.8 and 5.1, separation 4 arcminutes, with the fainter star to the brighter one's celestial northwest.
________________________
Want to become a better astronomer? Learn your way around the constellations. They're the key to locating everything fainter and deeper to hunt with binoculars or a telescope.
This is an outdoor nature hobby. For an easy-to-use constellation guide covering the whole evening sky, use the big monthly map in the center of each issue of Sky & Telescope, the essential guide to astronomy.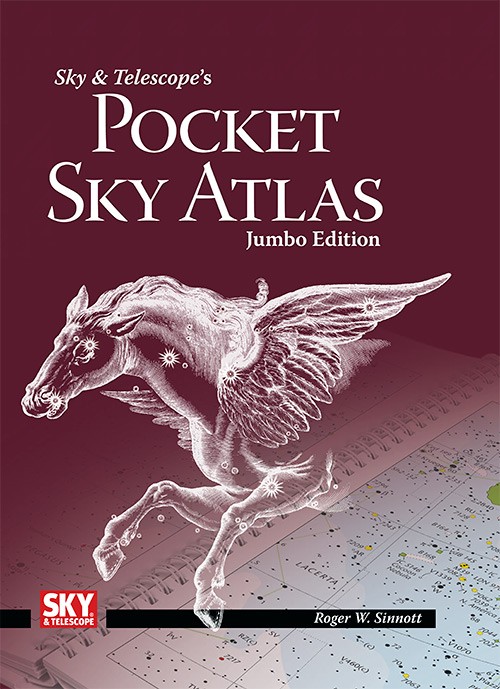 Once you get a telescope, to put it to good use you'll need a detailed, large-scale sky atlas (set of charts). The basic standard is the Pocket Sky Atlas (in either the original or Jumbo Edition), which shows stars to magnitude 7.6.
Next up is the larger and deeper Sky Atlas 2000.0, plotting stars to magnitude 8.5; nearly three times as many. The next up, once you know your way around, are the even larger Interstellarum atlas (stars to magnitude 9.5) and Uranometria 2000.0 (stars to magnitude 9.75). And read how to use sky charts with a telescope.
You'll also want a good deep-sky guidebook, such as Sue French's Deep-Sky Wonders collection (which includes its own charts), Sky Atlas 2000.0 Companion by Strong and Sinnott, or the bigger Night Sky Observer's Guide by Kepple and Sanner.
Can a computerized telescope replace charts? Not for beginners, I don't think, and not on mounts and tripods that are less than top-quality mechanically (meaning heavy and expensive). And as Terence Dickinson and Alan Dyer say in their Backyard Astronomer's Guide, "A full appreciation of the universe cannot come without developing the skills to find things in the sky and understanding how the sky works. This knowledge comes only by spending time under the stars with star maps in hand."
---
Mercury is hidden in the glow of sunrise.
Venus (magnitude –4.0, in Capricornus) rises above the east-southeast horizon around the first light of dawn. It's nearly 60° lower left of Jupiter.
Mars (magnitude +1.3, near the Aries-Taurus border) glows in the west after nightfall, lower now. It's the little orange-red spark below the Pleiades. The Pleiades descend closer toward Mars every day. In a telescope the planet is just a tiny blob 5 arcseconds wide.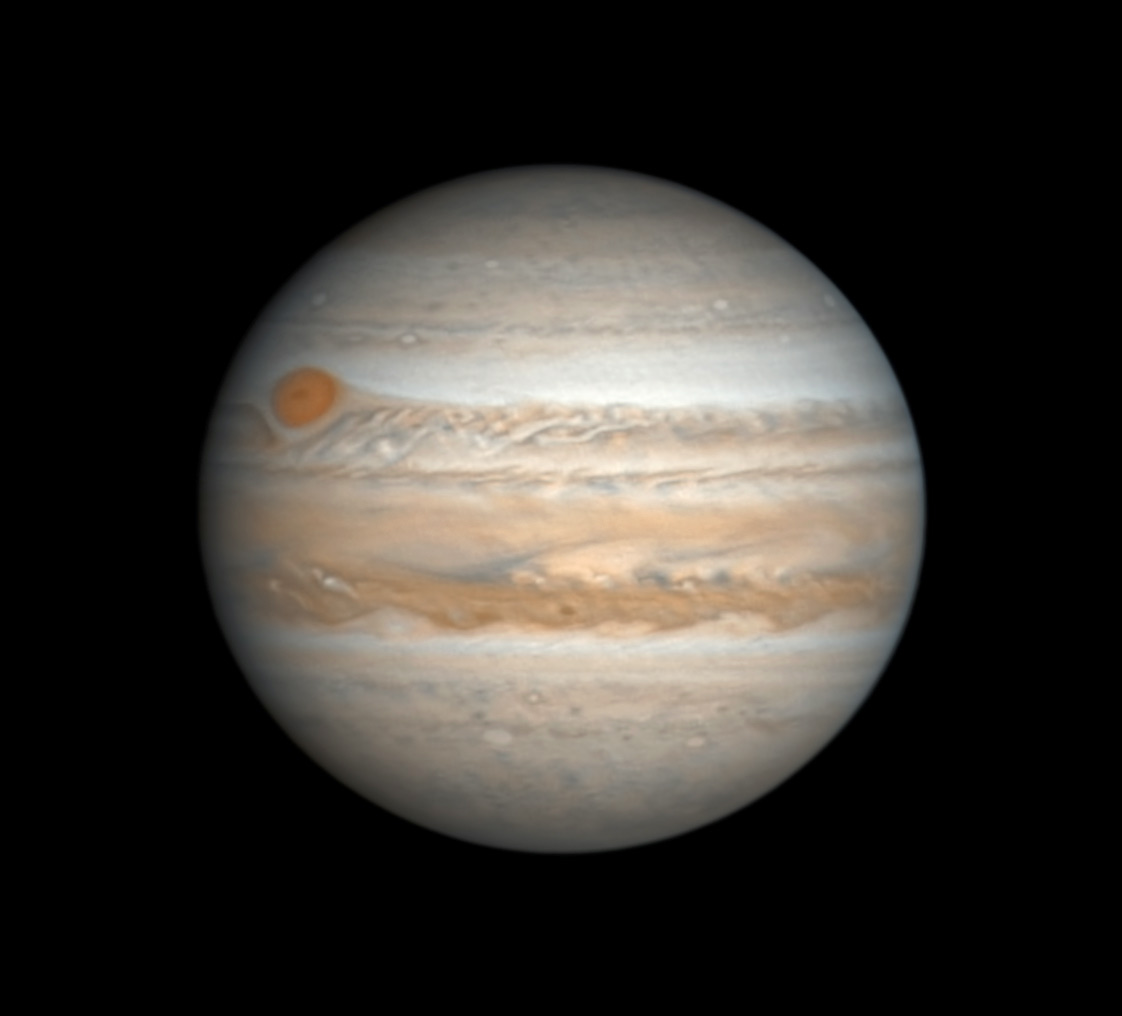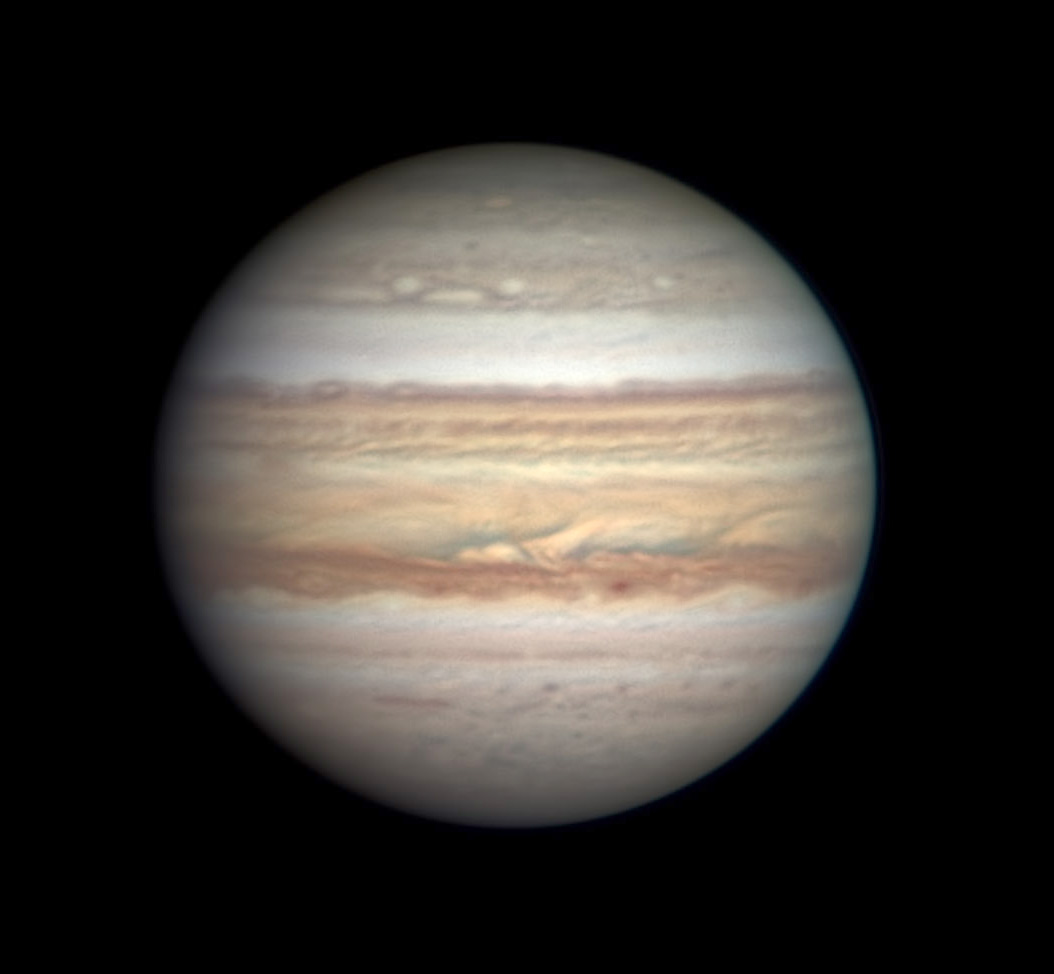 Jupiter (magnitude –2.1, in the feet of Ophiuchus) rises in the southeast around 2 a.m. daylight saving time. It's fairly well up in the south-southeast just as dawn begins to brighten, the best time to observe it telescopically. The farther south you are, the higher it will be.
Antares sparkles 14° to Jupiter's upper right when the planet rises, and directly right of it by the beginning of dawn.
Saturn (magnitude +0.6, in Sagittarius) glows in early dawn almost halfway from Jupiter to low Venus.
Uranus sets in the west shortly after dark.
Neptune is out of sight low in the glow of dawn.
______________________
All descriptions that relate to your horizon — including the words up, down, right, and left — are written for the world's mid-northern latitudes. Descriptions that also depend on longitude (mainly Moon positions) are for North America.
Eastern Daylight Time (EDT) is Universal Time (UT or GMT) minus 4 hours.
______________________
Audio sky tour. Out under the evening sky with your earbuds in place, listen to Kelly Beatty's monthly podcast tour of the heavens above. It's free.
______________________
"Science is built up of facts, as a house is with stones. But a collection of facts is no more a science than a heap of stones is a house."
— Henri Poincaré (1854–1912)
______________________