A bright comet, the year's best meteor shower, and a total lunar eclipse are coming our way. See the sights and share the news!
A Comet for Christmas (Now through December)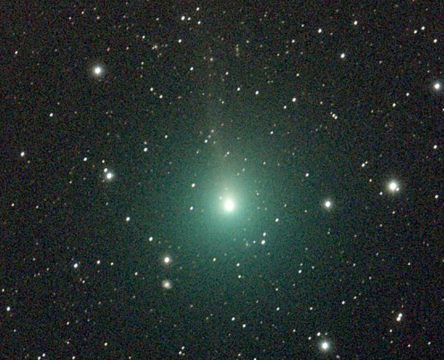 As the year winds down, naked-eye sky events are happily headed in the opposite direction. Three cosmic bonbons will round out 2018 and open the new year. The first is already underway — a fine apparition of periodic comet 46P/Wirtanen.
We'll take it as a good sign that the comet is already visible in binoculars for southern U.S. observers, glowing at around magnitude 7.5 with a plump 20′ (arcminute) coma. It's still rather diffuse with a degree of condensation (DC) of  3. DC is rated on a scale from 0 to 9, where 0 is completely diffuse and uniform and 9 stellar or disk-like.
Because of clouds and commitments, I last saw 46P two weeks ago, when it smoldered in Fornax, the Furnace, at declination –32°. It's still there and slowly climbing north, but has brightened by nearly two magnitudes, leading me to believe the comet's on target to crack the naked-eye barrier by mid-December, when it passes closest to the Earth. I've seen forecasts of magnitude 3, but most of us would be thrilled with even borderline naked-eye visibility. Based on its current performance, it's almost certain to achieve that.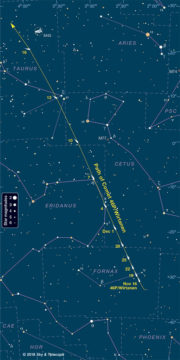 Comet 46P/Wirtanen circles the Sun every 5.4 years. This time around, the comet passes just 11.5 million kilometers or 30 lunar distances from Earth at opposition on December 16th. Since perihelion, its closest approach to the Sun, occurs just four days earlier, we're understandably excited about the comet's prospects. As far as modern comets go — those observed since 1950 — 46P will climb to 10th place on the Earth's Closest Encounters list during this apparition.
Despite its tiny 0.56-kilometer-wide nucleus 46P/Wirtanen belongs to a small group of hyperactive comets that release lots of extra dust and gas than expected for such a small object. We'll count that as another check mark for an optimistic outlook.
The comet remains at a low declination in Fornax through mid-month before hurrying northward, all the while approaching Earth and (hopefully) continuing to brighten. At closest approach, it's beautifully placed in the evening sky between the Pleiades and Hyades star clusters and moving northeast at 4-5° day. I expect more than a few of us will get frozen fingers taking pictures of the amazing scene — bring hand warmers! While observers in the Southern Hemisphere will lose sight of 46P by mid-December, it remains enticingly in view from the Northern Hemisphere into February.
For more on the comet including how to participate in inner coma studies for the 4*P Morphology Campaign, click here.
Gobs of Geminids (December 13–14)
Just as the comet peaks, the Geminid meteor shower momentarily steals the show. This annual spatter of asteroid dust from the rock comet 3200 Phaethon reaches maximum on the night of December 13–14 with up to 100 meteors per hour visible. That number is idealized and based on a perfect sky with the radiant at the zenith. In the real world, you'll probably see closer to one a minute from a reasonably dark sky.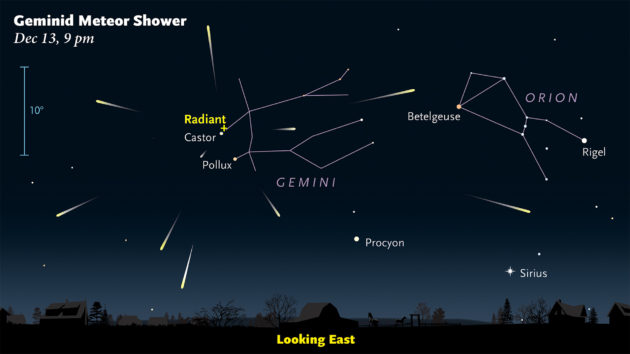 The best viewing time for most meteor showers is usually in the small hours before dawn. And while that's strictly true for the Geminids, the shower's radiant is already a third of the way up in the eastern sky by 9 p.m. local time. That's why I consider the shower one of the best for family viewing, since you can take the kids out for an hour between 9 and 10 and see up to a dozen or two light streaks.
The only equipment you'll need are reclining chairs, warm clothing, and blankets to snuggle under. I like to face east or south and watch Orion and the winter Milky Way slowly climb out of the tree branches as swift meteors flare across the heavens. Geminids can appear anywhere, but they all originate from the radiant point near the star Castor. Meteors near the radiant leave short trails, while those further away can stretch many degrees across the sky. No matter how many meteors flash before your eyes that Thursday night–Friday morning, being outside under the stars is always time well spent.
Not familiar with the winter constellations? While waiting for Geminids, use a free star-finding app like Star Chart (Android / iPhone) to help you get better acquainted with what's what.
Total Lunar Eclipse (January 20–21, 2019)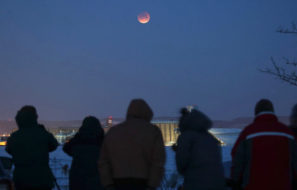 After last January's eclipse I'm psyched for the next. It takes place less than a year later on the night of January 20–21 across Europe, Africa, and the Americas. Partial phases begin at 10:34 p.m. Eastern Time (3:34 UT January 21st) with totality lasting from 11:41 p.m. to 12:43 a.m. (4:41 to 5:43 UT). Because the Moon will not pass centrally through Earth's inner shadow or umbra, I suspect this will be a relatively bright totality with the northern third of the lunar disk tinted a colorful orange.
The farther west you live the more convenient the viewing hour. Totality begins at 10:41 p.m. Central Standard Time; 9:41 p.m. Mountain Standard; and 8:41 p.m. Pacific Standard. We'll report in more detail about the eclipse in future stories. For now, it's good to know it's happening whether you plan to observe with friends and family or arrange a sidewalk astronomy eclipse party.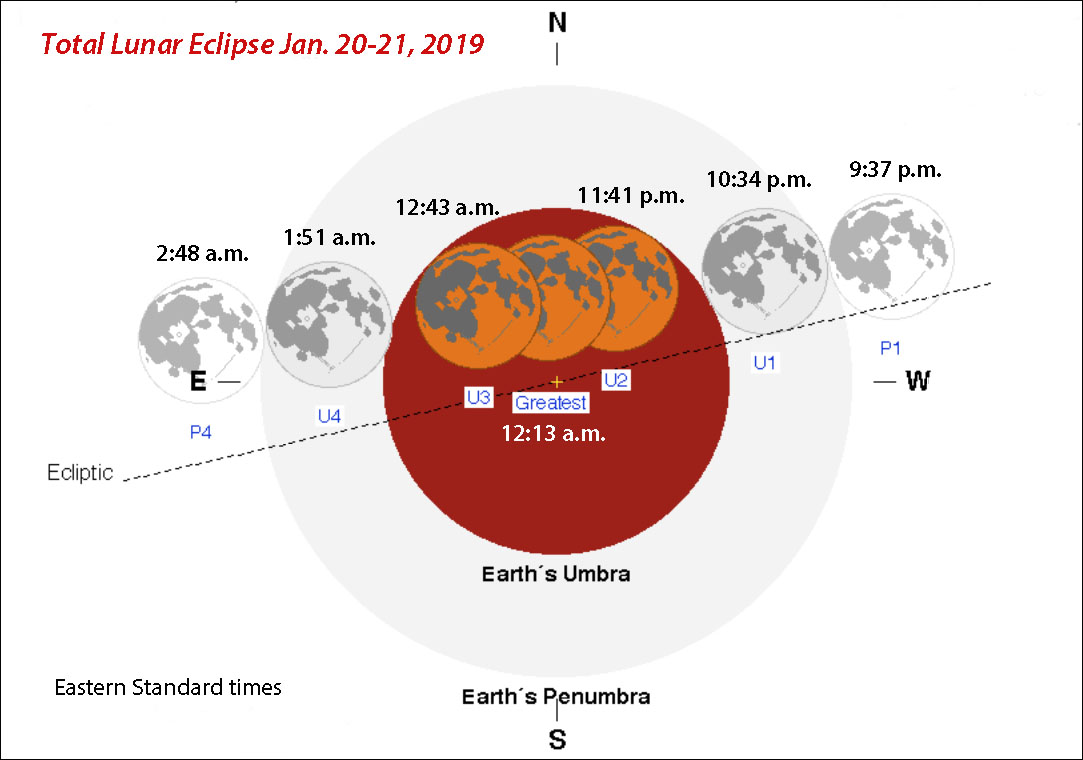 All three of these events offer opportunities to show people the great things that go on in the night sky. Best of all, they're visible with just the naked eye or binoculars. Relatable astronomy can fire a lifelong passion for the hobby with newcomers, so share the news!