Be sure to set the alarm so you don't miss the squeaky-tight conjunction of Venus and Mars Thursday morning. They'll stay close through the weekend.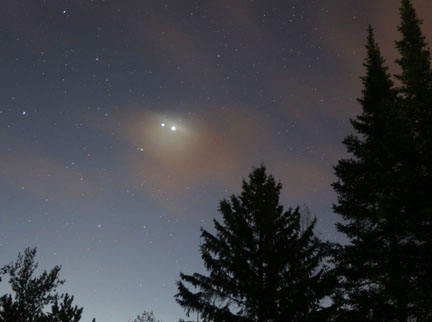 Let's face it. If the solar system weren't essentially flat, the night sky would be much less interesting. The simple fact that the planets orbit racetrack-style around the Sun makes possible all manner of wonderful line-of-sight Moon-planet and planet-planet pairings. Obscure as it sounds, we owe a debt of gratitude to conservation of angular momentum for providing this week's very close conjunction of Mars and Venus.
The cloud of gas and dust that underwent gravitational collapse more than 4.5 billion years ago to form the Sun and planets probably started out with next to no spin. But to conserve angular momentum as it contracted, the nebula sped up, whirling faster and faster until it flattened into a pancake. In the center, where most of the mass was concentrated, the Sun formed. The planets grew from the remaining material within the disk.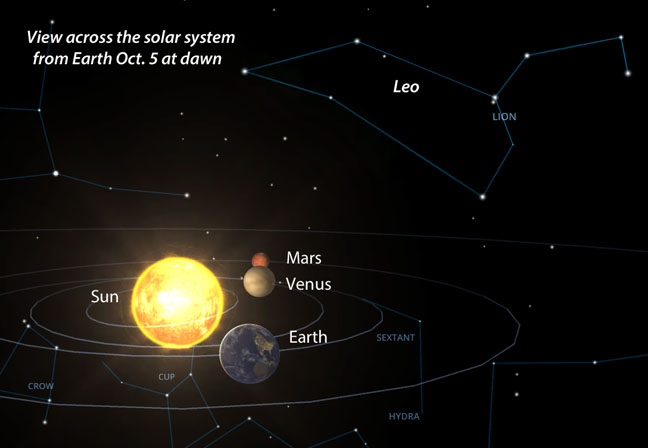 Since all the planets orbit in approximately the same plane — speeding along different lanes on a giant racetrack, if you will — when we look across the solar system from planet Earth, they appear to almost overlap from time to time. One night, our line of sight might include Venus and remote Neptune, the next, Mars and Jupiter. We rarely think about how far the planets are far from each other because our eyes can't sense depth beyond a kilometer, and the deception is both beautiful and convincing. Astronomers call it a conjunction.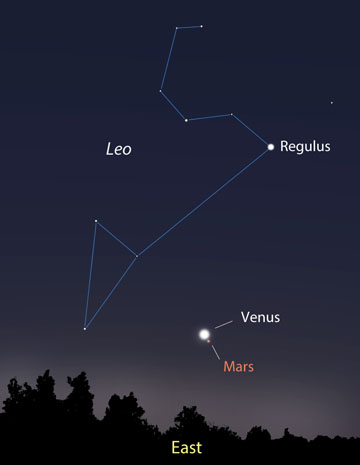 Venus and Mars have been on a "collision course" for some time, ever since the Red Planet returned to the morning sky after its late July conjunction with the Sun. Drawing a little closer each day, the two planets have been inching together for weeks. On Thursday morning, October 5th, they'll almost touch, when Venus passes just ¼° north of Mars.That's a tight sight and worth setting the alarm to see. The pair rises about 5:15 a.m. and is well-placed for viewing from about 5:45–6:15 a.m. some 90 minutes to an hour before sunrise.
Venus will be unmistakable, low in the eastern sky, two outstretched fists below Leo's brightest star, Regulus. Mars? You may not notice the planet at first glance because of the glare from Venus, but they won't be so close that you can't split the pair with the naked eye. Consider the difference in brightness between the two. Venus shines at magnitude –3.9 and Mars at 1.8, a six-magnitude difference that makes Mars almost 250 times fainter than Venus.
Mars appears so faint because it's located almost on the opposite side of the Sun from the Earth, some 236 million kilometers away. Venus, in contrast, beckons from just 141 million kilometers, has a diameter nearly twice that of Mars and a perpetual cloud cover that excels at reflecting sunlight. Faint or not, it's exciting to see Mars return to the morning sky en route to its 2018 perihelic apparition, the brightest and closest the planet will be since 2003. Opposition occurs next July 27th, when Mars can finally strut its stuff at magnitude –2.8. Take that, Venus.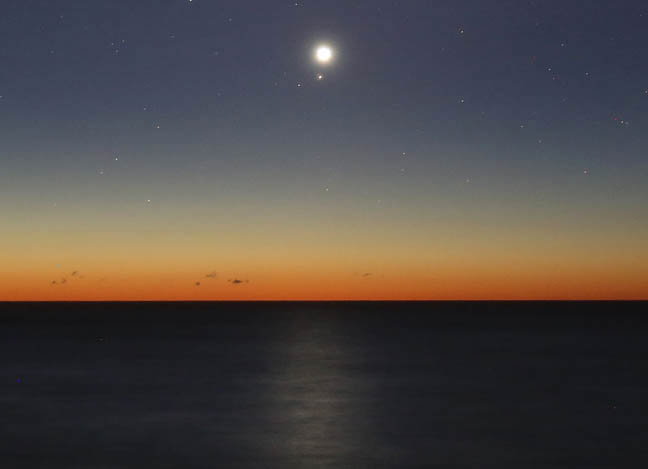 Thursday's event takes place in Leo, the Lion, a hotbed of conjunction madness for weeks now. Mercury, Venus, Mars, Regulus, and the waning crescent Moon have been mixing it up here since mid-September. Venus will move on to join Jupiter for an equally close and even more spectacular conjunction on November 13th at dawn in Virgo. If by chance it's not clear on the 5th, Mars and Venus will still be just ½° apart on the 6th and 1° on the 7th — fine pairings by any measure.
Simple facts often lead to profound consequences. Stars dumbly cook helium to make carbon, the element essential to life. Gravity unwittingly attracts whatever it can get its hands on (or alters the fabric of spacetime, take your pick) to fashion everything from comets to black holes. Dusty disks form planets, leading to the inadvertent beauty of conjunctions. We have the easy part: partake of and share the wonder.