Contact:
J. Kelly Beatty, Senior Editor
855-638-5388 x22168, [email protected]
Alan MacRobert, Senior Editor
855-638-5388 x22151, [email protected]
(Nights, weekend: 781-275-9261)
A total lunar eclipse occurs in prime time for U.S. skywatchers on Sunday night, September 27th. Sky & Telescope is providing a professionally produced, HD webcast of the entire event.
On Sunday evening, September 27th, skygazers throughout the Americas will be treated (weather permitting) to a spectacular lunar eclipse. But if you're stuck indoors, or if it's cloudy in your area, or if you live outside the visibility zone, you can watch the entire event live via Sky & Telescope's high-definition webcast:
http://is.gd/lunar_eclipse_live
https://livestream.com/SkyandTelescope/Sept27eclipse
Embed codes for various or custom frame sizes are available at the webcast site on livestream.com. The webcast will be live from 9:00 p.m. until 12:30 a.m. EDT. The eclipse is also visible from South America later in the night local time, and from Europe and much of Africa in the early-morning hours of Monday, September 28th.
This is a "must-see" celestial event. Over the course of 3½ hours, the full Harvest Moon will glide through the dark core of Earth's shadow (the umbra) and change from brilliant white to an eerie dim red (due to sunlight scattered into the shadow by Earth's atmosphere). Totality lasts from 10:11 p.m. to 11:23 p.m. EDT; adjust to your time zone accordingly. Here are other key times: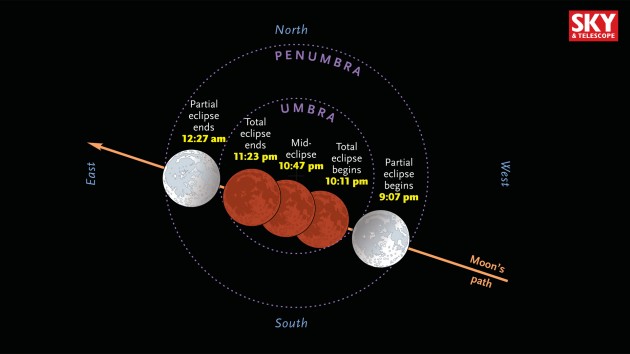 Sunday's eclipse is unusual in three ways:
— it's the last of four consecutive total lunar eclipses in a row (dates: April 15 and October 8 in 2014; April 4 and September 27-28, 2015);
— it occurs almost exactly when the Moon comes closest to Earth for all of 2015 (221,753 miles or 356,896 km away, center to center), so the lunar disk's area will be 13% larger than it was for the lunar eclipse last April.
— it's the last total lunar eclipse visible anywhere until January 31, 2018.
Sky & Telescope's webcast will provide uninterrupted video of the eclipse. Audio commentary will include discussions with several lunar experts scheduled at the following times:
9:00 p.m. EDT — Alan MacRobert, a veteran S&T Senior Editor who's scrutinized the Moon through all kinds of telescopes
9:30 p.m. EDT — Sean Walker, S&T's Equipment Editor and a veteran astrophotographer who knows the best ways to capture the eclipse
10:00 p.m. EDT — Maria Zuber, MIT geophysicist, lead scientist for NASA's GRAIL mission, and an expert on the lunar interior
10:30 p.m. EDT — Kelly Beatty and Alan MacRobert will review eclipse geometry and the Moon's appearance during totality
11:00 p.m. EDT — Andrew Chaikin, space historian and author of A Man on the Moon, which details the Apollo landings in the astronauts' own words
11:30 p.m. EDT — Charles Wood, an expert in lunar geology and author of S&T's Exploring the Moon column
12:00 a.m. EDT — Erich Karkoschka, a University of Arizona planetary scientist whose research explains why Earth's shadow is slightly larger than the planet itself
For general information about the eclipse, including a detailed timetable, please direct your viewers/readers to: http://is.gd/Sept_2015_lunar_eclipse.