Interested in capturing stunningly detailed images of the Moon and planets? Join S&T's live astrophotography webinar on Monday, November 21, 2016, where you'll learn what it takes to capture the best shots of the major planets including Jupiter, Saturn, Venus, and Mars, and even Uranus and Neptune.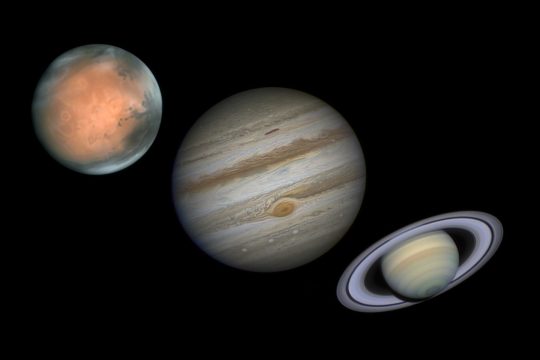 Next Monday I'll be hosting Sky & Telescope's next online webinar, "High-Resolution Planetary Imaging" with world-renowned planetary photographer Damian Peach. Damian has been at the forefront of planetary photography techniques since the turn of the century.
We'll discuss the latest cameras and what to look for when choosing telescopes and software, as well as helping you get the most out of your own equipment.This webinar will feature information useful to both beginners and more advanced observers.
That's Monday, November 21st, at 1:00 p.m. EDT (18:00 UTC). Price: $29.99
Buy the webinar to register for the event. Each registration comes with access to the archived version of the program and materials for one year. You don't have to attend the live event to get a recording of the presentation. But if you do, you can chat with Damian and ask questions. Any questions that the live presentation doesn't get to will be included in a follow-up email.
What You'll Learn
How to choose the best planetary telescope to fit your budget
What to look for in planetary cameras
The importance of accurate optical collimation
How to mitigate thermal issues and predict seeing conditions
How to use popular planetary image-processing software
Our Guest
Damian Peach was awarded both the British Astronomical Association's Merlin Medal and the Association of Lunar and Planetary Observers Walter Haas award for outstanding contributions to planetary astronomy. Damian's work has also been used by NASA and the ESA to illustrate the importance and high-quality of amateur planetary photography.
How Does the Webinar Work?
The webinar is broadcasted via the Internet, using GoTo Webinar, with live audio delivered through your computer speakers or over your telephone. The live webinar's visual presentation is displayed directly from the presenter's computer to your computer screen. The Q&A is managed through a chat-style submission system with Sean Walker reading the questions and Babak Tafreshi answering in the presentation for the entire class to hear. In the event that some questions are not answered during the live session, an email with questions and answers will be sent to all webinar attendees. By attending the live webinar and asking questions, your full name may be stated during the live event and captured in the recording.
You can check your system's compatibility automatically before the live webinar by visiting here.
Important: After you complete your purchase of this live webinar, you will be prompted to confirm your registration via a link on the order confirmation page/email.