SUBSCRIBE TODAY | ISSUE INDEX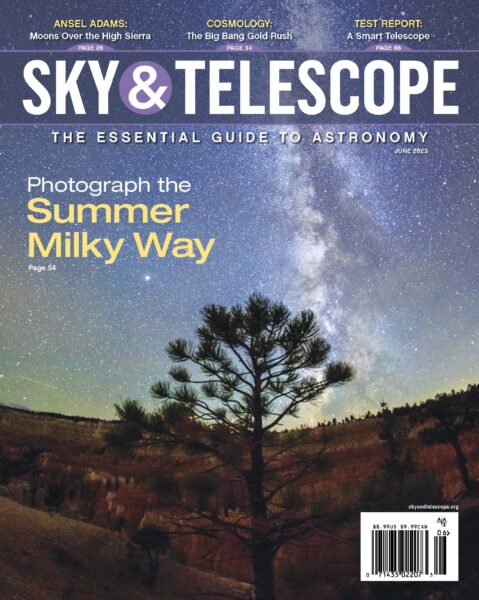 Active Asteroids, Ansel Adams, and Astroimage Processing
In the June 2023 issue of Sky & Telescope, we have a beginner's guide to photographing the summer Milky Way. And for deep-sky astrophotographers, we teach you the basics of using PixInsight, a popular astronomical image-processing software. Last on our photography agenda, the Celestial Sleuth Don Olson breaks out his magnifying glass and telescope to figure out the date Ansel Adams captured two famous photographs of Yosemite National Park. Next, we dive deep into the Milky Way's starry depths, searching for the farthest globular clusters we can see from Earth. Also in this issue, we explore the differences between comets and asteroids, which it turns out are not as cut and dry as we once thought. We're now starting to understand how asteroids can sometimes form cometary tails, too.
FEATURE ARTICLES:
Dozens of worldlets in asteroid-like orbits spout comet-like tails.
By Henry Hsieh
Which "glob" is the farthest one you can see?
By Scott Harrington
Ansel Adams and Moons Over the High Sierra
Astronomical detective work uncovers the dates for a pair of photographs by a legendary artist.
By Donald W. Olson
Cosmologists have yet to strike it rich in their search for primordial gravitational waves. Will the next generation of projects succeed?
By Benjamin Skuse
Master the basics of the most popular astronomical image-processing software.
By Ron Brecher
Beyond the Printed Page:
Check out this 3D galactic atlas.
Help this citizen science project find asteroids with tails.
Spiders in Newtonian Telescopes
Read about Nils Olof Carlin's hacksaw-blade design for spiders for Newtonian telescopes.
Enjoy this catalog of globular clusters in the Milky Way.
ALSO IN THIS ISSUE:
The Serpent Bearer has a fine collection of celestial treats.
By Fred Schaaf
Watch Galilean satellite shadows transiting the Jovian disk this month.
By Bob King
These terrestrial analogs can help you bring the Moon closer to home.
By Charles A. Wood
Capturing the Summer Milky Way
A dark sky is the secret to dramatic photos of our home galaxy.
By Tony Puerzer
Table of Contents
See what else June's issue has to offer.