Want to learn how to take stunning deep-sky images of galaxies, nebulae, star clusters, and the occasional bright comet? Then join S&T's live webinar on Tuesday, October 10, 2017, to learn the secrets of how to take deep, colorful photos of the universe with your telescope with expert Richard S. Wright, Jr.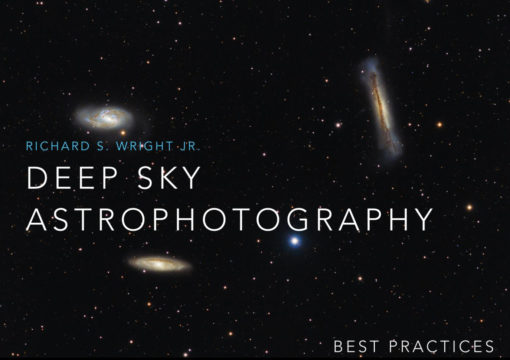 On Tuesday, October 10th, I'll be hosting Sky & Telescope's next hour-long online webinar, "Deep-Sky Astrophotography: Best Practices" with S&T Contributing Editor Richard S. Wright Jr. for the follow-up to his popular webinar "First Principles." Regardless whether you're just getting started in astrophotography or consider yourself an expert, a review of best practices is always a good exercise as we continually strive to increase our skill and get even better images from our gear.
For over a decade Richard has practiced deep-sky astrophotography full time as a software developer at Software Bisque, and he has worked with countless customers to get the best results from their imaging hardware of all kinds. In this webinar, Richard will be building on the foundation laid in his previous webinar ("Deep-Sky Astrophotography: First Principles") and will review some of the practices he has picked up over the years for getting the best data from whatever gear you have.
WHAT YOU'LL LEARN:

Camera settings for still and time-lapse imaging
The best cameras and lenses
Recommended accessories
Still position time-lapse videos and star trails
Moving position time-lapse videos
Motion-control accessories
Day-to-night transitions
What flicker is and how to avoid it
Ideas on imaging targets
How to be creative and original in time-lapse imaging
Essential editing software
Editing techniques and tips to enhance time-lapse sequences
WHO SHOULD ATTEND?
Anyone interested in starting deep-sky astrophotography
Beginning imagers struggling with their gear
Experienced astrophotographers who want to take their craft to the next level
Anyone frustrated with getting poor data
Results-oriented imagers
Infrequent photographers who need a refresher
Imagers who want the best results from the gear they have now
INSTRUCTOR
Sky & Telescope contributing author Richard S. Wright Jr. is a senior software product developer for Software Bisque and an avid astro-imager and daytime photographer. A lifelong amateur astronomer, Richard started shooting the Moon with a film SLR camera in the late 1990s, and it was just a slippery slope to DSLRs and CCD cameras thereafter. Authoring the majority of TheSkyX's native camera plug-ins across all OS platforms, Richard regularly uses a dozen of his own astrographs, and an even wider variety of cameras.
HOW DOES THE WEBINAR WORK?
Each registration comes with access to the archived version of the program and any materials for one year. You don't have to attend the live event to get a recording of the presentation. You'll receive a copy of the webinar presentation in an email that goes out a week after the live event. In all Sky & Telescope webinars, no question goes unanswered. Attendees have the ability to chat with the instructor during the live event and ask questions, and any questions not covered in the live presentation will be included in the follow-up email as well.
The webinar is broadcast via the Internet, using GoToWebinar, with live audio delivered through your computer speakers or over your telephone. The live webinar's visual presentation is displayed directly from the Presenter's computer to your computer screen. The Q&A is managed through a chat-style submission system with questions being read and answered by the Presenter for the entire class to hear. In the event that some questions are not answered during the live session, an e-mail with questions and answers will be sent to all webinar attendees. By attending the live webinar and asking questions, your full name may be stated during the live event and captured in the recording.
WHAT EQUIPMENT DO I NEED?
All you need is a computer or other device and an Internet connection. You'll be able to view the presentation and listen to the audio over computer speakers; however, you'll enjoy better audio quality if you use a telephone. For complete system requirements, see this page.
You can check your system's compatibility automatically before the live webinar by visiting this page.
Don't forget: Tuesday, October 10th, at 2:00 p.m. EDT (18:00 UTC). Price: $29.99. Sign up here!