Join Babak Tafreshi's live webinar as he shares his personal techniques for capturing long-exposure photographs of star trails above landscapes, cities, and monuments.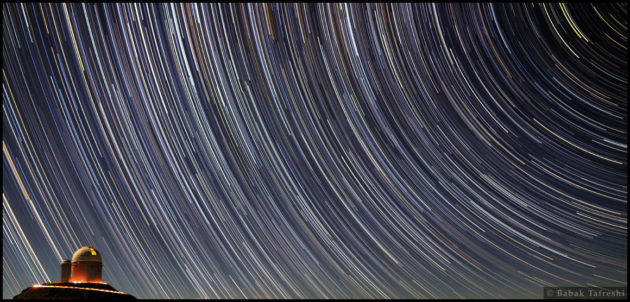 Do you like the appearance of picturesque scenes crowned with the colorful arcs of star trails. Do you yearn to take shots like that yourself? Attend a live webinar on Tuesday, April 2nd, to learn how to take these unique photographs.
The very first time you shoot the night sky, you'll realize that long exposures on a fixed tripod produce star trails due to Earth's rotation. Often, nightscape photographers limit the exposure to "freeze"' stars, but other times we let them trail to produce fantastic long exposures that depict the passage of time.
Babak shares his techniques, as well as solutions to various challenges to shooting successful long-exposure nightscapes. Reveal the star trails' myriad colors, handle bright moonlight, and even shoot under light-polluted, urban skies — you can still get compelling star-trail photographs.
Join Sky & Telescope's live webinar to ask Babak questions about your specific situation. That's Tuesday, April 2nd at 1:00 p.m. Eastern Daylight Time (15:00 UT). Price: $29.99
Buy the webinar in our online store, and you'll receive an email to register for the event. Each registration also comes with access to the archived version of the program and materials for one year. You don't have to attend the live event to get a recording of the presentation. But if you do, you can chat with Babak and ask questions. Any questions not addressed during the live presentation will be included in a follow-up email.
What You'll Learn
| | |
| --- | --- |
| • | A brief introduction to camera settings for properly exposed nightscape images |
| • | How star trails appear in various parts of the sky |
| • | How to plan a long-exposure nightscape image |
| • | Creative ideas for imaging star trails |
| • | How to create multiple-exposure star-trail images |
| • | Post-processing techniques |
Who Should Attend
| | |
| --- | --- |
| • | Serious photographers and hobbyists with little knowledge of astrophotography |
| • | Daytime photographers interested in learning how to shoot the night sky |
| • | General travel enthusiasts interested in photography |
| • | Amateur astronomers interested in learning to take nightscape photos |
| • | Advanced nightscape photographers with specific questions |
About the Instructor: Babak A. Tafreshi
Sky & Telescope contributing photographer Babak Tafreshi, a National Geographic photographer and leader of The World at Night program, is a master at nightscape imaging by m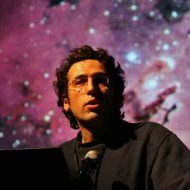 erging art, culture, and science. His images reconnect people across the globe with the beauty of the night sky and the value of preserving natural nights.
Babak is also a science journalist, photo ambassador for the European Southern Observatory (ESO), and a board member of Astronomers Without Borders (AWB). Born in Tehran, he is now based in the Boston area but could be anywhere on the planet seeking starscapes to photograph. In the past two decades he has spent about a thousand nights imaging under stars on seven continents. For his global contribution to night-sky photography, Babak received the 2009 Lennart Nilsson Award, the world's most recognized award for scientific photography at the time.
How Does the Webinar Work?
Each registration comes with access to the archived version of the program and any materials for one year. You don't have to attend the live event to get a recording of the presentation. You'll receive a copy of the webinar presentation in an email that goes out a week after the live event. In all Sky & Telescope webinars, no question goes unanswered. Attendees have the ability to chat with the instructor during the live event and ask questions, and any questions not covered in the live presentation will be included in the follow-up email as well.
The webinar is broadcast via the Internet, using GoToWebinar, with live audio delivered through your computer speakers or over your telephone. The live webinar's visual presentation is displayed directly from the Presenter's computer to your computer screen. The Q&A is managed through a chat-style submission system with questions being read and answered by the Presenter for the entire class to hear. In the event that some questions are not answered during the live session, an e-mail with questions and answers will be sent to all webinar attendees. By attending the live webinar and asking questions, your full name may be stated during the live event and captured in the recording.
What Equipment Do I Need?
All you need is a computer or other device and an Internet connection. You'll be able to view the presentation and listen to the audio over computer speakers; however, you'll enjoy better audio quality if you use a telephone. For complete system requirements, see this page.
You can check your system's compatibility automatically before the live webinar by visiting this page.
Don't forget: Tuesday, April 2nd, at 1:00 p.m. Eastern Daylight Time. Price: $29.99. Sign up here!