Did you love your glimpse of the eclipse? Can't wait to find out about the next great cosmic phenomenon? With a subscription to Sky & Telescope you'll always know what's coming next of astronomical note — and a whole lot more!
We hope you all have been loving our eclipse coverage — and there's plenty more to come in the days ahead as we get more submissions to our online gallery, gather more stories from the path of totality, and return to home base after chasing the eclipse. We're eclipse lovers, just like you, and we can't wait to share the rest of what we have planned with you.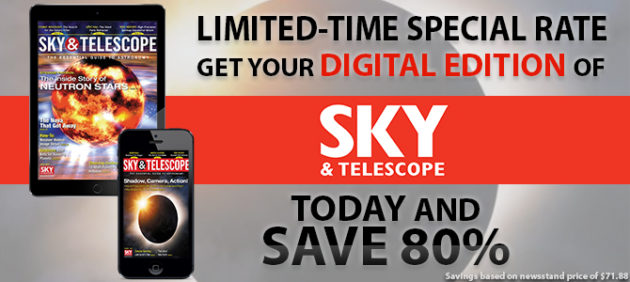 We've got a "totality" awesome promotion running in honor of the eclipse. For a limited time, you can purchase a year-long digital subscription to Sky & Telescope for only $14.95 — that's a savings of 80% off newsstand price. The digital subscription will allow you to take Sky & Telescope with you, wherever you travel, no matter the astronomical phenomenon you're chasing. As a convenient PDF download, you can have it on your smartphone, e-reader, tablet, laptop... the possibilities are practically endless!
In each issue, you'll find feature articles full of in-depth high-quality reporting on current events in astronomy, useful tools for stargazing, and stories and mysteries from the history of astronomy. Every issue also contains a Northern Hemisphere sky chart for that month, observing challenges for both astronomers new to the hobby and veterans, facts and figures for visibility of the planets, and a handy chart for the location of Jupiter's Galilean moons. We also review the latest observing gear and highlight upcoming astronomical events.
We've never had an offer like this — and like totality, it'll be over before you know it! Don't let this opportunity pass you by, order your year long digital subscription to Sky & Telescope today!