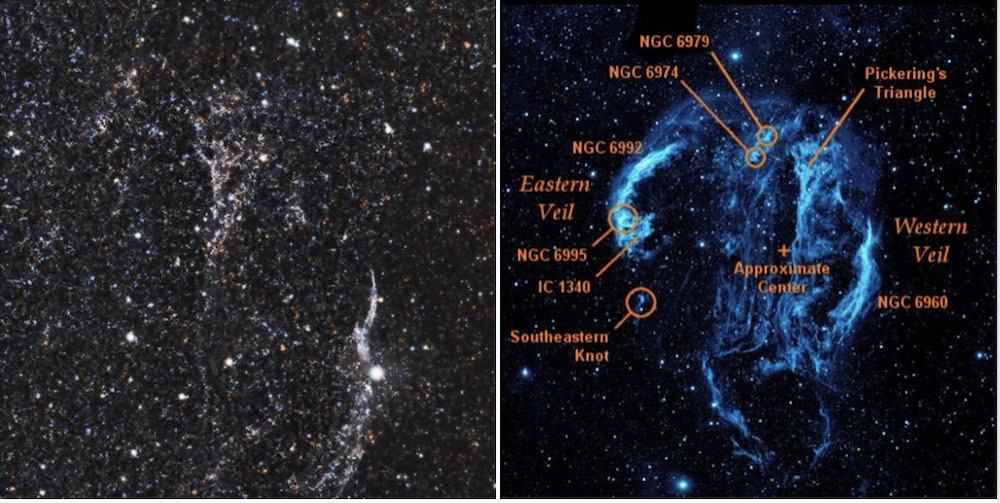 Photographer:
Jon Greif
Email:
Location of Photo:
Mayhill, NM, USA, remotely from La Jolla, CA, USA
Date/Time of photo:
August 2, 2019, 12:20 AM MDT
Equipment:
Takahashi FSQ-ED 106 mm refractor with LRGB filters. Processed with PixInsight 8.6 software.
Description:
Deriving its name from its delicate structures, the beautiful Veil Nebula is one of the best-known supernova remnants. It formed from the violent death of a star, twenty times the mass of our Sun, that exploded about 8000 years ago. Located roughly 2100 light-years from Earth, in the constellation of Cygnus (The Swan), which is currently in the Eastern sky, this brightly colored cloud of glowing debris spans approximately 110 light-years. The blue colored features outlining the cavity wall appear smooth and curved because the gas traced by the blue filter has more recently encountered the nebula's shock wave, maintaining the original shape of the shock front. The image on the left was taken remotely (by me on iTelescope.net) just after midnight on August 2nd, using a wide field imaging platform in Mayhill, NM, 5 minutes each of Red, Green, Blue and Clear Filter exposures -- and shows portions of the Western and Eastern Veil Nebulae and Pickering's Triangle. The annotated image is from the Hubble Telescope.
Website: