Canon introduces the EOS Ra, a version of their 30-megapixel, EOS R full-frame mirrorless camera designed specifically for astrophotography.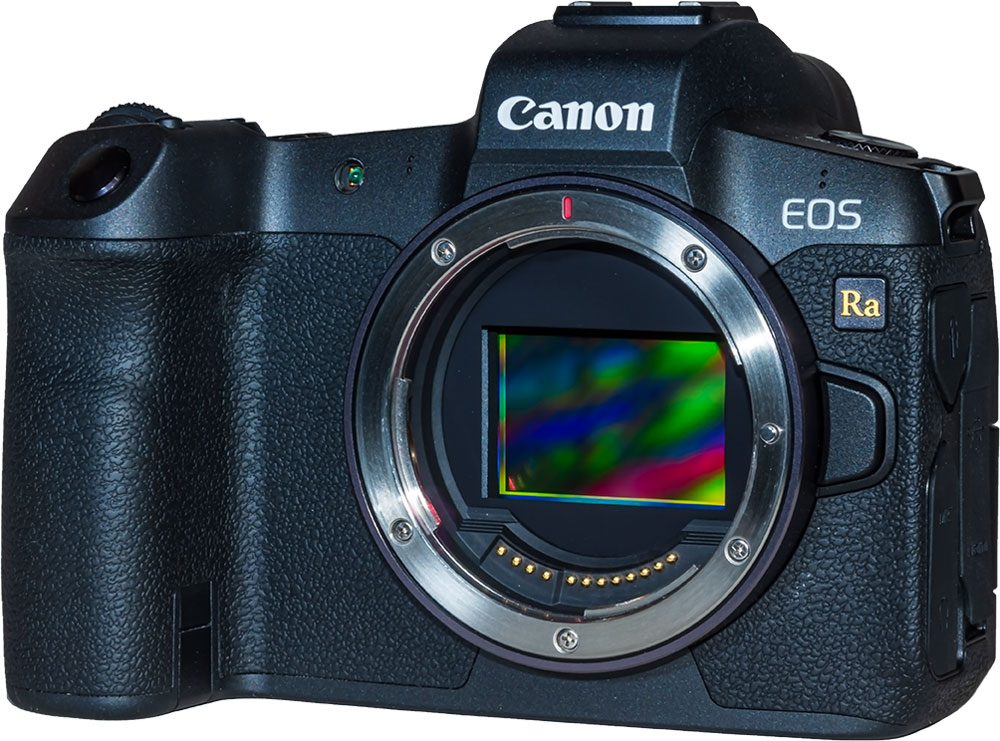 At long last, Canon has re-entered the astrophotography market with the release of its EOS Ra Mirrorless camera (estimated price: $2,499). While most DSLR and mirrorless cameras work well for general photography, they often require modification to perform best while imaging the night sky. This is the third "a" camera from Canon after their 20Da in 2005 and 60Da in 2012, both cropped-frame DSLRs.
We received an advanced sample of the EOS Ra from Canon USA, to expand upon the review already  underway of the stock EOS R that will appear in an upcoming issue of Sky & Telescope. Both cameras perform identically for noise and image quality.
The EOS Ra differs from the stock EOS R in its greater red sensitivity (due to a special infrared cut-off filter), factory-calibrated white balance, and 30x Live View magnification.
Outperforming the 60Da
All consumer digital cameras have a filter mounted in front of the sensor that cuts out infrared light that would otherwise add an unfocused haze over the image. But filtering out IR also filters out most of the hydrogen-alpha light in the deep red region of the visible spectrum emitted by nebulae.
Not so with the EOS Ra. Its factory-installed IR-cut filter transmits a much higher level of the 656.3-nanometer emission line of hydrogen-alpha emitted by star-forming regions in the Milky Way and other galaxies.
It appears Canon has fitted the EOS Ra with a filter that transmits a higher level of the H-alpha line than on its earlier "a" cameras. Canon claims it is four times higher.
While we couldn't confirm that number, the Ra's performance does seem to be on par with my filter-modified Canon 5D Mark II that I have used since 2009. My venerable 5D MkII is an example of a DSLR modified by a third party, in this case by Astro Hutech.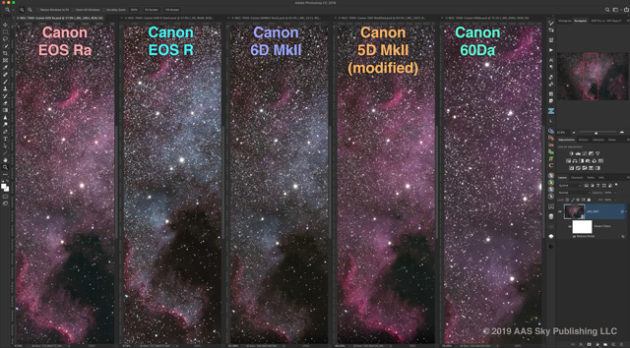 And yet, despite its special filter, the Ra can be used for normal daytime photography using Auto and Daylight white balance. Color correction filters are not needed.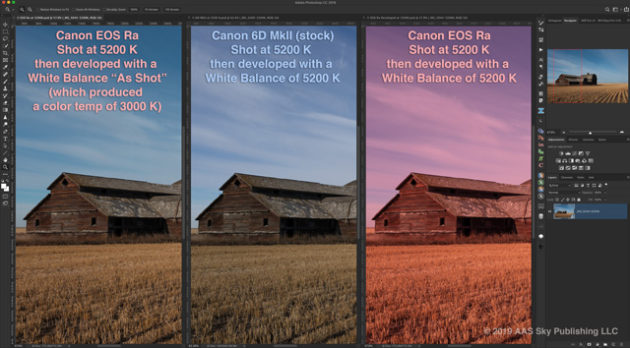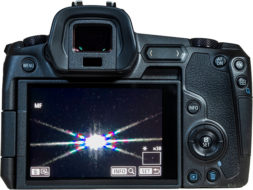 Both the EOS R and Ra offer a bright Live View screen making it much easier than with most DSLRs to frame scenes at night. The EOS Ra, however, has a welcome firmware upgrade from the standard EOS R that benefits astrophotography. Instead of the usual 10x, the EOS Ra offers a 30x magnification in Live View, great for achieving accurate focusing on stars, especially with wide-angle lenses.
The EOS Ra proved identical to the stock EOS R for noise. Both cameras' 30-megapixel sensors have  5.34 micron-square pixels.
At the high ISOs we typically use for astro-imaging, the R cameras exhibit noise levels that are as good as, if not slightly lower than Canon's 6D MkII, despite the latter's larger 5.7-micron pixels. Read more about the cameras' performance comparison to competing models in an upcoming issue of Sky & Telescope.