Deep Sky Colors
www.deepskycolors.com/hawaii-nights.html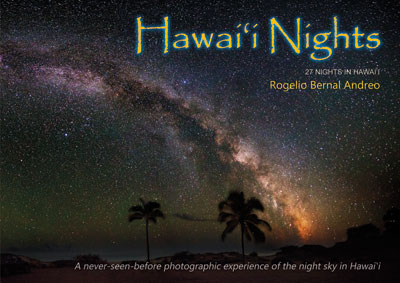 Premier astrophotographer Rogelio Bernal Andreo has published his first book, Hawai'i Nights, documenting his nearly month-long photographic adventure visiting the islands. This landscape-format book measures 8.27 × 11.7 inches and is divided into informal chapters based on the nights he spent snapping breathtaking photos of the night sky on each of the main islands. The book features more than 70 photos of famous Hawai'ian locations seen under the stars, many as two-page spreads. Hawai'i Nights is available as a digital download for $24, in paperback for $49, and in hardcover for $65. 115 pages, ISBN 978-0-9906763-2-4.
SkyandTelescope.com's New Product Showcase is a reader service featuring innovative equipment and software of interest to amateur astronomers. The descriptions are based largely on information supplied by the manufacturers or distributors. Sky & Telescope assumes no responsibility for the accuracy of vendors statements. For further information contact the manufacturer or distributor. Announcements should be sent to nps@SkyandTelescope.com. Not all announcements will be listed.