Software Bisque Inc.

862 Brickyard Circle, Golden, CO 80403-8058
303-278-4478; www.bisque.com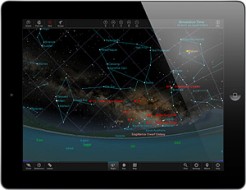 Software Bisque announces its long-anticipated expansion into the app market with the release of TheSky Mobile ($14.99) for the iPhone and TheSky HD for the iPad ($29.99). Both include an extensive feature set tailored to the intermediate and advanced amateur. TheSky for iOS integrates popular features from the desktop editions, including field-of-view indicators for many telescope, eyepiece, and camera combinations; large astronomical databases (including satellites and minor planets); integrated photos of popular astronomical objects; and much more. TheSky's Wi-Fi telescope control (a Wi-Fi-to-serial adapter is required and sold separately) offers a powerful and elegant alternative to your Go To telescope's hand paddle, allowing you to control their telescopes directly with your iPhone or iPad device. TheSky HD for the iPad also integrates with DC-3 Dreams ACP Observatory Control Software, enabling users to plan, submit to ACP, and execute their observing session without having to exit TheSky. Additional catalog plug-ins can be downloaded from the manufacturers website free of charge.
SkyandTelescope.com's New Product Showcase is a reader service featuring innovative equipment and software of interest to amateur astronomers. The descriptions are based largely on information supplied by the manufacturers or distributors. Sky & Telescope assumes no responsibility for the accuracy of vendors statements. For further information contact the manufacturer or distributor. Announcements should be sent to [email protected]. Not all announcements will be listed.