Here's everything you need to know about the first of South America's two total solar eclipses within 18 months.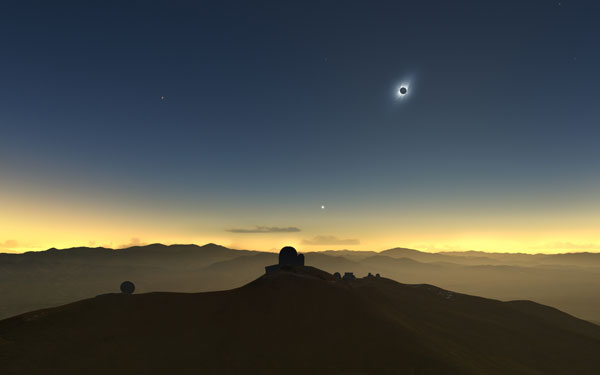 Did you see the Great American Eclipse of August 21, 2017? If it's etched on your memory forever, it's likely that you traveled into the path of totality to glimpse the Sun's corona for a few precious minutes.
In 100 days — and for the first time since that day — a total solar eclipse will once again occur on Earth. Eclipse-chasers are getting ready to observe it from the South Pacific, Chile, and Argentina.
"The experience of seeing the Sun as a black hole surrounded by its silvery corona is so visually mind-blowing," says eclipse-chaser Sushil Dawka from Guwahati, India, who will be traveling more than 18,000 km to see totality, stopping off at the Galapagos Islands, Easter Island, and Machu Picchu on either side of the event. "The fact that science can predict this to the microsecond is so soul-satisfying that even a slim chance to view totality is worth all it takes."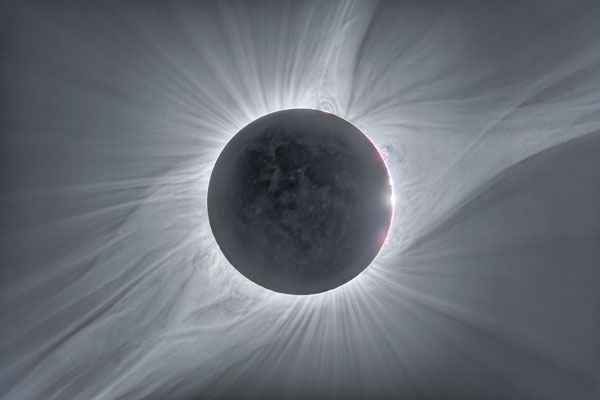 How will this eclipse be different from the "Great American Eclipse"?
This event promises to be an even more powerful spectacle. Totality, when the Moon perfectly blocks the Sun to reveal the solar corona, will last for about 2 minutes 20 seconds in South America, which is similar to that experienced in the U.S. in 2017. However, in Chile and Argentina, totality will occur about an hour before sunset, so the Sun will appear relatively low in the sky.
"Viewing a total solar eclipse at just 12° high is quite dramatic and ideal for photographers, because you can easily frame mountains, buildings, or trees in the same field of view as the corona," says Michael Zeiler, an eclipse cartographer who runs GreatAmericanEclipse.com. "This eclipse will be an astrophotographer's delight!"
The Sun and Moon's low elevations will have another visual effect. "When the eclipse is low it's easier to perceive the Moon's dark shadow cone because you're looking down its throat, so you tend to see the shape of the shadow more clearly than if you look straight up into the sky," says Rick Fienberg, former editor in chief at Sky & Telescope and now the press officer of the American Astronomical Society.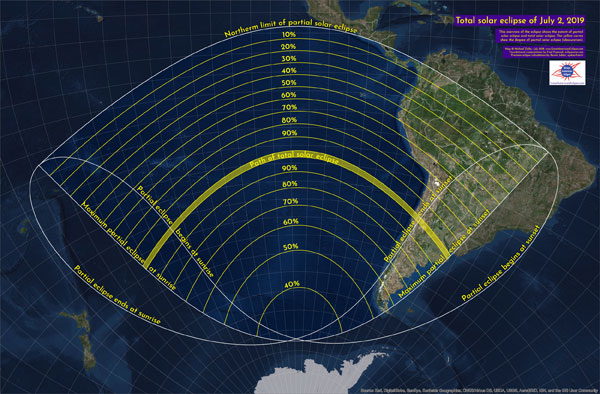 Where will eclipse-chasers be?
Most viewers will be in the Elqui Valley north of Santiago, Chile, and inland from La Serena, while others will watch from across the border in the high Andes of eastern Argentina, just north of San Juan.
"I will be viewing from an elevated site above the Elqui Valley in Chile, which is desirable because of the relatively long duration of totality on land, and reasonably good weather prospects," says Zeiler. "Many of the world's leading observatories are clustered on mountain tops above this valley so that's a strong indicator for favorable viewing conditions." The area is home to the European Southern Observatory's La Silla Observatory, which will receive 1 minute 48 seconds of totality and is holding a sold-out observing event. Solar science teams will assemble at Cerro Tololo Inter-American Observatory, part of the AURA Observatory, where totality will last 2 minutes 2 seconds.
What makes for a good observing location?

A reasonably low eclipse such as this one does bring its challenges. Since the path of totality through Chile and western Argentina is mountainous, finding an observing location not in shadow at the time of eclipse will be crucial.
Zeiler has therefore developed a suite of shadow maps that show the extent of shadow at the time of totality. "These maps should be used to select a viewing site in advance of the eclipse," he says. "Eclipse day will be too late to make actionable use of the maps because the very limited road system will experience unprecedented traffic." Another map worth checking is eclipse-chaser Xavier Jubier's Google Map.
How well prepared is the Elqui Valley?
As a small, rural area that's home to vineyards and observatories, can Chile's Elqui Valley cope with an influx of 350,000+ eclipse-chasers?
"The Elqui Valley is already prepared," says Cristian Ballesta, owner of AstronomicTourism.com and TurismoAstronomico.cl. This will be his company's first total solar eclipse, and Ballesta plans to watch in La Higuera, a tiny hamlet situated on the center line. "Everyone is training and preparing to best serve the thousands of visitors waiting in the area for the eclipse."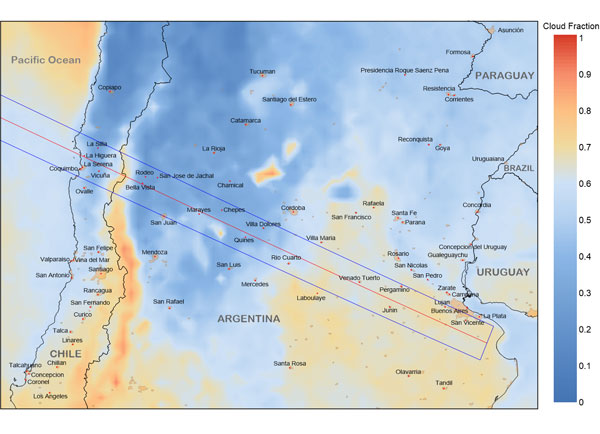 What's the weather going to be like?
A so-called marine layer is a threat to a clear totality according to eclipse-meteorologist Jay Anderson's predictions. July is the middle of winter in South America, after all. Locals agree.
"The eclipse is in winter, so on the coast it is very likely that there will be clouds, which is why to ensure a good observation it's recommended to go to the Elqui Valley," says Ballesta.
Limited mobility means it comes down to the luck of the weather, and eclipse-chasers will be nervous. "Despite the dicey weather conditions, I hope that the high desert will be cloudless for those few magic moments," says Dawka.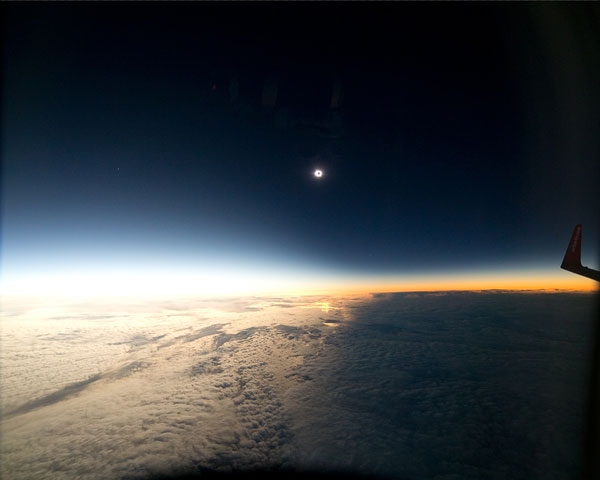 Are there any cruise ships and flights?
Both. There will be at least two ships in the South Pacific, including the 330-passenger m/s Paul Gauguin and the motorized sailing ship Wind Spirit.
"I'm excited about the adventure and seeing my 14th total solar eclipse," says Fienberg, who will be lecturing on the Paul Gauguin. "We will be west of where the maximum totality is, near Pitcairn Island and Oeno Island."
There will also be a few flights off the coast of Chile, including a Sky & Telescope-chartered A320. North of Easter Island will be "EFLIGHT 2019-MAX," a chartered Boeing 787-9 Dreamliner. The latter will intercept the Moon's shadow over the Pacific Ocean at the point of greatest eclipse, and since it will be flying at half the speed of that shadow, it will double the 4 minutes 32 seconds of totality to 8 or 9 minutes.
"Right now we have 46 eclipse observers signed up," says Glenn Schneider (University of Arizona), a veteran of 35 total solar eclipses who developed the flight plan and will himself be on board.
A few seats are still available on these flights, both of which promise an "out of this world" (or at least "off this world") eclipse-viewing experience.