Cannan Huey-You, just 11 years old, impressed professional astronomers this week with his research on a massive intergalactic gas cloud.
When astronomers and astrophysicists descended on Grapevine, Texas, this week for the semiannual conference that many call the "Super Bowl of Astronomy," they were joined by the meeting's youngest participant ever.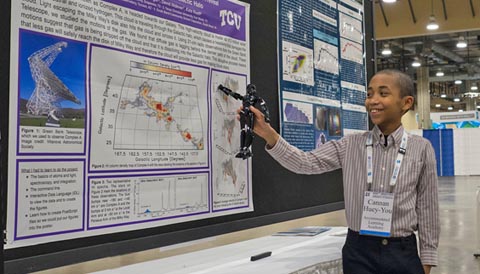 On Friday, 11-year-old Cannan Huey-You walked up to his poster and described research on the object known as Complex A, a massive gas cloud destined to crash into the Milky Way.
Already a high-school senior, Cannan has been working with astronomer Kathleen Barger for the past 2½ years. An assistant professor at Texas Christian University (TCU), Barger was looking for a student to assist with her radio observations of gas clouds near the Milky Way. For Cannan, long interested in astronomy, it seemed a good fit.
"I met Dr. Kat, and she told me about her research program," Cannan explains. "Mom decided it would be good to work on."
Together, they studied Complex A, which has about 2 million times the mass of the Sun and is just one of many gas clouds surrounding our home galaxy. Now only about 15,000 light-years out, this huge mass of neutral and ionized hydrogen should collide with the galaxy's disk in a few hundred million years. When it does, it will trigger a massive burst of star formation.
But in the meantime, the cloud is eroding as it passes through our galaxy's halo. As Cannan explained during his poster talk, radio observations made with the Green Bank Telescope show that diffuse gas is lagging behind this high-velocity cloud, and it's also being ionized by ultraviolet light from stars in the galaxy's disk. (Read the presentation's abstract here.) "We're learning that galaxies have an ecosystem," Barger said.
Sibling Scientists
Like many young boys, Cannan is only following in the footsteps of his older brother, Carson, who at 13 is about to graduate from TCU with a degree in quantum physics. In October, he and advisor Magnus Rittby, also at TCU, presented research results at the American Physical Society meeting in Waco, Texas.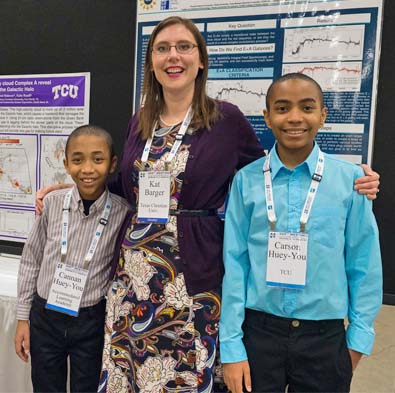 The boys' mother, Claretta, homeschooled both of them until they were five. When Carson entered school, he immediately tested ready for eighth grade, so she enrolled him at a private school in Grapevine called Accommodated Learning Academy.
Meanwhile, when Cannan turned five, he wanted to go to school with his friends, so she enrolled him in kindergarten, where he was excited to play all day. He was happy to stay with kids his age through first grade — but the next year he was bored, begging his mom to accelerate him. So Cannan was tested and placed into eighth grade at the age of 7. He says the more traditionally aged students accepted him as their peer.
As Carson and now Cannan traipse around the TCU campus, they are rarely alone. Claretta spends much of her day with the boys, providing the emotional support they need. "I'm just blessed that I can be with them on campus five days a week," the single mom says. She credits TCU for playing a major role in helping her boys assimilate — particularly Rittby, who for the past four years has served as a mentor and surrogate father. "TCU is our family, and so supportive," Claretta says. "When I need help, they are there for me. I could not do it alone."
Unlike some brothers, the boys work well together. Carson can often be found tutoring his younger brother in one of the college classrooms. Their only known battles involve light sabers, and are just for fun, their mother said.
With college graduation looming, Carson is looking forward to graduate school, where he plans to work on a doctorate in quantum physics. Cannan will join him at whatever school he opts for, with plans of eventually earning a Ph.D. in astrophysics.
Cannan also hopes to be an astronaut one day, a goal clarified when astronaut Anousheh Ansari spoke at TCU and promised to be at his first launch. She advised Cannan that he'd have a better chance of going into space if he could do more than one thing, so he's considering adding an engineering degree as well.
When asked if he had his pilot's license yet, a traditional step that many astronaut-hopefuls follow, Cannan's eyes lit up. He and Rittby hadn't discussed it yet, but it might be something to pursue a little further down the road. "He won't reach the controls right now," Rittby says.