Arecibo Observatory, the world's largest single-dish active radar telescope in the world, may be shut down or even destroyed due to funding concerns.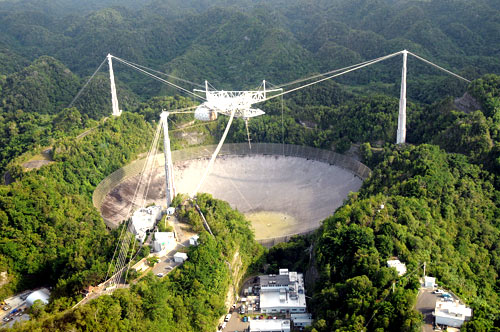 Arecibo Observatory, which at at 1,000 feet across is the world's largest single-dish active radar telescope, may be shut down or destroyed due to flat budgets at the National Science Foundation (NSF). The 53-year-old radio and radar telescope, located in Puerto Rico has been an invaluable scientific instrument for Nobel prize-winning radio astronomy, critical radar characterization of potentially-hazardous asteroids, and upper atmospheric studies.
The NSF released a "Dear Colleague" letter at the end of September 2016 that requested proposals for future operation of the observatory "under conditions of a substantially reduced funding commitment from NSF."  The agency's current budget for running Arecibo Observatory is approximately $8 million per year. Combined with about $4 million that NASA provides annually to operate the facility's planetary radar system, Arecibo's total budget is approximately $12 million per year.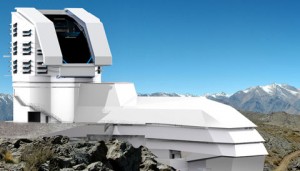 Arecibo Observatory isn't the only facility supported by the NSF. In addition to providing research grants for individuals at universities and research institutes around the United States, the NSF provides funding to the National Solar Observatory, Green Bank Observatory in West Virginia, Very Large Array in New Mexico, and others. Additionally, the NSF has made financial commitments to build new telescopes, such as the Large Synoptic Survey Telescope currently under construction in Chile.
With NSF's astronomy budget projected to stay flat for the foreseeable future, the organization has to prioritize the funds for all of its observatories and facilities, as it can't afford both to maintain prior commitments and to pay for new telescopes as their budgets increase with time.
Last March, NSF's Astronomy and Astrophysics Advisory Committee recommended that the NSF's financial focus be on funding new observatories, rather than supporting existing facilities such as Arecibo, and that the organization should disentangle itself from funding commitments "as fast as is practical."
The Price of Shutting Down
As part of the process to decide Arecibo's fate, the NSF commissioned an environmental-impact study to determine the consequences of deconstructing the observatory. The radio telescope's most striking feature is a 900-ton platform suspended from 500-foot-long cables held up by three towers that sit at the edge of a giant sinkhole surrounded by limestone karst hills. Dismantling such a structure would not be easy — or cheap.
This isn't the first time Arecibo has faced funding uncertainties. An NSF senior review in 2006 also recommended closing the observatory, but the astronomy and planetary-science communities rallied their support for the telescope. NASA stepped in, offering external funding for a planetary radar system to characterize asteroids. At the time, the senior review estimated that it might cost $300 million to return the site to its natural state.
In NSF's latest environmental impact statement, officials write that, rather than continue to fund Arecibo at current levels, they prefer to shut off the planetary radar system, purportedly because of its perceived minimal benefit to public safety. The statement dismisses planetary defense, stating (incorrectly) "there currently is no tested technology available that could address the threat of [an asteroid] that presents a near-term threat of striking the Earth."
This section does not acknowledge Arecibo's role in predicting and ruling out potential Earth impacts decades to centuries in the future (such as from 99942 Apophis, 101955 Bennu, and 1950 DA). Moreover, Arecibo's radar follow-up of survey discoveries has a 10% chance of identifying an asteroid likely to strike Earth  within the next couple of centuries that would be worth deflecting. The draft also doesn't acknowledge the harm done by small impact events, such as the almost 1,500 people injured by the Chelyabinsk bolide in 2013.
Further, NSF's statement doesn't mention either of the proposed asteroid deflection demonstration missions: ESA's AIDA (kinetic impactor) and NASA's ARM (gravity tractor). The mission teams and the Arecibo staff have issued public statements emphasizing that Arecibo's radar observations should continue through the end of 2025, as they will be critical to verifying that both missions have deflected asteroids as intended.
The public can comment on the draft environmental impact statement regarding the future of Arecibo Observatory until December 12, 2016.
The NSF plans to publish the final environmental impact study about Arecibo by May 2017. Should the agency ultimately decide not only to divest from Arecibo but also to deconstruct the facility, such a plan could be put into action soon after June 2017. Whether Arecibo Observatory continues operating after the NSF's ultimate decision about the telescope's future remains uncertain, but it does not negate the critical scientific results Arecibo Observatory continues to produce.