Senior contributing editor Bob Naeye recently led a Sky & Telescope tour of Iceland, where 50 astro-tourists were treated to spectacular views of the Northern Lights.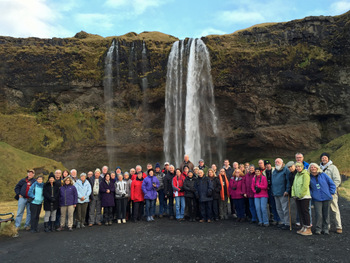 A group of about 50 astro-tourists were treated to four nights of auroras during a recently concluded week-long Sky & Telescope tour of Iceland. Conducted in partnership with Spears Travel, my fellow travelers and I also enjoyed spectacular waterfalls, an active geyser, and a uniquely idyllic culture.
"My wife and I both had a great time and are already planning our return trip," says Mike Hoffert of Garden Grove, California.
"It was a wonderful trip and it was so nice to meet you as well. This trip met all my expectations," adds Kathy Keith of Saint John, New Brunswick.
During an S&T aurora tour of Iceland in April 2013, we didn't see any auroras until the final two nights of our trip, and even those displays were modest at best. This time around, the Weather Gods and the Sun were more cooperative.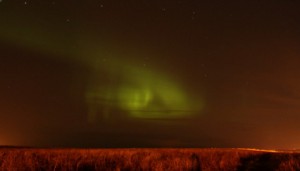 On our first nighttime bus ride out, Monday, October 20th, we saw multiple aurora displays from a dark mountainous site about 25 miles east of the capital city Reykjavik. Although the auroras remained pale white in color, photos taken by tour members captured vivid greens and occasional splashes of red. I was fascinated by the speed at which the auroras changed form and how quickly they would come and go. At times, the auroras were all around us, and directly overhead. Given that most of the tour group members had never seen an aurora, I felt relief knowing that the trip was already a success in most of their minds. The skies that night were nearly crystal clear, and the temperature was cold but tolerable.
We also saw several auroras the following night from a site about 25 miles north of Reykjavik. But these auroras were much weaker than those on the previous night, and the sky was mostly cloudy. We gave up around midnight and headed back to our downtown Reykjavik hotel.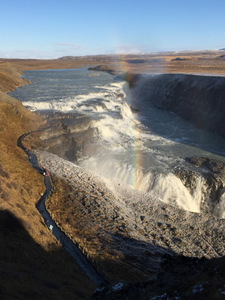 Spears Travel put together a jam-packed itinerary of daytime activities but also arranged some optional tours and downtime. These activities are intended to insure a successful trip even if we don't see any auroras. We were given a scenic tour of Reykjavik, which despite its relatively small metro area population of about 200,000, is a major cultural center with high-end museums, shops, and restaurants. The capital region contains about two-thirds of Iceland's total population.
On Tuesday we did the famous Golden Circle tour, which includes stops at a rift valley where the North American and Eurasian tectonic plates are pulling apart (it's also the site of the first Icelandic parliament about a millennium ago), a geothermal area with an active geyser (Strokkur), and a spectacular waterfall known as Gullfoss. This year, a beautiful rainbow seemed to hover over the falls. I found where the rainbow ended, but alas, there was no pot of gold.
On Thursday and Friday we toured the rugged south coast of Iceland, with towering cliffs, glaciers, and black-sand beaches. We briefly stopped at a farm just below the volcano Eyjafjallajökull, which despite its impossible-to-pronounce name gained worldwide notoriety in 2010 for disrupting air traffic over Europe for weeks. Other highlights included stops at two large waterfalls (Skogafoss and Seljalandsfoss) and a hike in Vatnajökull National Park.
Friendly and informative Icelandic guides served us during the entire trip. For example, our daytime guide, Elin Konrádsdóttir, told us that Iceland has prison space for only about 100 inmates, and that the maximum sentence for murder is 15 years. Despite this leniency, Iceland averages fewer than two murders per year, and the nation has very little crime, very few police, and no army or navy (but it is a member of NATO).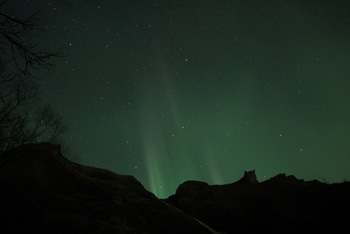 We saw gorgeous auroral displays on our final two nights. On Thursday, we saw rapidly changing auroras from the tiny village of Kirkjubæjarklaustur (try pronouncing that!) in south-central Iceland. The following night we were staying at a hotel near Iceland's famous Blue Lagoon geothermal spa. Clouds were rolling in around 11 p.m., so most of us (including me) went to bed, thinking there wasn't much chance of seeing auroras. But several folks stayed up and were treated to what they described as the best auroral display of the trip.
The following morning we packed our belongings, enjoyed a refreshing 90-minute swim in the Blue Lagoon, and then headed to Keflavik International Airport for our flights home. Like most of my previous astro-tours, the best part of this trip was meeting so many interesting and friendly people. Most of our group came from the U.S., but we had two Canadians, two South Africans, two Australians, and a couple from Malta. The group bonded extremely well, and it was difficult to part ways after spending such a pleasant week together.
Overall, this was my fourth tour of Iceland, and I saw auroras on three of these trips (so I'm batting 0.750). I have enjoyed all of my trips, but this was the most successful of all due to the mostly good weather and near-perfect itinerary. S&T and Spears Travel are already thinking about future trips to Iceland, Chile, and other destinations. We welcome you to join us!
---
Join Sky & Telescope's planned tours for the 2016 and 2017 solar eclipses!