This weekend features the world's largest astronomy expo, the Northeast Astronomy Forum (NEAF), in Suffern, New York.
The Sky & Telescope office is seeing a flurry of activity as our editors prepare for the annual pilgrimage to Suffern, New York, for the Northeast Astronomy Forum (NEAF) this coming weekend, April 18 and 19th. Billed as "America's Premiere Astronomy Expo," NEAF is celebrating its 24th year.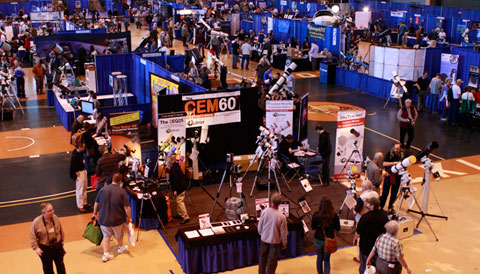 Founded by the Rockland Astronomy Club, NEAF began as a small affair held in a cozy corner of the campus of Rockland Community College. Now it fills the college's sports arena with the world's largest trade show for amateur astronomy gear, in addition to presenting all-day astronomy programs for the public.
This year's show will have more than 110 vendors and exhibitors providing lots of cool new products from telescopes to cameras. Many vendors offer discounts at the show.
NEAF also includes two full days of workshops and lectures by renowned speakers, including S&T's own senior editor J. Kelly Beatty, who will discuss Pluto and NASA's New Horizons mission, which is on the cusp of reaching this distant world after 9 years in space.
Marc Rayman, mission director at NASA/JPL and chief engineer for the Dawn mission to Vesta and Ceres, will present a mission update to attendees.
Other speakers include Bill Gerstenmaier, director of NASA's human space flight program, Alan Hershfield, author and professor in the physics department of University of Massachusetts, and Christopher Go, amateur astrophotographer specializing in Jupiter studies.
NEAF isn't just about booths and talks. If the Sun cooperates there will be a solar star party outside all day. Professionals and volunteers will share an array of telescopes and filters for close-up looks at our lively Sun.
If you're in town early, the Northeast Astro Imaging Conference (NEAIC) will be held at the Crown Plaza hotel in Suffern on Thursday and Friday ((the 16th and 17th), where astrophotographers will gather to learn the latest imaging tips and techniques from the masters, including Jerry Lodriguss. Be sure to check it out.
We're looking forward to making the journey to NEAF again this year, and we hope to see you at our booth!
P. S.: Stop by our booth — we'll have 20%-off coupons for every item in Sky & Telescope's online store.