Even on Io, a world known for spouting off, the titanic volcanic eruption seen on August 29, 2013, was among the most powerful ever recorded there — or anywhere else in the solar system.
This time last year, a trio of volcanoes erupted so violently and powerfully that they would have been "breaking news" had they occurred anywhere on Earth. Fortunately, the towering fountains of fire were more than a half billion miles away, on Jupiter's moon Io.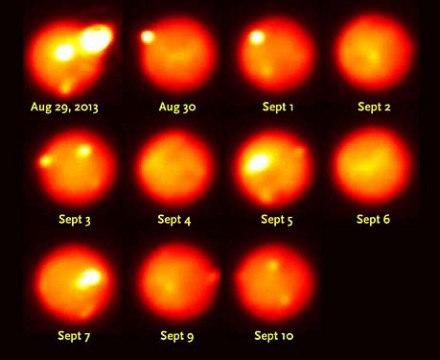 Imke de Pater (University of California, Berkeley) discovered the first two outbursts on August 15, 2013, using one of the 10-meter telescopes at Keck Observatory in Hawaii. The brighter one, at a previously known eruption site named Rarog Patera, was calculated to have covered 50 square miles with a lava flow 30 feet thick. The other, at Heno Patera, spewed molten rock over roughly 120 square miles. Both had abated by the time de Pater checked again five days later.
But the real fireworks were yet to come. A third, even brighter eruption flared to life on August 29th and was captured simultaneously with the nearby Gemini North telescope and NASA's Infrared Telescope Facility on Mauna Kea. The outburst was so intense and hot — even by Io's standards — that it probably involved a cluster of towering lava fountains spread over an estimated 32 square miles. The eruption's location, within a few degrees of 223° west, 29° north, is not associated with any previously recognized volcanic site.
According to Katherine de Kleer, a UC Berkeley graduate student, the August 29th event unleashed an estimated 20 terawatts of energy, making it at least 10,000 times more powerful than the lava fountains spewed during the 2010 eruptions of Eyjafjallajökull in Iceland.
These near-infrared observations kicked off a year-long scrutiny of Io by de Kleer, de Pater, and two collaborators. Two analyses of the August 2013 eruptions, one led by de Pater and the other by de Kleer, were just published online in the planetary-science journal Icarus.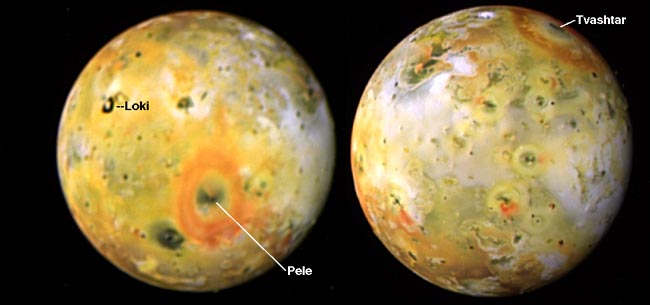 The Voyager 1 spacecraft first discovered volcanoes on Io during its 1979 flyby. Since then observations with spacecraft and ground-based telescopes have shown that this moon erupts nearly constantly, making it the most volcanic body in the solar system. About 150 sites are active now, and the total count is roughly 400. Researchers believe Io's eruptions mimic the kinds of volcanic activity that shaped the inner planets, including Earth, in the early solar system.
For details about last year's trio of powerful eruptions, see the press releases from UC Berkeley and Gemini Observatory.
---
Track Jupiter and Io in the sky using Sky & Telescope's handy JupiterMoons app.