Since Thorne-Żytkow Objects were proposed forty years ago, no one has actually seen one of these exotic stellar hybrids – until now.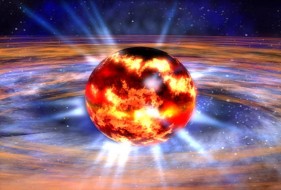 After nearly four decades of searching, astronomers might finally have found a candidate Thorne- Żytkow Object (TŻO), a bizarre and, until now, purely theoretical star. This stellar hybrid forms in a rare interaction that crams a neutron star inside a massive companion.
TŻOs have remained elusive because they appear nearly identical to ordinary red supergiant stars. But in a recent survey of red supergiants in the Milky Way and Magellanic Clouds, Emily Levesque (University of Colorado, Boulder) and colleagues identified a candidate in the Small Magellanic Cloud by its unique chemical properties.
A pair of massive, tightly orbiting stars sets the stage for the weird merger. The more massive star explodes in a supernova first, leaving behind a neutron star remnant. According to one model, the remaining massive star exhausts its fuel supply and begins to swell, ultimately engulfing the neutron star. An alternative model suggests that the force of the initial supernova actually launches the neutron star into the middle of its supergiant companion.
Either way, a TŻO will look similar to the red supergiant star that has engulfed its neutron star partner. But unlike normal red supergiants, the boiling atmospheres of TŻOs dredge up thermonuclear products that form on the surface of the hot, embedded neutron star. The recently discovered TŻO candidate, dubbed HV 2112, initially appeared to be a lone M-type red supergiant, but with a mass much greater than the upper limit for giant stars. The real clincher came in the form of HV 2112's spectrum, which showed lines from lithium, molybdenum, and rubidium in its atmosphere in a combination unique to the thermonuclear processes at work in TŻOs.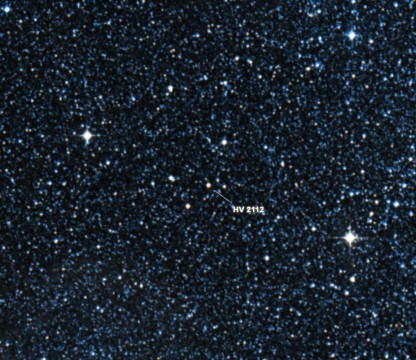 But a few features in HV 2112's spectrum weren't expected. For example, the amount of lithium and heavy metals in HV 2112's atmosphere are not as extreme as predicted by TŻO models, which could mean that HV 2112 is a just-formed TŻO. Also, some elements show up in the spectrum that aren't associated with TŻO models; however, there is hope that more advanced models for stellar convective envelopes will eventually clear up the origin of these unexpected enhancements.
Currently, HV 2112 seems to meet the basic criteria of a TŻO, and if it's the real deal, it promises exciting developments for stellar astronomy. Not only is there an entirely new model for some stellar interiors, but there's also a new way to produce the heavy metals that ultimately form exoplanets.
Kip Thorne, who first proposed the TŻO model with Anna Żytkow in 1975, states that HV 2112 looks like a strong TŻO candidate. But Levesque urges caution in the buzz of discovery: "We're calling [HV 2112] a 'candidate' for a reason. Claiming that we've found a totally new model of star is an extraordinary claim, it requires extraordinary proof." Bolstering the claim will involve both theoretical and observational work, as astronomers create more detailed models of stellar interiors, as well as find other TŻO candidates in the red supergiant population.
---
Just when you think we know all there is to know about the cosmos, astronomers discover another mystery. Read about the greatest quandaries facing astronomy in our special issue, Astronomy's 60 Greatest Mysteries.