With a small telescope and our sky charts, you can watch a very sizable near-Earth asteroid race across winter's constellations on the night of January 26–27.
Update: This asteroid has a small moon! Details below.
Asteroids that buzz close by Earth make the news either by being especially close or especially large. The one that's going to miss us on the night of January 26-27 is especially large as near-Earth objects go, and it will become bright enough to follow with a 3- or 4-inch telescope as it moves among the stars.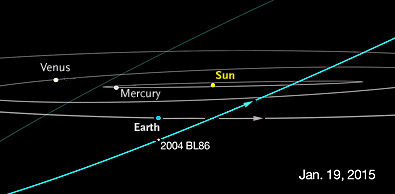 While most known Earth-grazers are just meters across, this one is roughly a half kilometer wide. As a result it should become as bright as magnitude 9.2 (maybe a bit brighter) shortly after it passes us at a very safe distance of 1.2 million km (745,000 miles). That's three times as far away as the Moon — and while this might not seem terribly close, remember that by comparison Mars never comes closer to us than 145 lunar distances.
The asteroid has been designated 2004 BL86, and it was discovered 11 years ago by the LINEAR project hunting for near Earth objects. Its well-defined orbit has earned it an asteroid number: 357439, perhaps making it the highest-numbered asteroid you've ever had a chance to see.
(Interestingly, once an asteroid is assigned number, it's eligible for naming — but Herbert Viggh of MIT's Lincoln Laboratory, which ran LINEAR, says no name has been submitted yet.)
"Monday, January 26th, will be the closest asteroid 2004 BL86 will get to Earth for at least the next 200 years," said Don Yeomans in a press release from NASA's Near Earth Object Program Office. Moreover, this flyby will be the closest by any known space rock this large until asteroid 1999 AN10 flies past Earth in 2027.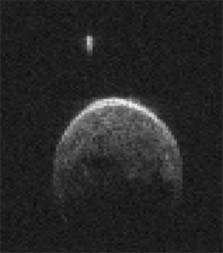 Planetary radar networks have imaged many near-Earth asteroids that have come this close, and both NASA's Goldstone tracking station in California and Arecibo Observatory in Puerto Rico will be used to map 2004 BL86 with 2- to 4-meter resolution.
In fact, the radar mapping yielded confirmation that this asteroid has a moon! Observers used NASA's huge radio dish at Goldstone, California, to record radar echoes from 2004 BL86 early on January 26th. "The primary is roughly 300 m in diameter and it's oblate," says Lance Benner (Jet Propulsion Laboratory, "We don't know the shape of
the moon, but it appears to be 50 to 100 m in diameter." The orbital period is 13.80 ± 0.05 hours.
Credit for the moonlet's discovery goes to Joseph Pollock (Appalachian State University) and Petr Pravec (Ondrejov Observatory, Czech Republic), who detected its signature in their light-curve observations. Those suggest that the asteroid spins in roughly 5 hours, and Benner says the radar data are consistent with that period.
When, Where, and How to See 2004 BL86
Observers in the Americas, Europe, and Africa have the best seats for when this interloper should be brightest, from 1h to 6h Universal Time on January 27th, most of which occurs on the evening of the 26th for North Americans. It will be crawling northward across Cancer, skimming the eastern edge of Beehive Cluster from about 5:00 to 5:30 UT.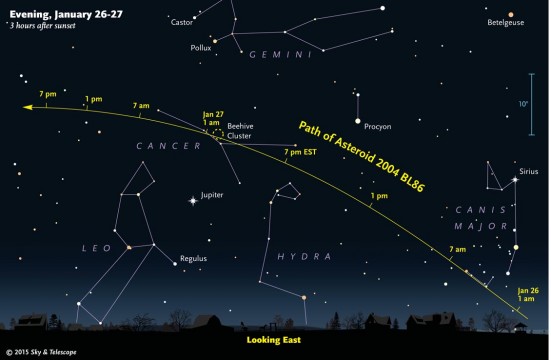 Its closest approach to Earth actually occurs earlier, around 16h UT on the 26th while the asteroid climbing northward through Hydra. But at that time it's somewhat dimmer, about magnitude 10, because we'll see only a portion of its illuminated side. Its brightest time comes later, when we're looking almost directly into its fully illuminated face with the Sun behind us. After that, 2004 BL86 moves on into Lynx as it recedes.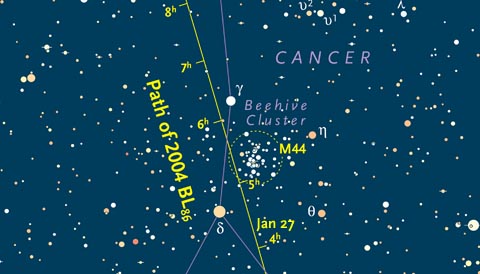 The asteroid will be moving about 2.5° per hour while in Cancer, or 2.5 arcseconds per second of time. That's fast enough that you'll be able to see it moving in real time in a telescopic view whenever it passes close to a background star.
One good technique for fast-movers like 2004 BL86 is to identify and lock onto a star along its path, then just watch at the time that the asteroid is predicted to pass it. (Note that these charts are plotted as if you were observing from Earth's center. You're not, of course, so the asteroid might appear up to a few arcminutes from the indicated path.)
Happy hunting, and add a comment below to tell us about your success (or lack thereof) in tracking down this interplanetary visitor.
---
Keep tabs on all the year's celestial happenings with SkyWatch 2015, now available as a digital download.