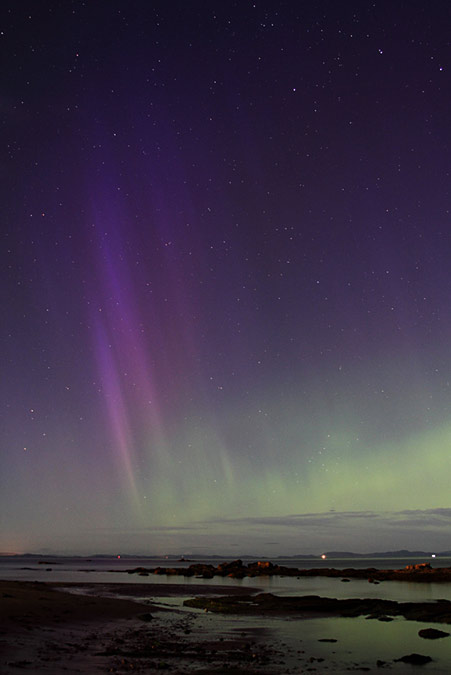 Keep watch on your northern sky after dark tonight (Wednesday October 7th). The aurora borealis could sweep down into our view from its usual far northern latitudes.
For the last 24 hours a geomagnetic storm has been building. It reached a geomagnetic K-index of 7, meaning strong, by 4 p.m. Eastern Standard Time (19h UT). According to an alert from NOAA's Space Weather Prediction Center, "aurora may be seen as low as Pennsylvania to Iowa to Oregon."
Maybe. Aurorae have quite the habit of outwitting space-weather predictors. But occasionally they come even farther south than predicted.
The alert also warns of possible power-system voltage irregularities, intermittent problems with GPS reception, and loss of shortwave radio communication.
It doesn't take a solar flare or even a coronal mass ejection to disturb Earth's magnetic field and allow extra solar electrons to stream into the uppermost atmosphere. A coronal hole in the Sun's outer atmosphere is pointing our way, sending us extra-high-speed solar wind. In the transition zone between normal and fast solar wind, notes Tony Phillips of SpaceWeather.com, "solar-wind plasma piles up, producing density gradients and shock waves that do a good job of sparking auroras."
No promises. . . but don't wake up tomorrow to news of the sight you missed!