Learn how to chase away the Moon to keep Comet 46P/Wirtanen in a dark sky. Here's an update on the comet's progress and what to look for in the coming nights. 
Big, bright Moons are comet killers. Those of you seeking Comet 46P/Wirtanen, now a naked-eye sight from rural areas, have probably noticed the waxing Moon creeping up in the comet's direction the past few nights. Some comets are compact and bright and do OK in moonlight, but 46P is large and diffuse and best seen in a dark sky.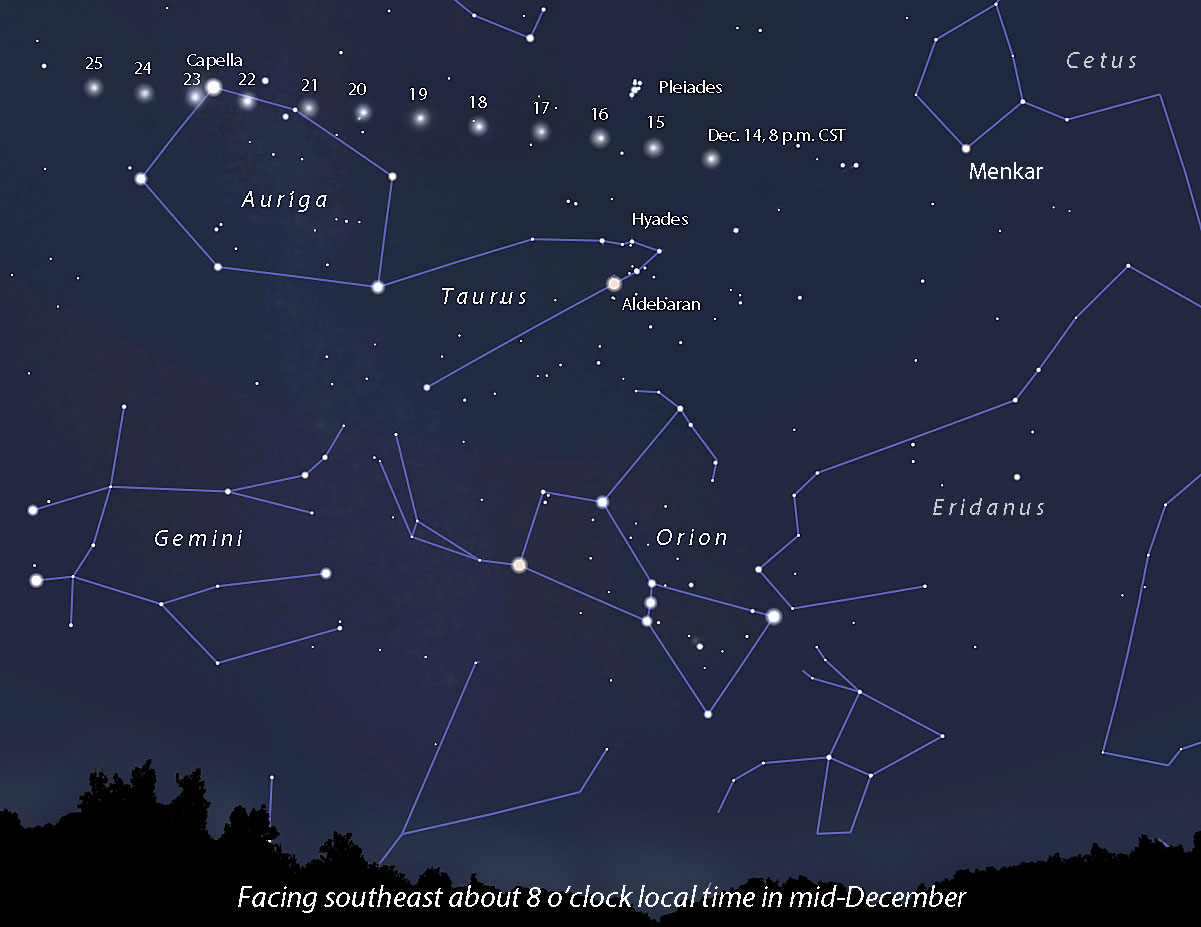 I've prepared a fresh map to help you follow our fuzzy friend through Christmas and a list showing when the comet will be visible in a dark, moonless sky. These times will vary somewhat depending on your location, so use them as guidelines. Check the moonrise and moonset calculator to find out exactly when the Moon sets where you live. As it gains on the comet each night, you'll need to stay up later and later for moonset and dark skies.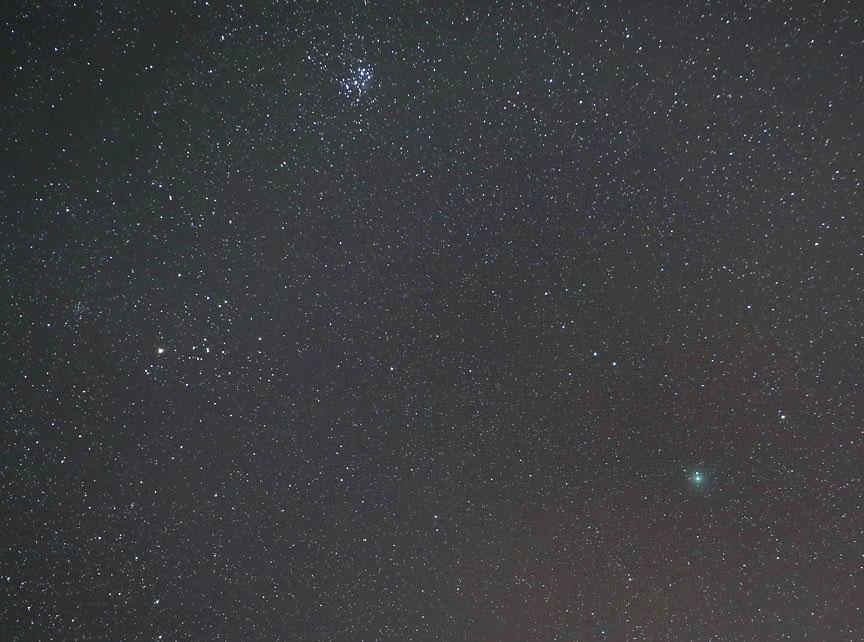 The best times to see 46P/Wirtanen under moonless skies:
Friday, December 14th — Moon at first quarter phase and sets 11:30 to midnight. Some light but still not a comet-quencher.
Saturday, December 15th — Moon sets 12:30–1 a.m. Sunday morning.
Sunday, December 16th — Moon sets 1:30–2 a.m. Monday morning. Moon getting bright now.
Monday, December 17th — Moon sets 2:30–3 a.m Tuesday morning.
Tuesday, December 18th — Moon sets 4 a.m. Wednesday morning.
Wednesday, December 19th — Probably the final moonless night for diehard observers. Moon sets around 5 a.m., with the comet low in the northwestern sky.
Comet 46P/Wirtanen swoops closest to Earth on Sunday, December16th, and then passes about 1° from bright Capella in Auriga in the wee hours of December 23rd. When closest for several nights around the 16th, the comet will be moving at more 4° per day, or 11 arc minutes an hour, fast enough to notice its motion through a telescope in a matter of minutes. After a full-Moon hiatus, dark skies return to the early evening hours starting December 24th at which time the comet will have faded about half a magnitude. The object is expected to remain brighter than 6th magnitude through mid-January.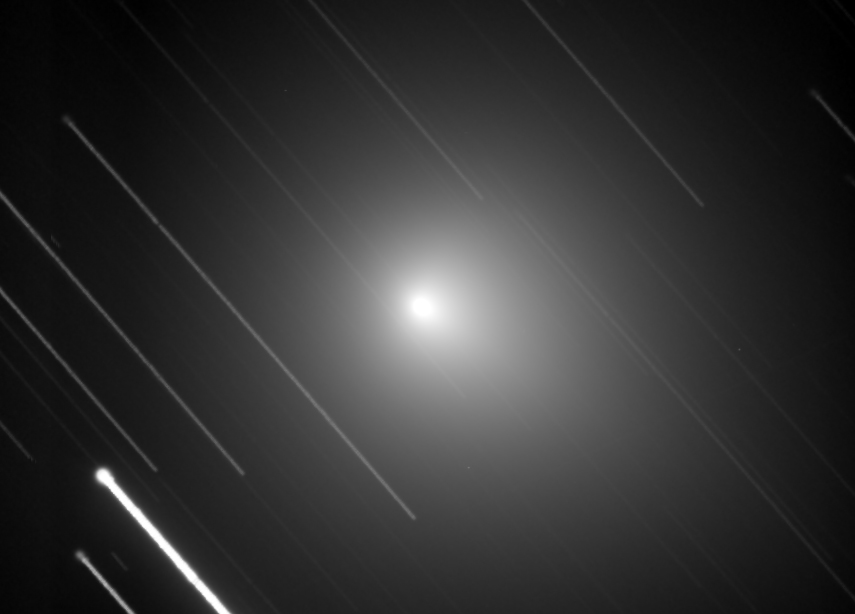 Visually, 46P glows around magnitude 4.0–4.5 with a diameter of nearly a degree. Binoculars easily show the hazy outer coma and more compact, bright inner coma. Through a telescope of about 8-inches or larger, its exotic blue-green color from carbon emission is obvious.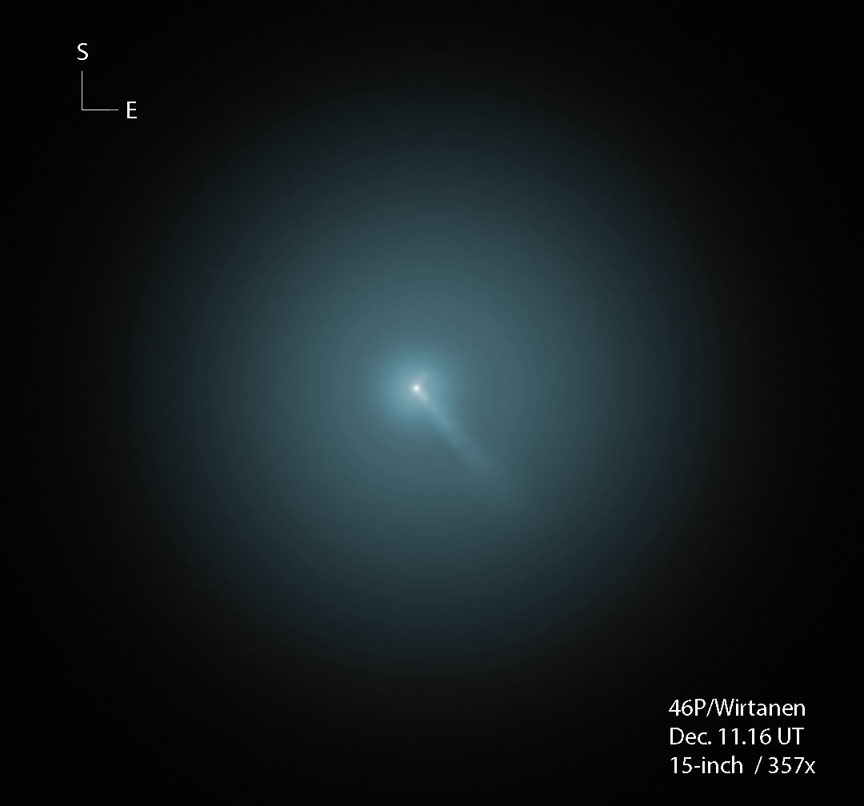 I've drilled down into the nucleus in my 15-inch with a magnification of 357× hoping to discern small fans of denser material emitted by the nucleus. With patience and averted vision I could make out a V-shaped structure either side of the false nucleus consisting of beginning of the ion tail pointing northeast and a short, diffuse ray perpendicular to it, pointing southeast. Both are subtle and captured well in Joseph Brimacombe's photo, above.
Photos reveal small fans and other structures that might be possible to see visually on a night of good seeing through larger instruments. I encourage you to work the inner coma with high magnification and share what you see via the comments section. Even in moonlight, you can make gainful observations of this bright region.
While it's always exciting for long-time comet observers to see any comet with the naked eye, the average person probably won't be visually impressed by this fuzzball. It doesn't show a tail — except a short stub in a telescope — and essentially appears as a soft, diffuse glow. One might compare it to a painting done in minimalist style versus a Van Gogh or a da Vinci. As so often happens in astronomy, it's what you bring to the object that helps in appreciating it.
Knowing you're witnessing a rare, close flyby of a kilometer-wide spinning ball of dusty ice that originally formed in the outer part of the solar protoplanetary disk 4.6 billion years ago just might raise the hairs on your back.