Seize the moment and bookend your next clear night with two fine telescopic comets: Jacques at dusk and Oukaimeden at dawn.
Comet Jacques (C/2014 E2) has returned to evening skies! Discovered last March 13th by Cristovao Jacques and the Southern Observatory for Near Earth Asteroids Research (SONEAR) team, this comet hails from that commodious, cometary beer cave called the Oort Cloud, where these icy critters chill for billions of years as much as a light-year away from the Sun.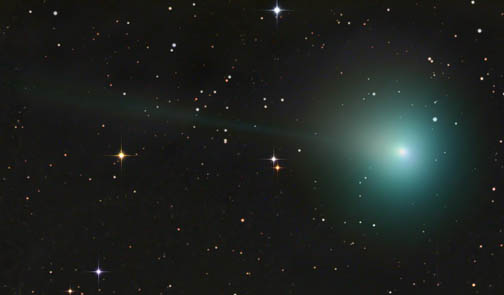 Earth takes a year to make a turn around the Sun and Pluto a tedious 248, but they're speed demons compared to Jacques, which barely plods along for most of its 20,000-year orbit. It's been a long wait, but we're glad you're here.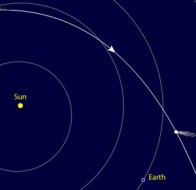 Jacques lingered in the evening sky through spring, slowly brightening until passing perihelion on July 2nd. Pumped up now by solar heating and approaching Earth since that warm encounter, the comet has grown a bulbous head and long, skinny ion tail that bears an uncanny resemblance to the onions I've pulled out of my garden this summer.
Last month and early this, Comet Jacques resided in Taurus and Auriga low in the dawn, but its elongation (angular distance) from the Sun has been rapidly increasing over the past two weeks. In an exquisite example of astronomical timing, the Moon has departed the evening sky at the same time Jacques has returned to it. Sweet!
What's more, the comet is still magnitude +7 and within range of 10×50 binoculars. Don't expect onions though; Jacques will look more like a dab of mist. A 4-inch telescope is sufficient to reveal a bright pseudo-nucleus within a diffuse 7′ or 8′ coma. Large-scope owners will detect the pale green emission from cyanogen (CN) and diatomic carbon (C2) in the coma and possibly a degree or more of its long, faint tail.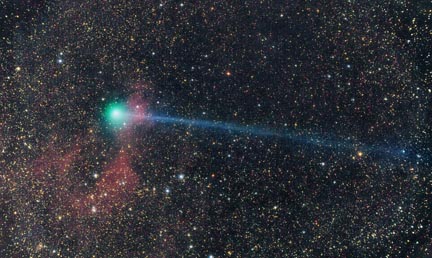 Fortunately, as the comet's distance from the Sun continues to increase, its distance from Earth shrinks, causing it to remain steady in apparent brightness. Seiichi Yoshida, who maintains the excellent Weekly Information about Bright Comets, predicts that the comet will hold its current magnitude through early September. Jacques passes closest to our planet on August 28th at a distance of 52.4 million miles.
Finder chart showing the daily position of Comet Jacques across Cassiopeia, Cepheus and Cygnus in the next two weeks. Note that on the evening of August 21st in North America, the comet passes close by Epsilon Cassiopeiae. Stars are shown to magnitude 7.5. Click to enlarge. Source: Chris Marriott's SkyMap
Comet Oukaimeden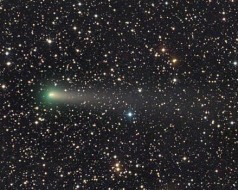 Dusting up the other end of the sky is Comet Oukaimeden (C/2013 V5). It's magnitude 8.5 or 9.0 at the moment, but this sleeping beauty is expected to crest to 5.5 by mid-September. Oukaimeden (OO-kay-MEE-den) is named for the observatory in Marrakech, Morocco, where it was discovered last November. As always, take predicted comet magnitudes with a teaspoon of skepticism.
Like Comet Jacques, this comet hails from the Oort Cloud — with an incoming orbital period measured in millions of years. After its orbit is gravitationally tweaked by the planets, particularly Jupiter and Saturn, it will drop by the inner solar system more frequently: about once every 6,000 years.
To see Oukaimeden, get to bed early and set your alarm for two hours before sunrise. You'll find it low in the eastern sky traveling east through dim Monoceros near Canis Minor.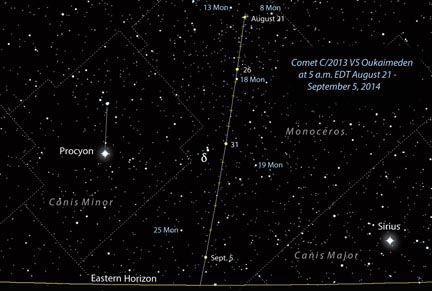 Like a migrating bird, Oukaimeden heads south as fall approaches. Observers at mid-northern latitudes will only be able to track the comet until the start of September before it's lost in twilight. Those in the tropics and southern latitudes will hang onto it longer.
Have at these icy travelers now before they go back into hiding for the rest of our lives.
---
Read the eloquent tale of famed comet hunter Leslie Peltier in his book Starlight Nights.