When the Moon next covers the Sun, on the equinox, its hard-to-reach path will include the North Pole but very little land.
The Moon's dark umbral shadow sweeps across Earth's surface once every year from 2015 through 2017, but the eclipses forming this trio are remarkably different from one another. They provide a wide range of viewing difficulty — from very challenging to very easy — with the one occurring this month the toughest to get to see.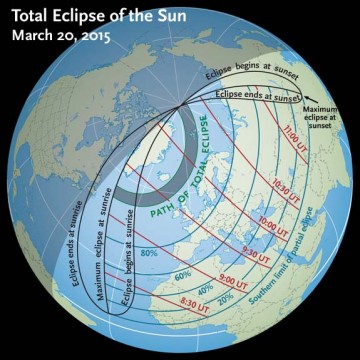 The stormy North Atlantic in late winter is hardly a popular tourist destination. Nevertheless, the track of the March 20, 2015, total eclipse passes right through the region and is still drawing many eclipse chasers. The eclipse path forms a backward C-shaped curve that ends at the North Pole. The Moon's shadow first touches Earth in the North Atlantic about 700 km south of Greenland at 9:13 Universal Time. As the shadow travels east, it curves to the north and misses eastern Iceland by less than 70 km.
Although the path of totality is quite wide — maxing at 462 km (287 miles) — this total solar eclipse suffers from two important disadvantages: lack of land in the path and poor weather prospects.
First landfall of the umbra occurs in the Faroe Islands, a small archipelago of 18 surprisingly green exposures situated northwest of Scotland and halfway between Iceland and Norway. In the capital city of Torshavn, totality begins at approximately 9:41 UT and lasts 2 minutes with the Sun 19° above the southeastern horizon. Greatest eclipse occurs at 9:46:47 Universal Time, over the Arctic Ocean roughly about 260 km north of the Faroes. There, above the Arctic Circle, totality lasts for 2 minutes 47 seconds.
Then the umbra engulfs Svalbard, a Norwegian archipelago situated midway between continental Norway and the North Pole. The capital city of Longyearbyen is located on Spitsbergen, the largest island of Svalbard. The total eclipse begins here at about 10:11 UT and lasts 2 minutes 27 seconds with the Sun at an altitude of 11°.
You might see reports that this eclipse occurs on the equinox. Technically that's true, though the timing of the equinox comes nearly 13 hours after the eclipse, at 22:45 UT (6:45 p.m. Eastern Daylight Time).
Iffy Weather Prospects
The Faroes are embedded in the main storm track across the North Atlantic and so have a well-deserved reputation for clouds. At Vagar Airport, on the west side of the islands, cloud cover averages 75%, and the average number of sunshine hours for March is a meager 24% of the maximum possible. Eclipse-seekers will have to remain mobile, looking for openings in the clouds on eclipse day, or they'll need to head for high ground to surmount the fog that commonly envelops the archipelago in the morning.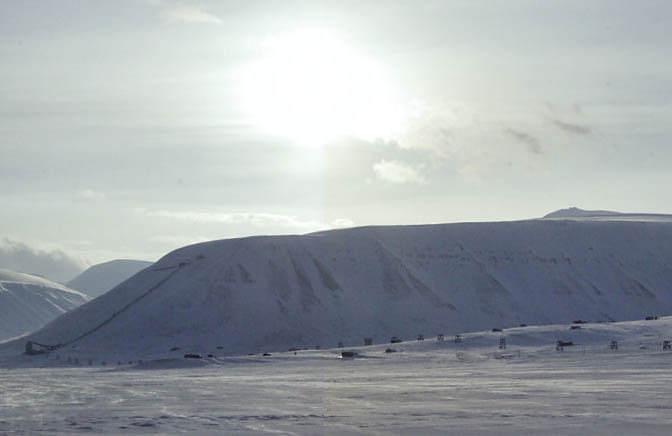 Longyearbyen, the leading community on Svalbard's Spitsbergen Island, offers better weather prospects, with an average cloudiness of 55%. Moisture is limited in the colder Svalbard climate and the terrain that dominates the community helps to break up and dissipate clouds. Eclipse sites within Longyearbyen must be chosen carefully so that the Sun is not blocked at the critical moment, but Spitsbergen scenery should provide spectacular settings for photographers.
If ever an eclipse begged for an aerial rendezvous, this one is it. Quite a few charter flights have been organized, most of which are by now sold out.
A Widely Viewable Partial Eclipse
The path of totality, while remote, is not that far from Europe, and the oblique geometry will permit partial phases of the eclipse to be seen widely in Iceland, Greenland, Europe, northern Africa, and western Asia. The table below provides circumstances for several cities; local times are given, and Sun coverage gives the fraction of solar disk's area blocked by the Moon. More extensive listings are available for Europe and for Asia, Africa, and Atlantic sites.
Local Times for March 20th's Partial Solar Eclipse

City
Eclipse begins
Mid-eclipse
Eclipse ends
Sun coverage
St. John's
sunrise
7:06 a.m.
7:28 a.m.
28%
London
8:35 a.m
9:31 a.m.
10:41 a.m.
84%
Reykjavik
8:38 a.m.
9:37 a.m.
10:39 a.m.
98%
Madrid
9:05 a.m
10:09 a.m.
11:18 a.m.
67%
Paris
9:23 a.m.
10:29 a.m.
11:40 a.m.
78%
Rome
9:24 a.m.
10:31 a.m.
11:43 a.m.
54%
Stockholm
9:52 a.m.
11:00 a.m.
12:09 p.m.
82%
Helsinki
11:00 a.m.
12:08 p.m.
1:16 p.m.
78%
Cairo
11:04 a.m.
11:47 a.m.
12:30 p.m.
6%
Moscow
12:13 p.m.
1:20 p.m.
2:26 p.m.
58%
---
Three excellent sources of more information and maps regarding this eclipse are maintained by Fred Espenak, Jay Anderson, and Michael Zeiler. Also the U.S. Naval Observatory's "eclipse portal" offers local circumstances and animations for nearly 500 cities in Europe, Asia, and Africa.