Set your alarm for 3 p.m. EDT today, June 11, 2015.
You've probably never watched the Moon occult Uranus. At 6th magnitude Uranus is pretty faint for a lunar occultation subject, and whether you could see it happening at all with an amateur scope would depend on the Moon's phase. As planets go, Uranus from Earth looks like hardly more than a fuzzy star.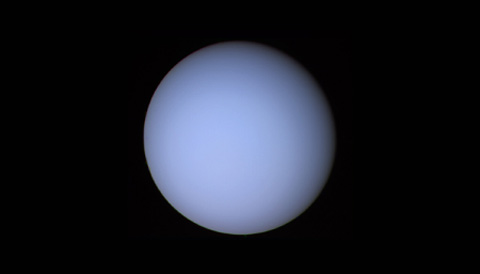 But on Thursday June 11th starting at 19:00 UT (3:00 p.m. Eastern Daylight Time in the US), you can watch the Moon passing across Uranus via Slooh.com. The occultation will be visible from Australia, where Slooh has feeds. Viewers can ask questions during the show using the hashtag #UranusPhotobomb .
The Moon will be a thick waning crescent, so Uranus will disappear behind its bright limb. Here the glare of the sunlit lunar surface will obscure the tiny, dimly illuminated planet. But then Uranus will reappear from behind the Moon's dark limb, where it will be in much better telescopic view.
So this is a chance to add a planet to the list of those you've seen occulted. . . if watching a remote broadcast counts!
The direct link is http://main.slooh.com/event/the-moon-photobombs-uranus-live. Or watch right here when the time comes: