Astronomers Without Borders wants to equip children across Africa with the solar shades they'll need to see September 1st's annular eclipse. Here's how they'll do it.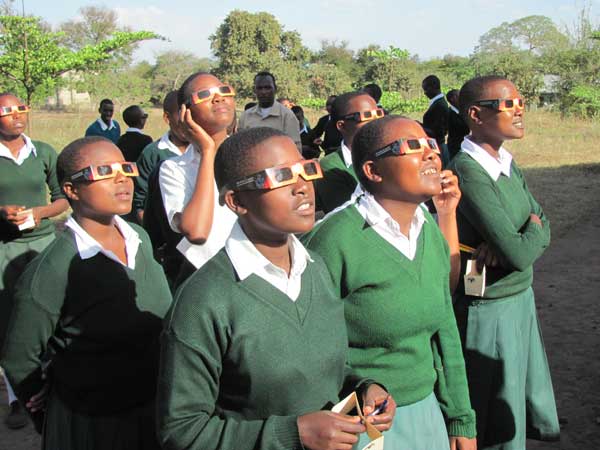 With just over a year to go, excitement is building for next year's total solar eclipse that will cross the continental U.S., and plans are already afoot for this unprecedented opportunity for science education for schools and the public.
But other solar eclipses will occur before then, and while they're not total, they provide teaching opportunities where the need is particularly acute. On September 1st an annular eclipse – with a thin ring of the Sun peeking past the lunar disk – traverses Africa. The ring of fire will be visible in a thin path from Gabon on the Atlantic to Mozambique at the Indian Ocean and across the island nation of Madagascar. But almost the entire continent will see a partial eclipse.
Despite few well-equipped science labs in schools, the eclipse is a great science opportunity provided gratis by the natural laboratory of the cosmos. That is, if the schools are prepared to take advantage of it.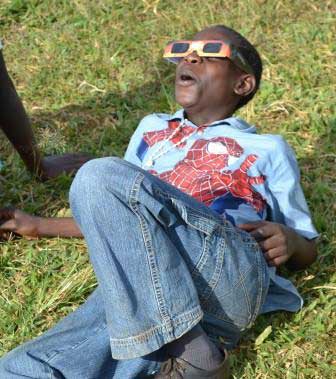 Enter the crowdfunding campaign organized by Astronomers Without Borders (AWB) to send tens of thousands of safe solar viewing glasses to schools in countries across Africa. With contacts for distribution vetted by the American-based international organization, glasses will be sent to national representatives and distributed to schools in each country's network.
The campaign follows a smaller effort for the total eclipse in 2013. Chuck and Sue Ruehle, of AWB's Telescopes to Tanzania program, returned to the country that year with hundreds of eclipse-viewing glasses in hand. Students and teachers alike came to school on a Saturday when they heard they the couple was there because, they said, "We want to be scientists too." That day they gazed at the Sun for the first time and contemplated what the Sun is and what it's like.
Ryan Lemon, a Peace Corps volunteer who teaches physics in Tanzania, is excited about the rare opportunity coming up in September. His students have never been on a field trip, and the school's lab is poorly equipped.
"If my students can get these glasses, it would be like the laboratory and the field trip have been brought to our backyard," he says. "It's so rare that an experience like an eclipse will be visible from your school, and is really a great opportunity to give these kids the experience of a lifetime. They have the chance experience a real application of the physics they learn in the classroom, on a monumental scale."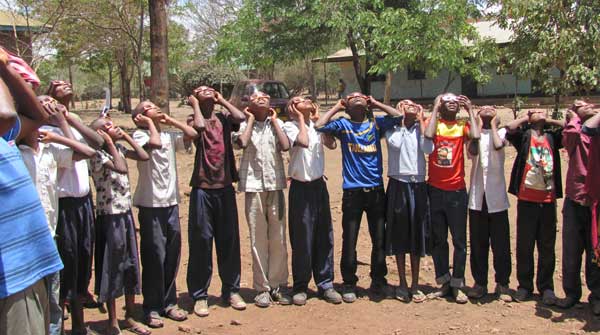 Campaigns like this depend on many supporters giving what they can. Each U.S. dollar raised will provide a pair of solar glasses that will allow a child to witness one of nature's most amazing cosmic spectacles, providing a unique science learning opportunity that could spark a lifelong interest in science. Thirty dollars provides glasses for a classroom. A hundred dollars will supply a grade, and $500 a small school.
The Astronomers Without Borders solar eclipse glasses campaign can be found on Fiat Physica.