Hundreds of sunrise and sunset times reveal that there's something amiss with our calculations.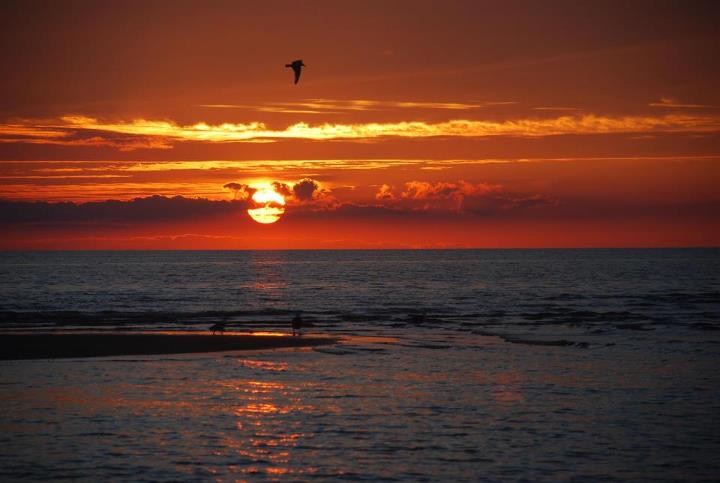 Every 24 hours, most of us plunge into darkness. We ride the whizzbang merry-go-round of our planet as it turns, racing 1,675 kilometers per hour (1,041 mph) over the horizon and headlong into night. Lest we lose ourselves in the star-speckled blackness — or, as is increasingly true for so many, in the sickly blaze of artificial lights — this ride carries us around and into the dawn again with dependable regularity.
After millennia attuned to this cosmic clock, you would think we'd know precisely when the Sun rises and sets. But Michigan Tech dissertation work by Teresa Wilson (now at the U.S. Naval Observatory) suggests that our estimates are often off by 1 to 5 minutes.
Conventionally speaking, sunrise and sunset are defined as the moment when the top of the Sun's disk is on the horizon. If we lived on an airless body, we could calculate when this moment happens with simple geometry and call it a day. But light doesn't travel from our star to our eye in a straight line. Sunlight's path bends slightly when it hits Earth's atmosphere, an effect which strengthens as the light burrows deeper into the increasingly dense atmosphere. This bending effect is called refraction, and it's strongest at the horizon.
All publicly available calculators that Wilson could find assume an angle of refraction at the horizon of 34 arcminutes (denoted ʹ), or a little more than the size of the full Moon. This value may have come from Isaac Newton in the 1600s; Wilson found it cited as a standard as early as 1865. But using a single refraction angle doesn't account for different meteorological conditions from location to location — in essence, we're saying things are the same in July in Hawai'i as they are in January in Alaska, she said January 8th during her presentation at the winter American Astronomical Society meeting in Seattle. Nor does this approach take into account how the observer's altitude might change things.
Wilson decided to find out just how good our sunrise and sunset estimates are. She scoured published and unpublished data for every record she could find, ultimately amassing 251 sunrises and 514 sunsets from 30 different geographic coordinates, over both water and land horizons. About 600 of these came with weather data, which she fed into three different refraction models of varying complexity; for the others, she had to settle for the 34ʹ.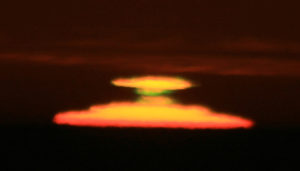 She found that, overall, predicted times varied in accuracy by location and season, with sunrise times over land generally being early in the summer months and late in the winter. Summer showed the largest discrepancies, probably due to the pronounced refractive effect that the large temperature difference in the atmosphere has during those months. Mirage effects due to cold air topped by warm over water horizons also exacerbated lags in sunset times throughout the year, sometimes by up to 5 minutes. Accounting for the observer's altitude above the horizon did notably improve predictions for water horizons, however.
Furthermore, the more complex refraction models that incorporated meteorological conditions didn't do a better job: Their inherent, limited assumptions about the behavior of the weather layer in Earth's atmosphere, called the troposphere, led to them congregating around the 34ʹ value. Regardless of model, she concluded, sunrise and sunset times can't be reliably predicted to better than 2 minutes.
Two minutes might sound inconsequential, but Wilson noted that, if GPS fails, sailors will use celestial navigation. "Most sailors will tell you that they can get their position with celestial navigation to within 1 nautical mile," she said. But if part of that calculation involves sunset, "1 minute of time turns into 15 nautical miles of error." Knowing precise sunrise and sunset times could also benefit observers, both amateur and professional. A better understanding of how the atmosphere bends light on the horizon would affect moonrise predictions, too.
Reference:
Wilson, Teresa. "Evaluating the Effectiveness of Current Atmospheric Refraction Models in Predicting Sunrise and Sunset Times." Abstract 225.02D. 233rd American Astronomical Society meeting. Presented January 8, 2019.
Wilson, Teresa, "Evaluating the Effectiveness of Current Atmospheric Refraction Models in Predicting Sunrise and Sunset Times." Open Access Dissertation, Michigan Technological University. 2018.
---
Want to see the Sun go dark? Watch our webinar to learn how to plan for a solar eclipse expedition.