I have just finished putting together something that a lot of you have been asking for: a collection of deep-sky observing articles by our skilled editors and contributors from the pages of Sky & Telescope.
We've produced 15 chapters, chosen for the summer sky, as an e-book in PDF format — with all the original text, charts, tables and photos, so you'll know exactly where to look and what you can expect to see. All the objects described in the articles are visible in the evening during summer months. I promise they'll keep you happily busy with at least a medium size scope for many, many hours.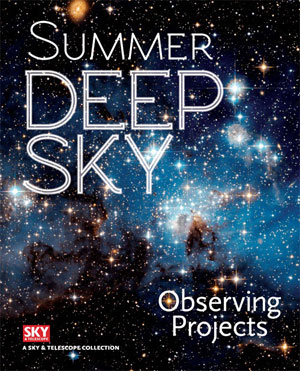 To whet your appetite, here are the chapters:
Identifying Features in M51
The Determined Observer's Guide to M101
Star Cluster Wars (Serpens and Hercules)
In Praise of the Great Dark North
Unraveling NGC 6946 (Cepheus)
A Galaxy Sampler in Draco
Inside the Cat's Eye
Double Stars of Summer
Herald of the Summer Milky Way (Ophiuchus and Serpens)
The Snake and Its Eggs (dark nebulae in Ophiuchus)
Diving Into the Lagoon
Digging for Detail in Scutum
The Gamma Cygni Nebula
Beyond the Familiar Veil
The Herschel Project
The ebook is available in our online store in PDF format — check it out, and enjoy!