In this episode of Orbital Path, we hear from Brian Greene on the coming paradigm shift in physics as current theories fail to adequately explain quantum entanglement.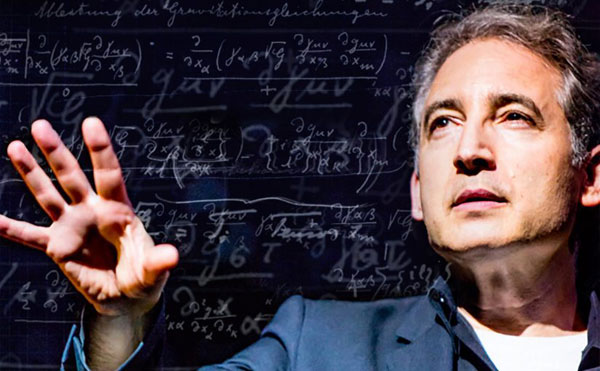 It all started by counting on our fingers. You could keep track of how many cows you had, or how many how many apples to trade for a basket of eggs. Count up to ten, then place a marker and start over, and you could count the days for the Moon to come around to the same shape again or how many days until the weather turned colder. Mathematics is a simple human behavior. But it turned out that mathematics was also a journey, a road we began to walk along with no idea where it might lead. As Bilbo said to Frodo in Tolkien's Lord of the Rings, "It's a dangerous business, Frodo, going out of your door. You step into the Road, and if you don't keep your feet, there is no knowing where you might be swept off to."
At this moment in modern physics, we have been swept off to a universe that seems quite alien from the one we experience. We are aware of four dimensions of reality, there dimensions of space and one of time. But most physicists, for the last hundred years, have needed additional dimensions to account for the subtleties of gravity, or the complex interactions of the tiny particles that make up matter. Einstein hinted at higher dimensions when he described gravity as a bending of space and time. String theory, which, linked with quantum mechanics, is the most complete description of the behavior of elementary particles, requires no less than eleven dimensions of space and time for the mathematics to work. A central tenant of string theory is that all the different elementary particles we observe in our universe, from quarks to photons to positrons, all have an underlying common make-up. All can be visualized as strings, or sometimes membranes like the skin of a drum, that vibrate in different modes and frequencies. In some ways, every particle of the universe is made up of the same stuff, it's just that the stuff is vibrating differently. And why eleven dimensions? Simple: the equations needed that many terms, that many directions for the strings to vibrate, to make the predictions of the theory match reality.
But here's the thing: the math behind string theory works beautifully, making extremely accurate predictions of the behavior of everything from atoms to the relative strengths of the natural forces. Eleven dimensions works so well. But is this real? Really real? Not just some convenient trick of mathematics? Where are the extra seven dimensions and why do our brains only perceive a tiny fraction of reality?
In my mind, the foremost person in the world to talk to about this is Professor Brian Greene at Columbia University. A renowned theoretical physicist, Greene has also written several best-selling books about the origins and implications of string theory, including The Elegant Universe, The Fabric of the Cosmos, and The Hidden Reality. He's done TED talks about string theory and the idea of multiple universes which were both clear and mind-blowing at the same time. In my opinion, Greene is the go-to person to ask about how one even starts to think about an eleven-dimensional universe, and I was gobsmacked to have the chance to speak with him for this episode of Orbital Path.
I had some more pressing personal questions for him too, as I had attended a scientific colloquium he gave at NASA's Goddard Space Flight Center a few years ago. This talk was meant for an audience of scientists, so he got a bit more into the mathematical weeds than he usually does during public presentations. My husband was sitting next to me in the auditorium and he felt me literally trying to stop from jumping up and down as Greene showed us a bit more detail about the math; how the complex mathematical chaos of different competing versions of particle physics all settled down and behaved beautifully if you just allowed the universe the freedom to vibrate in eleven dimensions. It was thrilling.
Greene also hinted at something deeper; he feels there will soon be a huge change in our understanding of the universe. Einstein's gravity is more than a century old now, and the basic ideas of string theory have not changed much in the last decades. But Greene thinks a revolution is just over the horizon. The problem and promise in modern physics is a phenomenon called quantum entanglement, where two particles respond to each other's conditions instantaneously, even over great distance (the Chinese were recently successful in entangling two particles, one on Earth and one on a satellite –a distance of 1200 km). None of our current descriptions of particles physics, including string theory, deal very well with this now common-place experimental result. And Greene feels that soon, all our current ideas about the nature of reality might fall apart and re-arrange themselves back again around the core of quantum entanglement. When this happens, we may be asked to leave behind even the idea of the existence of space and time.
This road has taken us to a place we had no intention of going, and for the time being, we well may be lost. But here's the thing; roads tend not to lead nowhere. They are built and followed for a reason, even if we can't see what's around the bend right now. Like Frodo, we just need the courage to keep putting one foot in front of the other and see where the road leads.
---
Orbital Path is produced by PRX and supported by the Alfred P. Sloan Foundation. Don't miss PRX's other science podcasts: Transistor and Outside Magazine.