Join Sky & Telescope as we combine the excitement of 2024's total solar eclipse with the many distinctive regional cultures of Mexico. Eclipse day will find you in the waters off Mazatlán, equipped with favorable skies and the maneuverability that only a cruise ship provides.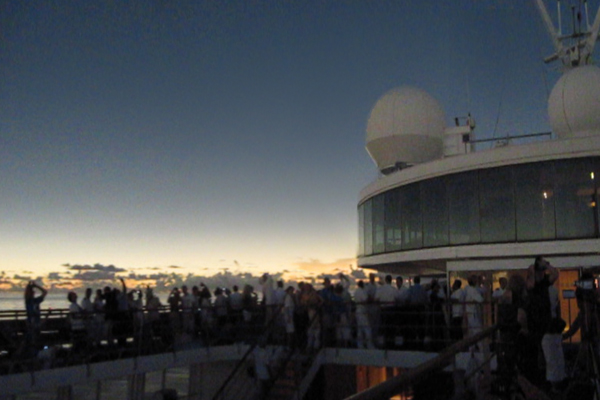 Eclipse-chasers long ago circled April 8, 2024, on their calendars, because on that day the Sun, Moon, and Earth align to create a spectacular total solar eclipse. Mexico offers the best combination of celestial geometry and the prospects for clear skies, and you'll be able to take advantage of all that from the cushy comfort of Holland America's ms Zaandam. The ship will be positioned on the centerline in warm Pacific waters just offshore from Mazatlán, affording you 4m 26s of totality — just 2 seconds shy of the maximum duration available anywhere along the eclipse path!
Sky & Telescope and Insight Cruises have once again partnered to provide an exceptional travel experience. Our 15-day cruise adventure (March 30th to April 13th) begins and ends in San Diego, California. From there, we'll sail southward, stopping for visits to Mazatlán, Puerto Vallarta, Cabo San Lucas, and other resort towns along the "Mexican Riviera." Get off the ship to enjoy the blue skies and mountainous desert landscape of Baja California Sur — where sports fishing, water sports, and professional-level beach lounging are revered local customs. Sample the varied artisanal craft traditions in each region you visit. Or just relax!
Join the fun and immerse yourself in eclipse astronomy and Mexico's legendary cultures and hospitality!
Reserve now for best cabin selection, as this sailing is guaranteed to sell out!
---
Holland America's Zaandam

Designed to carry fewer passengers while offering greater space than most cruise ships, Holland America's ms Zaandam is elegant and comfortable. Her décor is inspired by music and features musical instruments including a Baroque-style pipe organ and signed guitars from Queen, Iggy Pop, Eric Clapton and the Rolling Stones!
With just 1,432 passengers, the ship rarely feels crowded, and you'll enjoy a truly relaxing vacation at sea. It's easy to get everywhere while aboard, and lounges are plentiful. You can take advantage of the all-weather pool with its retractable roof and enjoy regional cooking at the ship's many fine dining venues. Click here to view the ship's deck plans.
Despite the obvious appeal of a total solar eclipse, this cruise will be a very affordable experience. Pricing for interior cabins is just $2,346 per person, based on double occupancy.

---
Itinerary for S&T's 2024 Total-Eclipse Cruise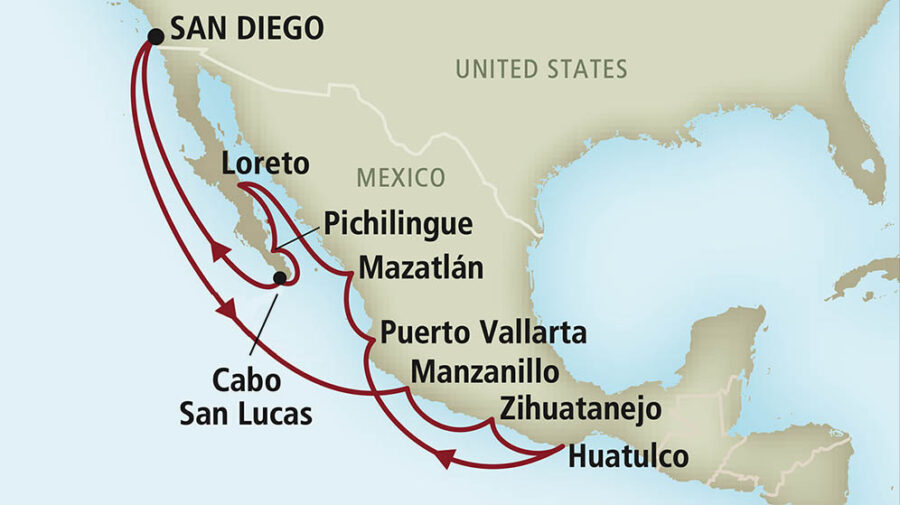 Saturday, March 30
Embark from San Diego, California, aboard ms Zaandam
Sunday, March 31
At sea
Monday, April 1
At sea
Tuesday, April 2
Docked in Manzanillo, Colima
Wednesday, April 3
Docked in Zihuatanejo, Guerrero
Thursday, April 4
Docked in Huatulco, Oaxaca
Friday, April 5
At sea
Saturday, April 6
Docked in Puerto Vallarta, Jalisco (overnight)
Sunday, April 7
Docked in Puerto Vallarta, Jalisco
Monday, April 8
Witness total solar eclipse offshore near Mazatlán, then docked in Mazatlán
Tuesday, April 9
Docked in Loreto, Baja California Sur
Wednesday, April 10
Docked in Pichilingue (La Paz), Baja California Sur
Thursday, April 11
Docked in Cabo San Lucas, Baja California Sur
Friday, April 12
At sea
Saturday, April 13
Disembark in San Diego, California
Speaker Program


While we're at sea, you can attend our optional conference program to absorb the latest in contemporary astronomy in sessions with S&T's Rick Fienberg, astronomer-astronaut Jeff Hoffman, actor/singer/part-time-Vulcan Tim Russ, and other acclaimed professional astronomers. These experts will cover all aspects of the solar eclipse, current research on exoplanets and astrobiology, and the future of human and robotic space exploration.
---
PRICING
| Cost per person | Double occupancy | Single occupancy |
| --- | --- | --- |
| Eclipse Cruise (March 30 to April 13, 2024) | $2,999 - $8,799 | $5,998 - $17,598 |
| Speaker Program (optional) | $1,750 | $1,750 |
Reserve your spot today! Register by completing this form.
PAYMENTS & TERMS
This tour is offered on behalf of AAS Sky Publishing LLC by Insight Cruises (CST 2065380-40). Note that the details presented below are only a portion of the full terms and conditions for this tour.
A $600 per-person deposit, plus a $150 per-person Non-refundable Booking Service Fee, along with a completed reservation form confirms your space. Full payment is due by December 15, 2023 ("Final Payment Date") — or at the time of booking if after December 15, 2023. Passengers are not confirmed on the manifest and cruise tickets are not issued until your account is paid in full.
A signed Insurance Waiver is due in the Insight Cruises office upon its issuance and no later than the Final Payment Date. Your booking is subject to cancellation unless we receive this document.
All cruise prices are subject to change until your booking is confirmed. Insight Cruises will notify you of any price change, and await your acceptance, before your reservation is considered "booked" and confirmed. Either party may cancel the booking within 14 days of the initial deposit, with no penalty, for any reason — so long as this cancellation is prior to 30 days prior to the Final Payment Date. (Note, however, that the Booking Service Fee is non-refundable.) We'll send you an email confirmation and an itemized receipt via within three (3) business days of your deposit.
You must electronically sign our DocuSign Certificate within 30 days of booking or your cruise reservation is subject to cancellation. If Insight Cruises does not have your electronic signature by the Final Payment Date, your cruise reservation will automatically be cancelled and cancellation penalties will be assessed. We will send you multiple reminders by email and by phone before your reservation is cancelled. Passengers typically receive cabin assignments upon booking but these cabin assignments are subject to change.
For more information, visit Insight Cruise's full website. You can also contact Insight Cruises by email ([email protected]) or by calling 650-787-5665 (9 a.m. to 5 p.m. Pacific Time).