On April 8, 2024, the Moon's dark shadow will cross the United States for the last time until 2044. So make the most of your time in totality by joining the eclipse experts from Sky & Telescope.

Sorry, this tour is currently sold out. But please send an email to [email protected] to get on the tour's waitlist.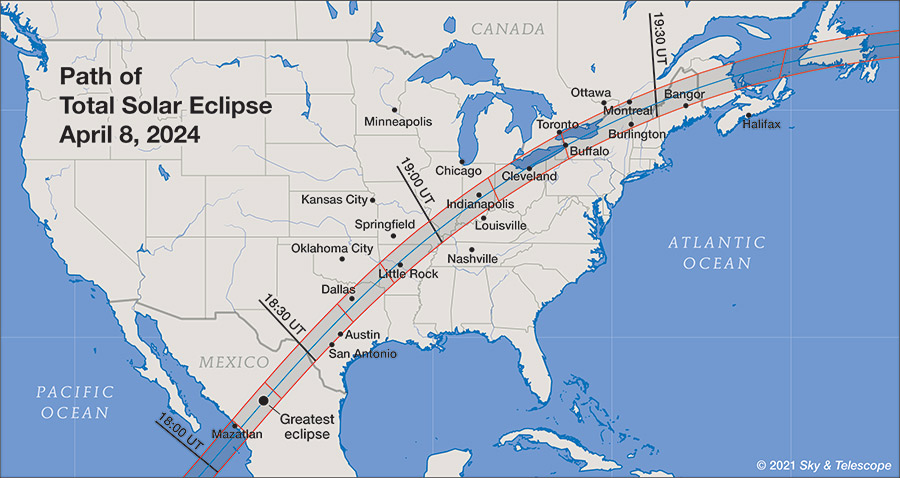 When the Moon's shadow raced coast-to-coast across the U.S. in August 2017, tens of millions got to see totality for the first time. Maybe you're one of them! And, since then, maybe you've asked, "When's the next one?" Well, that encore performance is not far away: April 8, 2024. This time the path slices across Mexico before heading northeastward across Texas, the Midwest, New York, New England, and Canada's Maritime Provinces.
Are you planning to see it?
Weather prospects are excellent in the Hill Country of central Texas (see below), and that's where Sky & Telescope's seasoned team of eclipse experts has picked for viewing the 2024 event. Our planning for The Great Texas Eclipse tour began in early 2019, and once again we've teamed up with the top-shelf travel pros at Insight Cruises. Together we've found an exclusive viewing site that will maximize both your enjoyment of this eclipse and your comfort and convenience.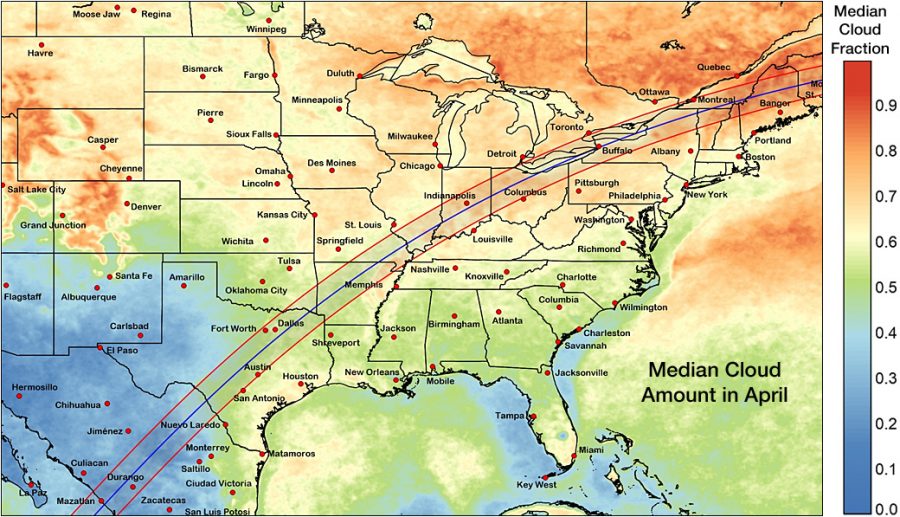 Even better, you can extend your experience to take a vicarious trip to orbit by joining our behind-the-scenes tour of NASA's Johnson Space Center near Houston, Texas. You won't find this combination of celestial spectacle and out-of-this world space experience offered anywhere else. So get all the details below, then book early to assure your participation on what promises to be a sold-out experience.
Reserve now, as this tour promises to sell out long before 2024!
---
Awesome Accommodations & Speakers
During our 6-day eclipse tour, you'll be immersed in the modern comfort and luxurious amenities at the Omni Austin Hotel Downtown, which offers an unparalleled experience in the Lone Star State's capital. This will be the "base of operations" for our exploration of the Austin area and the Hill Country on eclipse day.
Enjoy spectacular views from your well-appointed accommodations. And the hotel offers easy access to the Austin Convention Center, Texas State Capitol, and 6th Street Entertainment District. Whether you're seeking high culture, live music, or an unforgettable event, you'll always find what you're looking for.
By booking our room block early, we're secured access to the Omni's wide range of room choices. Your Classic Deluxe Room (included with the package price) offers one king or two double beds with contemporary classic décor, including dark woods and crown molding, a 32-inch HDTV, and a spacious bathroom with a granite vanity and lighted makeup mirror. Or you can upgrade to a room with Club Privileges, or to one of the Omni's executive one- or two-bedroom suites. (Upgraded rooms available for additional cost.)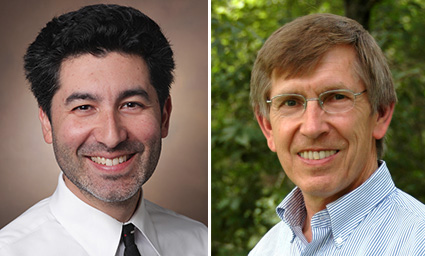 The Omni is also where you'll hear presentations from the renowned educator Prof. Keivan Stassun of Vanderbilt University and from our Sky & Telescope astronomy director. These in-depth "classes" will cover:
• The Eclipse Experience (what will happen, eye safety, photo tips)
• The Search for Other Earths
• The Life and Death of Stars
---
Itinerary for S&T's Great Texas Eclipse Tour
Thursday, April 4 — Arrival in Austin
Arrive at Sky & Telescope's classy, cushy 4½-star in the midst of Austin's action. Exhale and make yourself at home, then meet your fellow eclipse buffs at a social reception and welcome dinner. Dinner provided.
Friday, April 5 — Classes at Hotel / Texas State Capitol Complex
In the morning enjoy two 90-minute classes with Dr. Stassun, followed by a buffet lunch served outside the presentation rooms. Then and then we're off to the Texas State Capitol, a National Historical Landmark. Once there you can take one of three thematic tours of the Capitol Building. Through symbols, artifacts, and art, the story of Texas unfurls around you. Breakfast and lunch provided.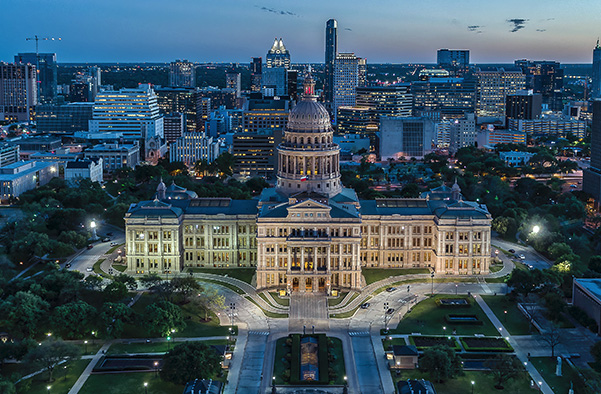 If you're more of a history buff, you can opt to visit the Bullock Texas State History Museum instead of exploring the Capitol. Using media and artifacts from an Alamo facade replica to historical documents to oil drill bits and recordings of Texas music, the Bullock Museum tells a 16,000-year span of the Lone Star State's history.
Saturday, April 6 — G. W. Bush Presidential Library / Texas BBQ
The George H.W. Bush Presidential Library and Museum is the presidential library and burial site of former president George H.W. Bush and his wife, Barbara Bush. Located on a 90-acre site on the west campus of Texas A&M University in College Station, the library is one of 13 administered by the National Archives and Records Administration (NARA). Aside from serving as the repository of President Bush's official records and personal papers, the library also promotes civic education and recounts the U.S. national experience through the life and times of President Bush.
Make sure you save room for tonight's dinner, as we venture to Louie Mueller Barbecue, widely acclaimed as the Best BBQ restaurant in Texas. This foodie-famous destination has been described as a "cathedral of smoke" that first opened its doors in 1949. While the menu may have changed slightly from its early days, the attention to detail and dedication to producing the best BBQ in Texas (and, hence, the world) remains the same. Just as it was then, you'll find a Mueller behind the counter and the highest quality Texas BBQ served on your tray. Breakfast, lunch, and dinner provided.
Sunday, April 7 — Classes at Hotel / LBJ Presidential Library
This morning our presentations resume at the hotel, with Dr. Stassun again presenting a fascinating look at the latest astronomical research in his fields of specialty.
After a buffet lunch served outside the presentation rooms, we're off to the Lyndon Baines Johnson Library and Museum. Also known as the LBJ Presidential Library, this archive on the grounds of the University of Texas at Austin is one of 13 Presidential Libraries administered by the National Archives and Records Administration. The LBJ Library houses 45 million pages of historical documents, including the papers of President Johnson and those of his close associates and others.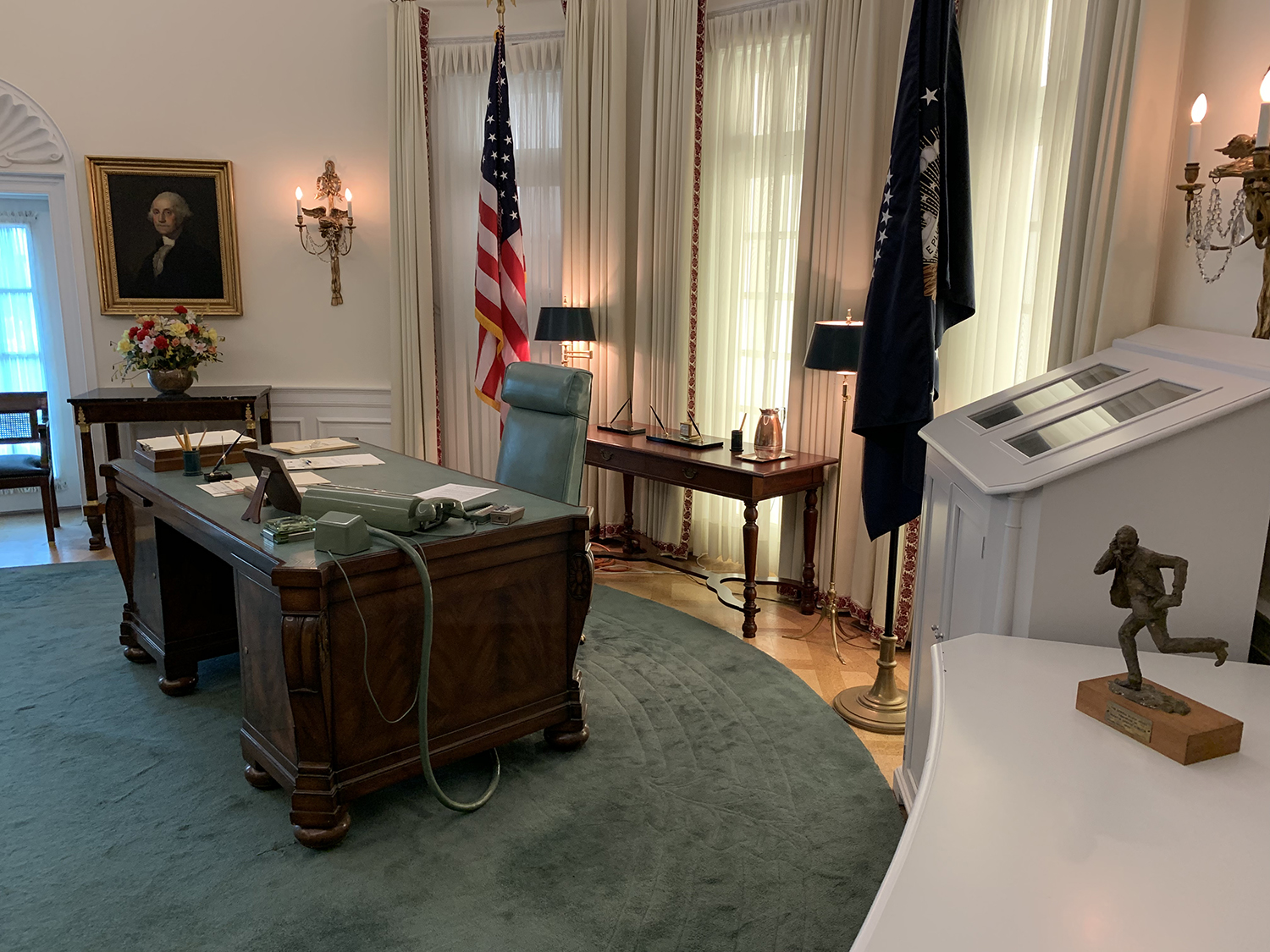 Returning to our hotel about 5 p.m., we'll munch on appetizers as our Sky & Telescope astronomy director provides a briefing on what to expect during the next day's total solar eclipse. Afterward you can stroll around downtown Austin at leisure — or make a dash for those last-minute eclipse needs. Breakfast and lunch provided.
Monday, April 8 — Eclipse Day!
We'll get an early start boarding our buses for the 78-mile drive to Fredericksburg, Texas, where two adjacent viewing facilities await our arrival. Both sites offer very good viewing prospects, hospitable professional staff, and all the features/amenities you'll need on eclipse day: food and beverages (included), shade, spots to sit, indoor bathrooms, and a fabulous "diversion" while you await totality.
We'll plan to arrive at our viewing site in Fredericksburg well before the partial phase of the eclipse begins (shortly after noon). From that location, just 6 miles southeast of the eclipse path's centerline, totality lasts a generous 4m 23s — just 5 seconds shorter than you'd see anywhere along the path of totality. As the illustration below shows, the eclipse culminates at 1:35 p.m. Central Daylight Time with the Sun nearly overhead (67° above the southern horizon).
Once the celestial excitement abates after 4th contact (2:56 p.m.), we'll head back to the Omni and celebrate the eclipse experience at a cocktail party and group dinner. Breakfast, lunch, and dinner provided.
Tuesday, April 9 — Depart for Home
After breakfast and check-out, you'll use local transportation to return to the Austin-Bergstrom International Airport to begin your journey home.
---
Itinerary for Optional Tour of Houston and NASA's Johnson Space Center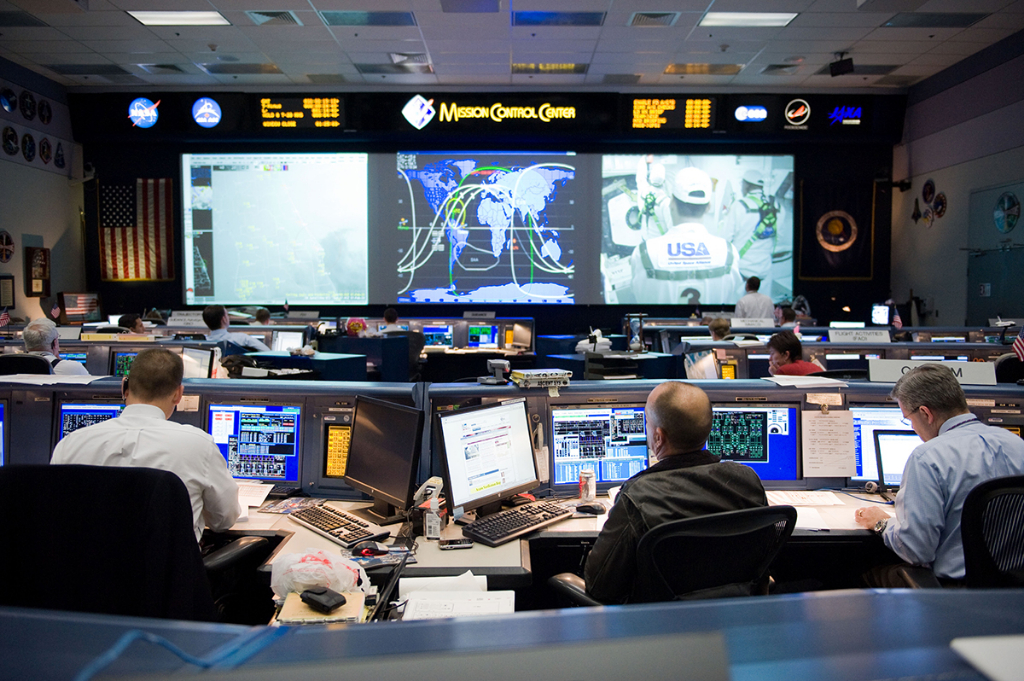 Attention, Space Cadets! Why not start your eclipse vacation off with an optional visit to Houston — home to NASA's world-famous Johnson Space Center?
Monday, April 1 — Arrive in Houston
After arriving at one of Houston's two major airports (George Bush Intercontinental to the city's north or William P. Hobby Airport to its south), use local transportation to reach downtown Houston and check-in to 4½-star hotel. This evening we'll have a welcoming social reception, and afterward (weather permitting) we'll head out with local amateur astronomers to a dark site for a skywatching session. We'll return to the hotel by midnight.
Tuesday-Wednesday, April 2-3 — Space Center Houston / Johnson Space Center
Space Center Houston (SCH), a leading science and space exploration learning center, is one of Houston's top attractions and the Official Visitor Center of NASA's Johnson Space Center. Breakfast, lunch, and dinner provided on April 2; breakfast and lunch on April 3.
Over two days, time permitting, we'll participate in many of the following activities:
Thursday, April 4 — Travel to Austin
After breakfast and check-out, we'll board a bus for the 3-hour drive to the Omni Hotel in Austin. Once you've checking in, the afternoon is yours to explore Austin's vibrant downtown scene. Join the just-arriving members of our tour this evening at our welcome reception and dinner. Breakfast and inner provided.
---
PRICING
| Cost per person (U.S. dollars) | Double | Single |
| --- | --- | --- |
| Eclipse tour (April 4-9, 2024) | $2,995 | $3,745 |
| Optional Houston Tour (April 1-4, 2024) | $1,875 | $2,350 |
Reserve your spot today! Register by completing this form.
PAYMENTS & TERMS
This tour is offered on behalf of AAS Sky Publishing LLC by Insight Cruises (CST 2065380-40). Note that the details presented below are only a portion of the full terms and conditions for this tour.
To confirm your space on this tour, submit a completed registration form along with an initial deposit of $500 per person, plus a $150 Non-refundable Booking Service Fee per person. A second advance payment of $500 pp is due October 1, 2023. (If you book after October 1, 2023, your initial deposit will be $1,000.) Combined, these two $500 payments ($1,000 total) represent your "Deposit". The balance is due ("Final Payment date") on December 23, 2023. For those participating in the "Optional Start in Houston" tour, there is an additional 10% ($187.50) deposit.
A signed Insurance Waiver is due in the Insight Cruises office upon issuance and no later than the Final Payment Date. Your booking is subject to cancellation unless we receive this "paperwork".
All tour prices are subject to change until your booking is confirmed. Insight Cruises will notify you of any price change, and await your acceptance, before your reservation is considered "booked" and confirmed. Either party may cancel the booking within 14 days of the initial deposit, with no penalty, for any reason — so long as this cancellation is prior to 30 days prior to the Final Payment Date. (Note, however, that the Booking Service Fee is non-refundable.) We'll send you an email confirmation and an itemized receipt via within three (3) business days of your deposit.
You must electronically sign our DocuSign Certificate within 30 days of booking or your cruise reservation is subject to cancellation. If Insight Cruises does not have your electronic signature by the Final Payment Date, your cruise reservation will automatically be cancelled and cancellation penalties will be assessed. We will send you multiple reminders by email and by phone before your reservation is cancelled. Passengers typically receive cabin assignments upon booking but these cabin assignments are subject to change.
For more information, visit Insight Cruise's full website. You can also contact Insight Cruises by email ([email protected]) or by calling 650-787-5665 (9 a.m. to 5 p.m. Pacific Time).