On our 11-day tour of Spain, you'll savor the romantic splendor of Barcelona, Aragon, Madrid, and more — and you'll view a total solar eclipse just before sunset from an imposing castle-turned-hotel reserved solely for our group.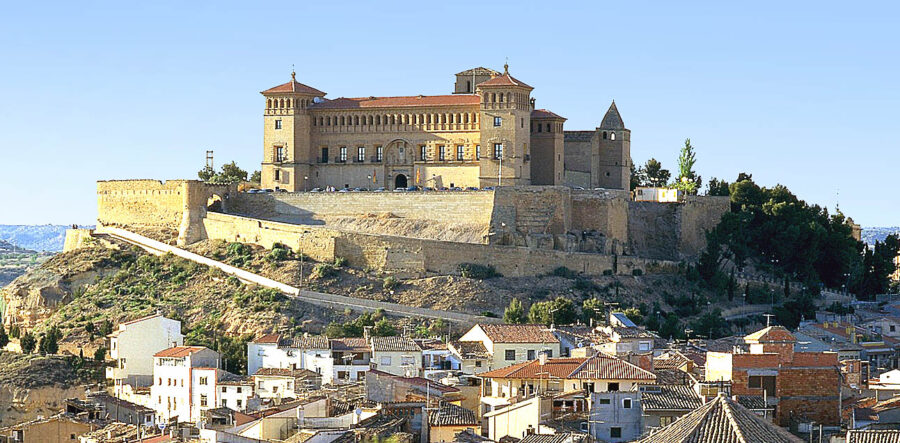 Every total solar eclipse is spectacular, but the one on August 12, 2026, will be extra special. When the Moon's shadow races across Spain, the eclipsed Sun will be floating just a few degrees above the western horizon. The interplay of celestial geometry will create dramatic effects in the atmosphere that don't happen when totality is high overhead. And you'll be able to witness this celestial spectacle from a site that combines a commanding hilltop view with the romance and charm of a restored castle that had its beginnings in the 12th century.
The Castillo de los Caltravos in colorful Alcañiz, Spain, sits in the heart of the Aragon region. Originally a castle and monastery dating from the 12th and 13th centuries, today it has been lovingly restored into a full-function parador that offers beautifully appointed rooms, well-kept patios and gardens, Gothic wall paintings, secret passages and sumptuous dining. And it's here that Sky & Telescope's eclipse experts have set the stage for witnessing totality.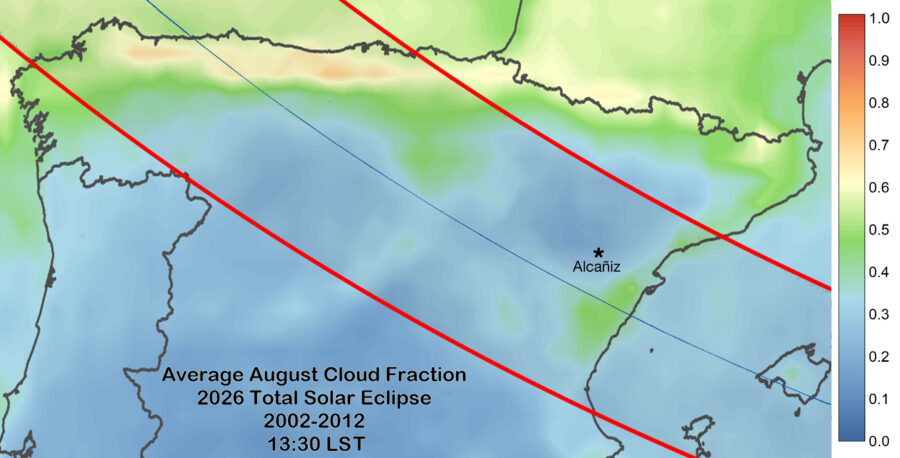 Totality in 2026 will be relatively brief all across Spain, and from Alcañiz it will last 1m24s . The partial eclipse begins at 7:36 p.m. local time (Sun 15° high); mideclipse is at 8:30:24 p.m. with the Sun 5° above the western horizon; and sunset follows at 9:04 p.m. with partial eclipse still in progress. We chose Alcañiz not only for the unobstructed view toward west afforded by its imposing Castillo de los Caltravos, but also because this location offers the best statistical chance of clear skies anywhere along the eclipse path!
Carefully crafted in consultation with our travel partner Royal Adventures, this tour begins in Barcelona, one of the most beautiful and vibrant cities of Spain, then heads west to the ancient Roman port of Tarragona before reaching Alcañiz. After the excitement of Eclipse Day, the tour continues to Zaragoza, which used to be its own kingdom, then onward to Monasterio de Piedra, a 12th-century monastery in an area of Aragón full of waterfalls, extraordinary flora, and a historic garden park. And we conclude in the amazing capital city of Madrid, with its world-renowned museums, grand boulevards, elegant squares, and majestic fountains.
Do you dream of turning back time and spending the night in a castle high above a lovely town filled with history and tradition? And can you picture yourself stepping outside to witness totality just before sunset? Make your dream come true by coming along on Sky & Telescope's Spanish Eclipse Adventure. Read on to get all the details!
Reserve your spot today! Register by completing this form.
Click below to learn all about the tour:
---
HIGHLIGHTS OF THE TOUR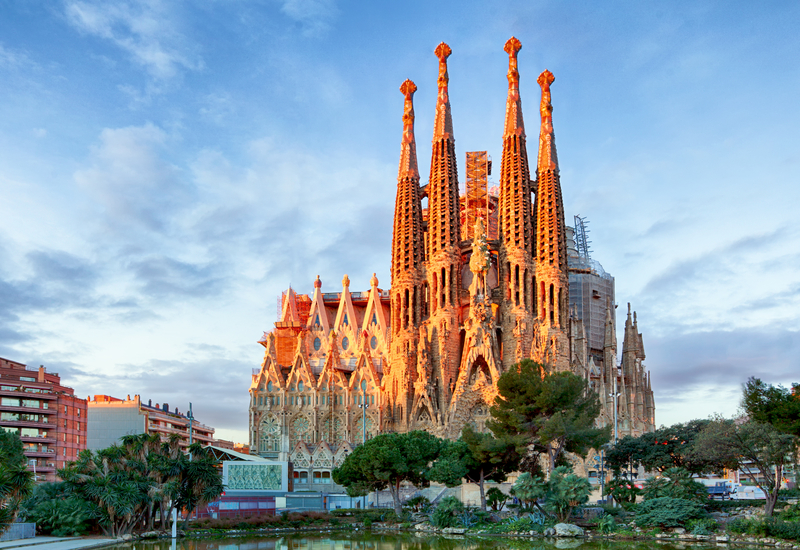 Barcelona
The cultural and provincial capital of Catalonia, Barcelona is a vibrant coastal city of 1.6 million people. It's a unique blend of millenia-old history and modern cosmopolitan chic. You'll be dazzled by the striking architectural masterpieces (many designated UNESCO World Heritage Sites) designed by its most famous architect, Antonio Gaudí. Must-see destinations are the Sagrada Familia, a spectacular and unconventional basilica, as well as the bizarre Park Guell and striking Casa Batllo. Walk through the narrow streets of the city's gothic quarter, then head underground to explore Roman ruins dating to the 1st century BC. And here you can indulge in tapas-style dining like nowhere else in the world.
Tarragona
This port city in the Catalonia region is one of Spain's best kept secrets. Just a short drive from Barcelona, Tarragona is brimming with history, beauty, food, and wine. Founded in 218 BC, it was a Roman colony — the first in Spain — known as Tarraco. You'll find evidence of its Roman roots throughout the city, and several structures still endure today. For example, you can freely walk through the amphitheater, which dates from the 2nd century and could hold 12,000 spectators. Nearby is the imposing Les Ferreres Aqueduct, whose two rows of majestic arch structures still stand 700 feet long and 88 feet high.
Zaragoza
Once its own kingdom, Zaragoza is home to lots of grand monuments, palaces, and some of the best examples of Moorish architecture outside of Andalusía. Over the course of its 2,000-year history, Zaragoza has been ruled by the Romans, the Moors and the Christian kings, each one leaving their mark upon its architecture. For example, in the city center, overlooking the Ebro River, is the towering Baroque basilica with multiple domes called Nuestra Señora del Pilar, a famous pilgrimage site. Elsewhere are landmarks that combine Islamic and Gothic architecture, including the Aljafería, a fortified 11th-century Moorish palace.
Madrid
Just beyond the southern limit of 2026's total solar eclipse, Madrid is a destination that should not be missed. Start with its world-famous Prado Museum, housing works by Goya, Velázquez and other Spanish masters. Then explore the Royal Palace and the sprawling Plaza Mayor in the city's heart. Madrid boasts many elegant squares and wide boulevards with majestic fountains and sculptures, along with expansive, manicured parks such as the Retiro PRK.
---
Itinerary for Spanish Eclipse Adventure 2026

| Date | Itinerary at a Glance | Accommodation | Meals |
| --- | --- | --- | --- |
| Friday, Aug. 7 | Overnight flight to Barcelona | — | — |
| Saturday, Aug. 8 | Arrival in Barcelona, welcome tapas dinner | Hotel 1898 | B,L,D |
| Sunday, Aug. 9 | Barcelona | Hotel 1898 | B,L,D |
| Monday, Aug. 10 | Barcelona | Hotel 1898 | B |
| Tuesday, Aug. 11 | Barcelona-Tarragona- Alcañiz | Parador de Alcañiz | B,L,D |
| Wednesday, Aug. 12 | ECLIPSE DAY in Alcañiz | Parador de Alcañiz | B,L,D |
| Thursday, Aug.13 | Alcañiz-Zaragoza | Catalonia El Pilar | B,L |
| Friday, Aug. 14 | Zaragoza | Catalonia El Pilar | B |
| Saturday, Aug. 15 | Zaragoza-Madrid | Riu Plaza España | B,L,D |
| Sunday, Aug. 16 | Madrid | Riu Plaza España | B,D |
| Monday, Aug. 17 | Depart for home | — | B |
Day 1: Friday, Aug. 7 — Fly to Barcelona
Depart from your home city on an overnight flight to Barcelona, Spain. (meals aloft)
Day 2: Saturday, Aug. 8 — Barcelona
Arrive in Barcelona and transfer from the airport to the hotel. Check-in and rest. This afternoon gather for a walking tour of Barcelona's Gothic Quarter, touring historic streets, squares, hidden corners, and hundred-year-old buildings. Enjoy a tapas welcome dinner. Hotel 1898 (D)
Day 3: Sunday, Aug. 9 — Barcelona
After breakfast, morning tour of the elegant Paseo de Gracia and visits to important works of the famous architect Antonio Gaudí, including Casa Batlló and La Pedrera House (Casa Milá). After a group lunch, guided tours of La Sagrada Familia, the famous Cathedral of Barcelona, and Parque Guell, a UNESCO World Heritage Site. Dinner by the seaside. Hotel 1898 (B, L, D)
Day 4: Monday, Aug. 10 — Barcelona
Free day to explore Barcelona. Discover the many interesting parts of this vibrant city on the Mediterranean coastline of Spain. The city, a work of art on itself, bubbles with life. Lunch and dinner on your own. Hotel 1898 (B)
Day 5: Tuesday, Aug. 11 — Barcelona-Tarragona-Alcañiz
After breakfast, travel by motor coach to vibrant port city of Tarragona and tour its vast Roman ruins, fortifications, walls, medieval monuments, and Gothic cathedral. Then travel to Alcañiz and its imposing Castle of the Calatravos, on a hilltop overlooking the town. The fortress, now a parador (hotel), will provide the home base for exploring this historic area and for viewing the eclipse. Parador de Alcañiz (B, L, D)
Day 6: Wednesday, Aug. 12 — Eclipse Day in Alcañiz
Enjoy a walking tour of Alcañiz in the morning. In addition to its imposing castle, the Plaza de España, in the historic center, is a mandatory stop, framed by two of the most beautiful buildings in the city: the town hall, from the 16th century, and the "Lonja", which was the public market in the Middle Ages. Then return to our hotel to get ready for the eclipse. Totality lasts 94 seconds, centered on 8:30:24 p.m. with the Sun 5° high. Sunset (9:04 p.m.) occurs with partial eclipse in progress. Celebratory group dinner thereafter. Parador de Alcañiz (B, L, D)
Day 7: Thursday, Aug. 13 — Alcañiz-Zaragoza
Relax after breakfast at Alcañiz before departing for the city of Zaragoza (known in English as Saragossa), a historic destination that retains its authentic provincial character with a memorable old quarter and many historic monuments and buildings. Zaragoza is famous for renowned artistic geniuses such as Goya, Pablo Gargallo  and Pablo Serrano. The variety of food and the established tapas culture in the Plaza de Santa Marta satisfy even the most demanding tastes. Tour Roman ruins and explore Moorish, Romanesque, Gothic, Mudejar, Renaissance, Baroque, Neoclassical, and Art Nouveau architecture. Included is a visit to the Basílica Nuestra Señora del Pilar, a famous pilgrimage site, and the Aljafería Palace, an 11th-century Moorish structure that is the only remaining example of a large building of Hispanic Islamic architecture from the Taifa period. Dinner on your own.  Hotel Catalonia El Pilar (B, L)
Day 8: Friday, Aug. 14 — Zaragoza
After breakfast, a group tour begins at Plaza del Pilar, in the heart of the city's historic center, where the forum of the original Roman city of Caesar Augusta once stood. The tour then explores the works of the renowned painter Goya at the Zaragoza Museum. Afterward, view the magnificent work of Aragonese sculptor Pablo Gargallo at the museum named after him. Lunch and dinner on your own.  Hotel Catalonia El Pilar (B)
Day 9: Saturday, Aug. 15 —Zaragoza-Madrid
Depart Zaragoza after breakfast and stop in Monasterio de Piedra, founded in the 12th century by the Cistercian order and protected by a medieval wall and its beautiful Homage Tower. Tour the amazing 19th-century Historic Garden Park full of charming waterfalls and extraordinary flora. This is a unique site, a lush oasis of caves, waterfalls, and suspended walkways located in one of the most beautiful areas of Aragon. After lunch, continue to Madrid for hotel check-in and a group dinner.  Hotel Riu Plaza España  (B, L, D)
Day 10: Sunday, Aug. 16 — Madrid
After breakfast, join a group tour of the Royal Palace and elegant places such as Oriente and España squares, Puerta del Sol, Atocha, Alcalá Gate, Retiro Park, Cibeles Square, Bullring Las Ventas, Neptuno Square, Gran Vía Street, and other sites. Then tour the renowned Prado Museum, one of the world's most important, with a focus on the Spanish masters including El Greco, Velazquez, and Goya. In the afternoon continue discovering other areas of Madrid, such as the Old Quarter, Plaza Mayor, and San Miguel Market. Farewell group dinner.  Hotel Riu Plaza España  (B, D)
Day 11: Monday, Aug. 17 — Fly Home from Madrid
After breakfast, depart for the airport for international flights to the U.S., which arrive the same day. Connect with your flight home. (B, meals aloft)
---
WHAT'S INCLUDED
Hotel accommodations in deluxe (4-star) hotels
Exclusive use of Parador de Alcañiz on eclipse day
English speaking Tour Director exclusive to Sky & Telescope group
Professional English-speaking guides at all locations
Group transfers between airports and hotels
Land transport by private motor coach
Meals as listed (including special welcome and farewell meals)
Wine with all lunches and dinners
Bottled water during outings
Baggage handling
Tips to local guides, drivers, service charges and taxes
Entrance fees on itinerary excursions and visits
WHAT'S NOT INCLUDED
International airfare to Barcelona or from Madrid
Room service, meals, and snacks not specified in the itinerary
Alcoholic beverages, aside from those included in the welcome and farewell dinners and hosted reception
Private transfers
Personal items such as laundry, wifi, and telephone calls
Travel and medical insurance
(We strongly recommend the purchase of optional travel insurance)
Medical expenses, quarantine costs, and COVID-19 testing, if applicable
Tip for the Tour Director is at participant's discretion
Fuel surcharges
---
Pricing, Payments, and Terms

| PRICING (PER PERSON) | DOUBLE | SINGLE |
| --- | --- | --- |
| 11-day eclipse tour in Spain | $7,950 | $11,450 |
| | | |
| | | |
PAYMENTS & TERMS
Note: Pricing is based on standard capacities on vehicles and at restaurants, hotels, and other venues and does not include any costs that may be incurred by any capacity limitations that may be imposed due to COVID-19 or any other reason. All tour prices are based on costs in effect at the time of posting. As such, prices listed here are subject to change. Royal Adventures and/or AAS Sky Publishing LLC will inform participants of any changes prior to departure.
To make a reservation: A reservation request can be submitted by completing this form. Reservations are recorded and acknowledged in order of receipt. Royal Adventures (CST #2009579-40) handles all invoicing.
Deposits: Reserving your space on this program requires a $1,000 deposit per person. A second deposit of $1,500 per person will be due on or before September 15, 2024 (or $2,500 due when booking after that date). The initial deposit may be charged to a credit card, and the second deposit, as well as the final payment, must be paid by check. Reservations are acknowledged in order of receipt. Final payment is due September 16, 2025, and must be paid by check. Royal Adventures handles all invoicing. CST #2009579-40
Cancellations and Refunds: Cancellation fees are based on the date written notice is received by Royal Adventures. (Notification of cancellation must be received in writing.) Should you have to cancel, the following terms will apply: Until January 1, 2023: Your deposit will be refunded less $200 per person. January 2, 2023 – Sept 16, 2024: Deposit/payments paid will be refunded less $500 per person. Sept 17, 2024 – Sept 15, 2025: Deposit/payments paid will be refunded less $1,000 per person. After September 15, 2025: No refunds of any deposit/payments (cancellations received after this date are subject to a 100% penalty of all deposits and payments, regardless of the booking date). There are no refunds for unused meals, accommodations, or other trip features. Travel insurance will be available.
Itinerary: The itinerary is subject to change at the discretion of Sky & Telescope and Royal Adventures. In particular, viewing the total solar eclipse will be weather dependent, and there is always a chance that passengers will not be able to view totality or view it only for a short period of time. Neither Royal Adventures nor AAS Sky Publishing LLC makes any guarantee as to the viewing of the total solar eclipse. Keep in mind that unexpected schedule changes could affect the program. Your Tour Director will keep you fully informed of any changes to planned activities. A sense of humor, flexibility, and patience will be greatly appreciated during this program and especially on eclipse day!
Pricing adjustments: All tour prices are based on costs and U.S. dollar exchange rates, tariffs, in-tour transportation, fuel surcharges, and airfares in effect at the time of posting. While we do everything possible to maintain the listed prices, they are subject to change. By September 1, 2024, Sky & Telescope and/or Royal Adventures will inform participants of any changes in the price of the tour.
Tour size: This tour, exclusively designed for AAS Sky Publishing LLC, is limited to 70 participants based upon double occupancy. The minimum group size for the main program is 20. Should the minimum group number not be met, we reserve the right to levy a small-group surcharge.
Travel insurance: We highly recommend the purchase of trip cancellation insurance including "Cancel for Any Reason" because the cancellation penalty listed in the brochure will apply. Trip-cancellation insurance can be purchased by an agency of your choice or through our recommended provider, Travel Insured International; click here to get a quote or call 800-243-3174 and mention Royal Adventures #53140. Most insurance plans need to be purchased within 14 days of paying the initial deposit in order to waive preexisting medical conditions as well as to purchase "Cancel for Any Reason" insurance. Neither AAS Sky Publishing LLC nor Royal Adventures accepts liability for any airline-cancellation penalty incurred by the purchase of a non-refundable airline ticket or other expenses incurred by tour participants in preparing for the tour.
Disclaimer: Every reasonable effort has been made to ensure the accuracy of information presented here. Royal Adventures, AAS Sky Publishing, LLC, and Sky & Telescope are not responsible for errors in or damages resulting from use of the information contained herein. Information contained here is subject to change.
Responsibility Statement: Royal Adventures (CST #2009579-40), its owners, and employees act only as agents for the various independent suppliers and contractors providing transportation, hotel accommodations, restaurant, and other services connected with this tour. Such travel and services are subject to the terms and conditions under which such accommodations, services, and transportation are offered or provided; AAS Sky Publishing LLC and Royal Adventures and their respective employees, agents, representatives, and assigns accept no liability therefor. AAS Sky Publishing LLC and Royal Adventures assume no liability for any injury, damage, loss, accident, delay, or other irregularity which may be caused by the defect of any aircraft or vehicle or the negligence or default of any company or person engaged in carrying out or performing any of the services involved. Additionally, responsibility is not accepted for losses, injury, damages, or expenses of any kind due to sickness, epidemics, pandemics, weather, strikes, local laws, hostilities, wars, terrorist acts, acts of nature, quarantine, force majeure, animal or insect bites, or other such causes. All services and accommodations are subject to the laws of the country in which they are provided. AAS Sky Publishing LLC and Royal Adventures reserve the right to make changes in the published itinerary whenever, in their sole judgment, conditions warrant, or if they deem it necessary for the comfort, convenience, or safety of the tour participants. AAS Sky Publishing LLC and/or Royal Adventures shall not be deemed to be in breach of these terms and conditions or otherwise be liable to you, and shall not provide any refund, by reason of delay in performance, or by nonperformance, of any of our obligations hereunder to the extent that any such delay or non-performance is due to any force majeure event. A force majeure event, in relation to this tour, shall mean any circumstances beyond our control, including, but without limitation, to acts of God, explosion, flood, forceful wind, fire or accident, war or threat of war declared or undeclared, acts of terrorism, sabotage, insurrection, riots, strikes, civil disturbance, sickness, epidemics, pandemics, quarantines, government intervention or other unforeseeable events. Limitations on travel arising from the COVID-19 pandemic shall be considered a force majeure event. If this tour is affected by a force majeure event, AAS Sky Publishing and Royal Adventures shall be entitled to, and may in their sole and absolute discretion, vary, cancel or postpone any itinerary or arrangement in relation to this trip. The right is also reserved to decline to accept or retain any person as a member of the tour or to substitute another qualified leader or special guest. Baggage and personal effects are the sole responsibility of the owners at all times. The price of the program is given in good faith based on current tariffs and rates and is subject to change. Any tariff, exchange rate, security surcharge or fuel increases will be passed on to participants. Neither AAS Sky Publishing LLC nor Royal Adventures accepts the liability for any airline-cancellation penalty incurred by the purchase of a nonrefundable airline ticket. The air ticket when issued shall constitute the sole contract between the passenger and the airline concerned. As part of the consideration and right to participate in this tour, each participant will be asked to sign a liability release, an assumption of risk, and a hold-harmless agreement.
Questions: Please contact Royal Adventures at

[email protected]

or call 800-453-4754 or 925-820-6260 (Monday to Friday, 9:30 a.m. to 5:00 p.m. Pacific Time).
Reserve your spot today! Register by completing this form.