Don't miss this opportunity to explore the celestial prowess and dazzling art and architecture of the ancient Maya on Sky & Telescope's exclusive 10-day tour to witness the annular solar eclipse on October 14, 2023.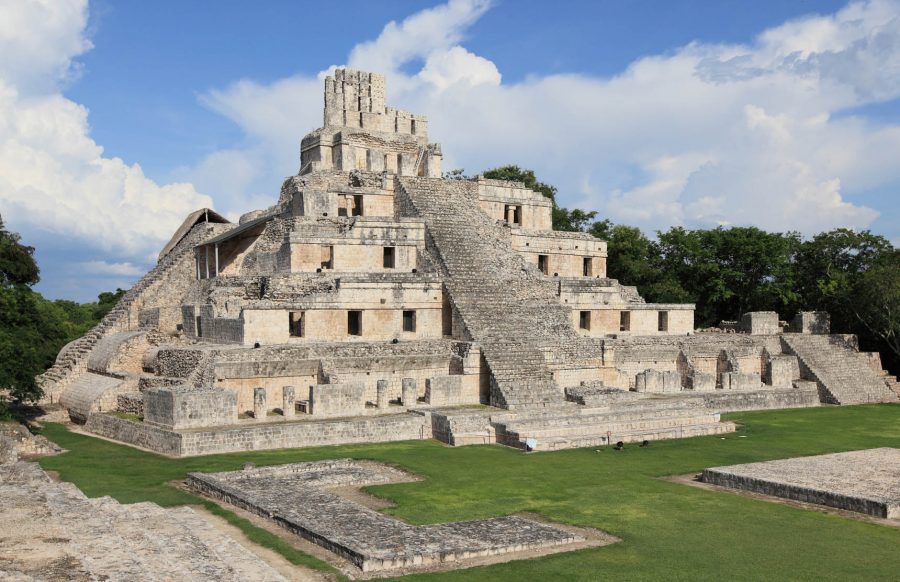 In ancient cultures, eclipses of the Sun were seen as powerful portents for both good and (often) evil. But few of these civilizations attained the celestial sophistication of the Maya in Mesoamerica. Their astronomer-priests looked to the heavens for guidance and developed the most intricate and accurate calendar in the ancient world. Ceremonial buildings were precisely aligned with compass directions, with some built to create fleeting solar alignments at the equinoxes.
Immerse yourself in Maya culture — marveling at both its celestial prowess and its dazzling art and architecture — on Sky & Telescope's exclusive 10-day tour across the Yucatán Peninsula. And, invoking the spirit of the great Maya skywatchers, we'll gather at an exclusive viewing site on October 14, 2023, to witness an annular (ring) eclipse of the Sun.
If you enjoy touring with smaller-size groups, this opportunity is for you! Our travel partner for this expedition is Royal Adventures (CST#2009579-40), a company that specializes in tours to Latin America and prides itself on providing travel experiences of unmatched quality. Our tour is limited to a maximum of 20, and you'll be accompanied by expert local guides as well as representatives from both Sky & Telescope and Royal Adventures.
Your adventure begins in colorful Cancún on October 6th. Then make your way across the peninsula to visit the most revered and historic Maya sites — Chichén Itzá (and its famed El Caracol Observatory), Ek Balam, Uxmal, Kabah, and Edzná — before visiting the vibrant capital city of Mérida and the historic coastal town of Campeche. You'll even get the chance to swim in one of the region's cenotes, limestone sinkholes created in the aftermath of the asteroidal collision that devasted the Gulf of Mexico 66 million years ago and wiped out most of Earth's life forms. Then fly home on October 15th.
Click below to get the full details:
• Itinerary for our 10-day tour
• Pricing, Payments, and Terms
• Reserve today using this online registration form!
---
Highlights of the Yucatán
Annular Eclipse 2023 Adventure

Sky & Telescope's Eclipse-Viewing Site
Our carefully chosen site for witnessing the annular eclipse represents a balance of excellent geometric placement (19°50.9'N, 90°32.3'W), optimal climatology, and the comfort of participants. You'll view the entire event from the comfortable grounds of Gamma Campeche Malecón, which overlooks the Gulf of Mexico and just steps from your room. Here sea-breeze winds give a sunnier climate than elsewhere over the peninsula, with the best odds anywhere on the Yucatán Peninsula for clear skies on eclipse day. You'll watch a smaller-than-usual Moon slide across the Sun over 3½ hours and cover 95% of it, leaving a brilliant ring — or annulus — in the sky. From our location, this "ring of fire" will be high up (altitude 61°) and last for 4 minutes 32 seconds, with the eclipse's midpoint at 12:25 p.m.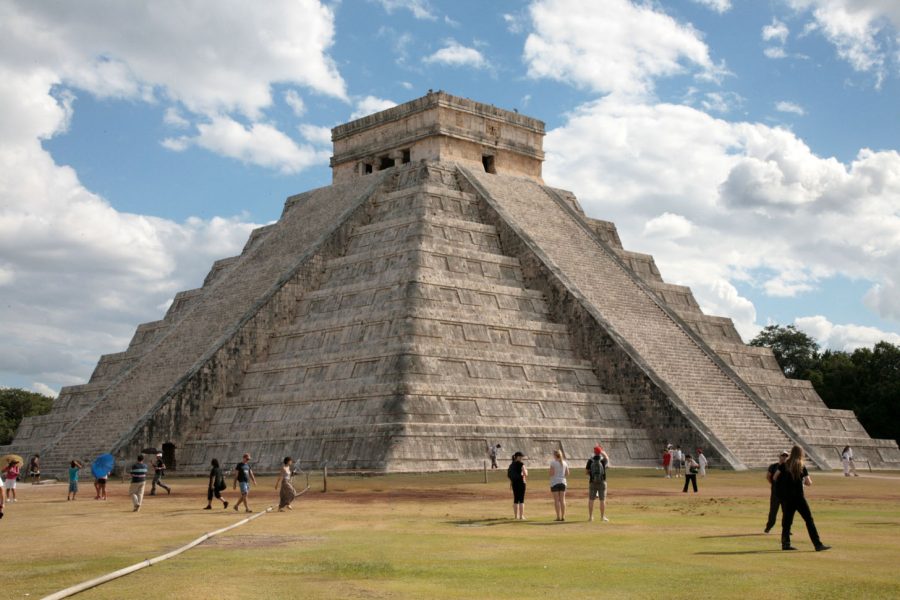 Chichén Itzá
The most famous and most restored of the Maya sites and one of the new Seven Wonders of the World thrived from around 600 to 1200 AD. Its Maya name means "At the mouth of the well of the Itza". Soaring above the site is the Temple of Kukulcán, also known as El Castillo, a massive step pyramid. Nearby is El Caracol, whose rounded center may be reminiscent of a telescope's dome but is actually the ruins of a cylindrical structure. Still, there's ample evidence that it served as an astronomical observatory. You can explore the site's graphic stone carvings that survive at structures like the ball court, Temple of the Warriors, and the Wall of the Skulls.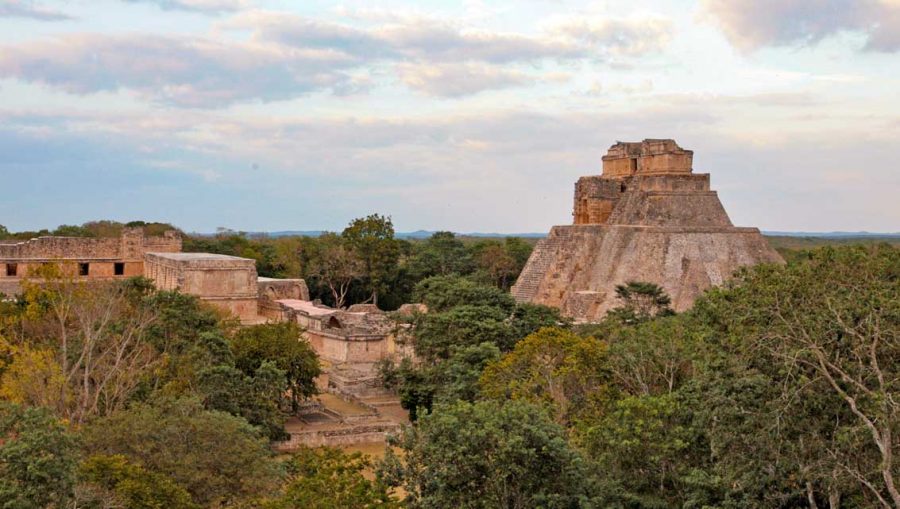 Uxmal and Edzná
The Maya were expert sky-watchers, careful observers of the motions of the celestial bodies. Their fascination with astronomy is evident in the grand architecture at sites such as Chichén Itzá, Uxmal (shown above), and Edzná, and many more. At many of these sites, hieroglyphic carvings refer to celestial bodies and cycles. Often, the buildings they adorn have been built to align with significant cyclical astronomical events—solstices, equinoxes, the moon, the stars, or the rise of planets.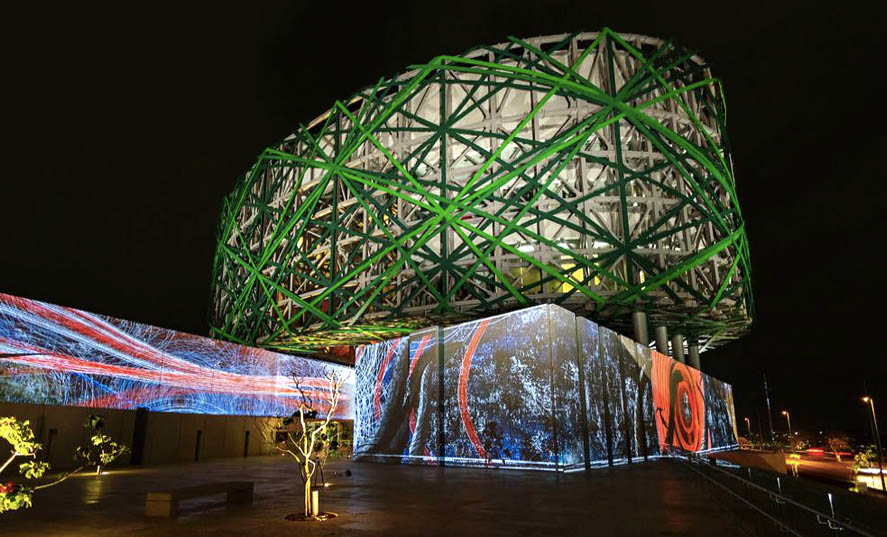 Museum of the Maya World
This is a world-class museum that celebrates Maya culture. Its contemporary building design evokes the form of a ceiba, a tree sacred to the Maya. They believed it connected the living with the underworld below and the heaven above. The highlight of the museum's natural-history section is the exhibit on the Chic'xulub impact — a history-altering (and dinosaur-dooming) event that occurred when a 6-mile-wide asteroid slammed into our planet about 66 million years ago. The resulting crater, 120 miles across, led to the creation of a ring of cenotes (freshwater sinkholes) that abound in the Yucatán today.
---
Accommodations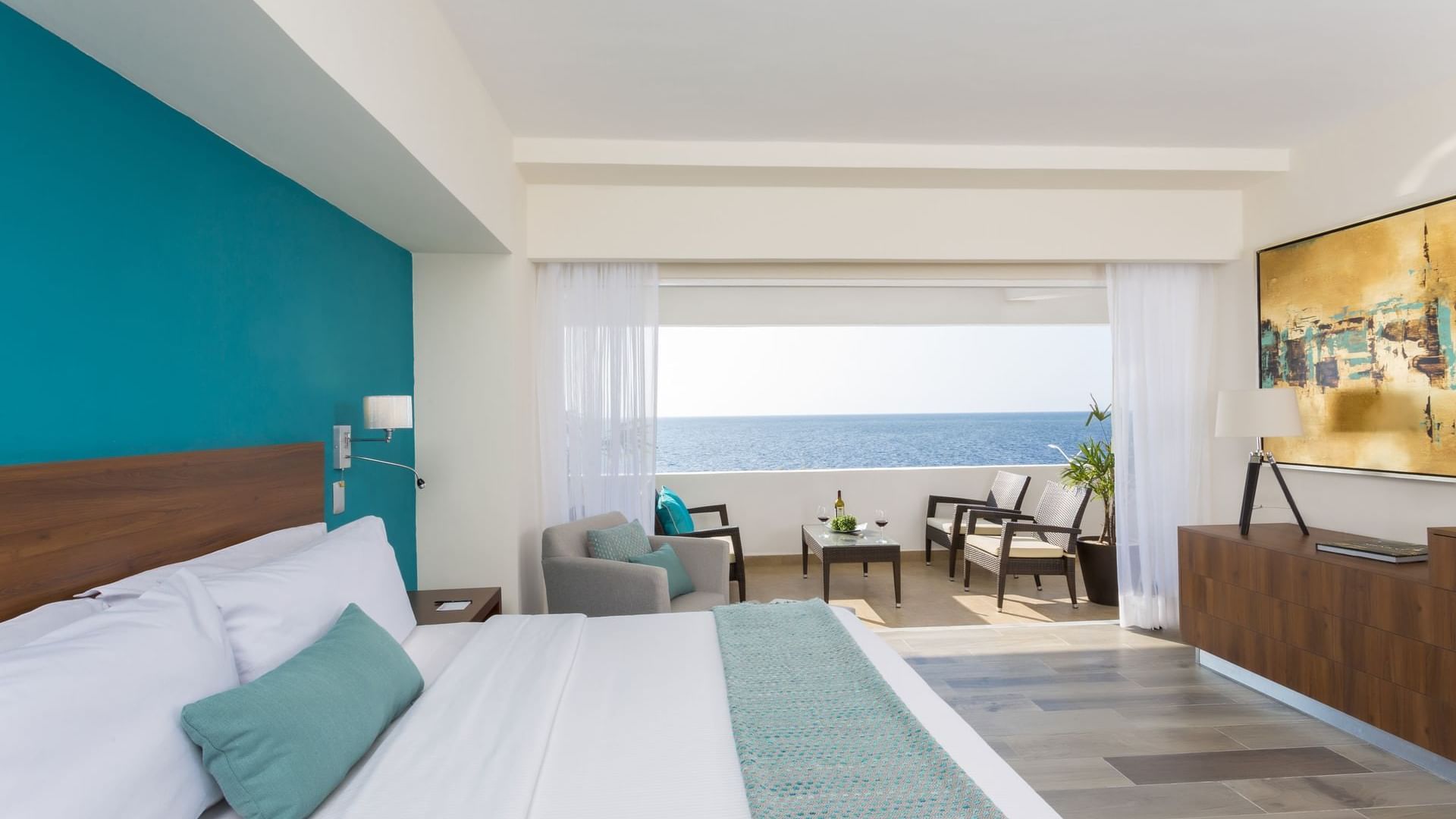 ---
Itinerary for S&T's Yucatán Annular Eclipse 2023 Adventure
| Date | Itinerary at a Glance | Accommodation | Meals |
| --- | --- | --- | --- |
| Friday, Oct. 6 | Arrive in Cancún | Courtyard Marriott | — |
| Saturday, Oct. 7 | Cobá to Chichén Itzá | Hotel Mayaland | B, L, D |
| Sunday, Oct. 8 | Chichén Itzá | Hotel Mayaland | B, L, D |
| Monday, Oct. 9 | Ek Balam / Cenote Swim | Hotel Mayaland | B, L, D |
| Tuesday, Oct. 10 | Mérida | Hilton Casa Mercedes | B, L, D |
| Wednesday, Oct. 11 | Mérida / Uxmal / Kabah | Hilton Casa Mercedes | B, L, D |
| Thursday, Oct. 12 | Mérida / Campeche | Gamma Campeche Malecón | B, L, D |
| Friday, Oct. 13 | Campeche / Edzná | Gamma Campeche Malecón | B, L |
| Saturday, Oct. 14 | Eclipse Day | Gamma Campeche Malecón | B, L, D |
| Sunday, Oct. 15 | Depart for home | — | B |
Day 1, October 6 — Arrive in Cancún
After flying from your home to Cancún, México, you'll be transferred to our hotel close to the airport. Relax until early evening, when you'll meet other tour participants in the hotel's reception area and hear a briefing on tomorrow's departure and activities. Courtyard Marriott
Day 2, October 7 — Cobá / Chichén Itzá
We'll depart after breakfast and head to the archaeological Maya site of Cobá, which is surrounded by luxuriant vegetation. After the visit, you'll have lunch and then transfer to your hotel at Chichén Itzá, one of the finest Maya archaeological sites in the northern Yucatán Peninsula. Relax at the hotel upon arrival, then join the group for a welcome dinner with cocktails. Hotel Mayaland (B, L, D)
Day 3, October 8 — Chichén Itzá
Enjoy a private sunrise tour of Chichén Itzá before it opens to the public. The site contains massive structures including the immense El Castillo pyramid, serpent-adorned balustrades, columns, and ominous skull racks. Built sometime in the 7th century, El Castillo had an astronomical purpose and is actually a symbolic representation of the Maya calendar. For example, the number of steps in all of the monumental stairways adds up to 365. Another astronomical structure, El Caracol (also known as the Observatory) bears a striking resemblance to modern astronomical observatories. Its windows and doorways are specifically aligned with the movements of the Sun, stars, and planets, particularly Venus. Chichén Itzá is also home to the largest known Maya ballcort. Hotel Mayaland (B, L, D)
Day 4, October 9 — Ek Balam / Cenote Maya
This morning visit the Late Classical period Maya ruins of Ek Balam, which means "black jaguar." What makes this site unique is the shape of the main pyramid and the fact you can climb to its top. In the afternoon enjoy a swim in a nearby freshwater cenote (limestone sinkhole). A ring of cenotes was formed across the Yucatán Peninsula following a colossal asteroid impact 66 million years ago that triggered catastrophic destruction during the time of the dinosaurs. Hotel Mayaland (B, L, D)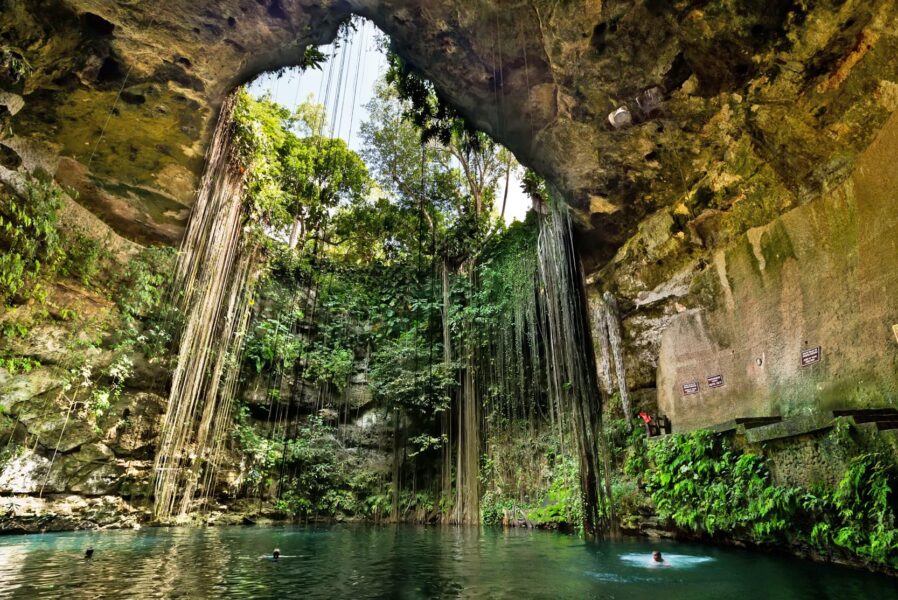 Day 5, October 10 — Mérida
This morning travel to Mérida, Yucatán's capital and largest city. Enjoy a tour of the city's beautiful government buildings, monuments, and shady tree-lined plazas. Visit Gran Museo del Mundo Maya (Museum of the Maya World) for a lecture on the Chic'xulub crater left by the million-megaton impact that devastated the Gulf of Mexico and caused a worldwide species extinction 66 million years ago. Then settle into our comfortable hotel in Mérida near plazas and historic buildings. Hilton Casa Mercedes (B, L, D)
Day 6, October 11 — Mérida / Uxmal / Kabah
This morning travel to Uxmal — arguably the most elegant Maya site, with its graceful architecture, symmetry, and grandeur. Uxmal is considered the finest and most extensively excavated example of Puuc architecture. This is the area that Stephens and Catherwood visited in 1840 and wrote about extensively in Incidents of Travel in the Yucatán Peninsula. In the afternoon, we drive to the nearby site of Kabah, the second largest Maya ruin in the Puuc region. Kabah is renowned for its "Palace of the Chaac Masks," an especially beautiful ornate example of the Puuc style. Hilton Casa Mercedes (B, L, D)
Day 7, October 12 — Mérida / Campeche
This morning we'll depart for the port city of Campeche on the Gulf of México, a UNESCO World Heritage Site, known for its preserved baroque colonial buildings, military architecture, and walled historic district. In response to decades of pirate and buccaneer attacks, the city was fortified in the 17th century, and two hilltop fortresses are now museums. The meticulously restored historic center of Campeche is a colonial time warp with buildings restored to pristine pastel perfection. Learn about the city's fascinating history and enjoy a tour of the Fortress of San Miguel with its commanding views of the Bay of Campeche. The fort houses the Campeche Archaeological Museum with artifacts from local Maya sites. Gamma Campeche Malecón (B, L, D)
Day 8, October 13 — Campeche / Edzná
Today we'll travel to Edzná, a site that offers a smorgasbord of Maya architectural styles. Later enjoy time at leisure to explore Campeche on your own. You may wander the old city walls, learn about Campeche's history at the Museo de la Ciudad, or explore modern street art. Restaurants and cafes abound. Gamma Campeche Malecón (B, L)
Day 9, October 14 — Annular Solar Eclipse!
Today is dedicated to viewing the eclipse from the relaxed comfort of Gamma Campeche Malecón or from the beach overlooking the Gulf of Mexico (just steps away). We'll enjoy a group lunch before the eclipse, then gather after its conclusion for a celebratory farewell dinner with wine and beer. Gamma Campeche Malecón (B, L, D)

Here is the eclipse timetable and the Sun's location in the sky:
| Event | Universal Time | Local time | Sun's alt. | Sun's az. |
| --- | --- | --- | --- | --- |
| Start of partial eclipse (C1) | 15:45:27 | 9:45:27 a.m. | 49° | 130° |
| Start of annular eclipse (C2) | 17:22:24 | 11:22:24 a.m. | 61° | 167° |
| Eclipse midpoint | 17:24:42 | 11:24:42 a.m. | 61° | 168° |
| End of annular eclipse (C3) | 17:27:00 | 11:27:00 a.m. | 61° | 169° |
| End of partial eclipse (C4) | 19:09:25 | 1:09:25 p.m. | 56° | 217° |
alt is altitude above the horizon; az is azimuth, which is nearly due south at mid-eclipse. Data courtesy Fred Espenak (eclipsewise.com)
Day 10, October 15 — Campeche and Departure for Home
After breakfast, this morning we transfer to the Mérida or Campeche airport for flights to the U.S. and connecting flights home. (B)
---
WHAT'S INCLUDED
Private group transfers from airport to hotel and to airport on return
Accommodation in 3- and 4-star hotels
English-speaking Tour Director
Sky & Telescope astronomy director and Vanderbilt University study leader
Land transport by private motor coach
All meals as indicated on the itinerary, including special welcome and farewell meals
Beer with lunches
Wine and beer included with all dinners.
Bottled water during outings
Baggage handling
Tips to local guides, drivers, service charges and taxes
Entrance fees on itinerary excursions and visits
Customized luggage tags and name tags with Sky & Telescope logo
Pre-trip planning information and resources
WHAT'S NOT INCLUDED
International or domestic airfare
Excess-baggage fees
Room service, meals, and snacks not specified in the itinerary
Alcoholic beverages, aside from those included with lunches and dinners
Personal items such as laundry, email, and telephone calls
Travel and medical insurance
Medical expenses and COVID-19 testing, if applicable
Tip for the Tour Director is at participant's discretion
Pricing, Payments, and Terms for Yucatán Annular Eclipse 2023 Adventure
| Pricing (per person) | Double | Single |
| --- | --- | --- |
| 10-day Yucatán Tour & Annular Eclipse | US$6,490* | US$8,380 |
* A limited number of larger suites are available for an additional cost of $200 per person (double occupancy only).
Pricing: All tour prices are based on costs and U.S. dollar exchange rates in effect at the time of posting. As such, prices listed here are subject to change. Royal Adventures and/or AAS Sky Publishing LLC will inform clients of any changes prior to departure.
Deposits: An advance payment of US $1,000 per person, is required to secure your reservation. Initial deposits may be paid by credit card or PayPal (plus a 3% credit-card processing fee) or by check, payable to "Royal Adventures" and mailed to Royal Adventures, 9 Crow Canyon Court, Suite 205, San Ramon, CA 94583 (USA). Final payment (by check only) is due by June 8, 2023.
To make a reservation: A reservation request can be submitted using this online registration form or by contacting Royal Adventures at 800-453-4754 (toll free) or 925-820-6260, ×102. Reservations are recorded and acknowledged in order of receipt. Royal Adventures (CST #2009579-40) handles all invoicing.
To cancel a reservation: Notification of cancellation must be received in writing by Royal Adventures. Cancellations are subject to a $500 cancellation fee per person. No refunds of any deposits or payments are made on or after June 28, 2023, regardless of booking date. There are no refunds for unused meals, accommodations or other trip features.
Itinerary: The itinerary is subject to change at the discretion of AAS Sky Publishing LLC and Royal Adventures. All tour prices are based on costs and U.S. dollar exchange rates in effect at the time of posting. As such, prices listed here are subject to change. AAS Sky Publishing LLC and/or Royal Adventures will inform clients of any changes prior to departure.
Tour size: This tour, exclusively designed for AAS Sky Publishing LLC, is limited to 20 participants (based upon double occupancy). The minimum group size is 15. Should the minimum group number not be met, we reserve the right to levy a small-group surcharge.
Travel insurance: We highly recommend the purchase of trip cancellation insurance including "Cancel for Any Reason" because the cancellation penalty for this program will apply. Trip-cancellation insurance can be purchased through our recommended provider, Travel Insured International; click here to get a quote or call 1-800-243-3174 and mention Royal Adventures #53140. Most insurance plans need to be purchased within 14 days of paying the initial deposit in order to waive preexisting medical conditions as well as to purchase "Cancel for Any Reason" insurance. Neither S&T nor Royal Adventures accepts liability for any airline cancellation penalty incurred by the purchase of a non-refundable airline ticket or other expenses incurred by tour participants in preparing for the tour. Trip cancellation can enable you to receive a refund for the tour cost including your deposit due to unexpected illness, injury, or other "covered reasons" in the policy.
Disclaimer: Every reasonable effort has been made to ensure the accuracy of information presented here. Royal Adventures and AAS Sky Publishing LLC are not responsible for errors in or damages resulting from use of the information contained herein. Information contained herein is subject to change.
Responsibility: Royal Adventures (CST #2009579-40), its owners, and employees act only as agents for the various independent suppliers and contractors providing transportation, hotel accommodations, restaurant, and other services connected with this tour. Such travel and services are subject to the terms and conditions under which such accommodations, services, and transportation are offered or provided; AAS Sky Publishing LLC and the American Astronomical Society (hereinafter collectively referred to as "Sky") and Royal Adventures and each entity's respective board of directors or trustees, officers, shareholders, members, employees, agents, representatives, and assigns accept no liability therefor. Sky and Royal Adventures assume no liability for any injury, damage, loss, accident, delay, or other irregularity which may be caused by the defect of any aircraft or vehicle or the negligence or default of any company or person engaged in carrying out or performing any of the services involved. Additionally, responsibility is not accepted for losses, injury, damages, or expenses of any kind due to sickness, epidemics, pandemics, weather, strikes, local laws, hostilities, wars, terrorist acts, acts of nature, quarantine, force majeure, animal or insect bites, or other such causes. All services and accommodations are subject to the laws of the country in which they are provided. Sky and Royal Adventures reserve the right to make changes in the published itinerary whenever, in their sole judgment, conditions warrant, or if they deem it necessary for the comfort, convenience, or safety of the tour participants. Sky and/or Royal Adventures shall not be deemed to be in breach of these terms and conditions or otherwise be liable to you, and shall not provide any refund, by reason of delay in performance, or by non-performance, of any of our obligations hereunder to the extent that any such delay or non-performance is due to any force majeure event. A force majeure event, in relation to this tour, shall mean any circumstances beyond our control, including, but without limitation, to acts of God, explosion, flood, forceful wind, fire or accident, war or threat of war declared or undeclared, acts of terrorism, sabotage, insurrection, riots, strikes, civil disturbance, sickness, epidemics, pandemics, quarantines, government intervention or other unforeseeable events. Limitations on travel arising from the COVID-19 pandemic shall be considered a force majeure event. If this tour is affected by a force majeure event, Sky and Royal Adventures shall be entitled to, and may in their sole and absolute discretion, vary, cancel or postpone any itinerary or arrangement in relation to this trip. The right is also reserved to decline to accept or retain any person as a member of the tour or to substitute another qualified leader or special guest. Baggage and personal effects are the sole responsibility of the owners at all times. The price of the program is given in good faith based on current tariffs and rates and is subject to change. Any tariff, exchange rate, security surcharge or fuel increases will be passed on to participants. Neither Sky nor Royal Adventures accepts the liability for any airline cancellation penalty incurred by the purchase of a nonrefundable airline ticket. The air ticket when issued shall constitute the sole contract between the passenger and the airline concerned. As part of the consideration and right to participate in this tour, each participant will be asked to sign a liability release, an assumption of risk, and a hold-harmless agreement.
Questions: Please contact Royal Adventures at

[email protected]

or call 800-453-4754 or 925-820-6260 (Monday to Friday, 9:30 a.m. to 5:00 p.m. Pacific Time).