Free Astrophotography Guide: Learn how to Photograph the Moon, Planets, Stars, Galaxies, and More!
If you've glimpsed a photo of the colorful Orion nebula or Saturn's proud rings, you've probably wondered . . . could I do that? The idea of capturing the splendors of the universe on your camera is enticing, but intimidating too. But it doesn't have to be. Astrophotography can be incredibly easy and inexpensive. And this free guide from Sky & Telescope magazine can help you get started in astrophotography right now.
While you can get caught up in fancy equipment to capture the night skies, astrophotography doesn't have to be that difficult. In fact, this guide will show you how the same point-and-shoot camera that you use to capture family memories can be used to photograph the Moon and much more. In this guide, you'll learn the following about astrophotography:
How to get started in astrophotography — no matter what your skill level
What kinds of cameras you can use for astrophotography (hint: you probably already own one)
What's the best telescope for astrophotography
Tips on using astrophotography equipment from point-and-shoots to webcams to photograph the Moon and the planets.
A guide to capturing deep-sky objects such as colorful nebulae and faraway galaxies
Enter your email to join the Sky and Telescope newsletter and download your FREE eBook.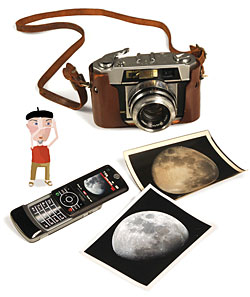 ---
Combine Astronomy and Photography for the Ultimate Hobby!
Astrophotography can be a fun way to share the joy you find in the night sky, and it can become a lifelong passion. Whatever your skill level, there's nothing to stop you from heading out on the next clear night to take gorgeous photos of the sky. And this free astrophotography tutorial from Sky & Telescope will help guide you as you do just that.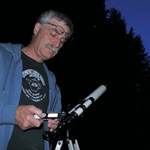 Article #1: Getting Started is a Piece of Cake
by Dennis di Cicco
Have you been wanting to get started in astrophotography but don't know how? This inspirational guide is exactly what you need to get started taking pictures of the cosmos — even if it's just iPhone astrophotography!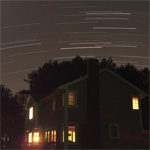 Article #2: Point & Shoot the Sky
by Sean Walker
Many people interested in shooting the night sky believe they need a special astrophotography camera. In fact, you don't need to head out for a brand-new camera — or any astrophotography equipment at all! Instead, you can use the same point & shoot camera that you use to capture family memories. This article is the ultimate guide to astrophotography for beginners.
Article #3: Capturing the Solar System
by Sean Walker
Ready to head deeper? Find tips on the best camera for astrphotography, what recording equipment (such as DSLRs, webcams, and more) to use, and be prepared to take on the solar system. Take beautiful photos of the Moon, Saturn's stately rings, or Jupiter's Great Red Spot with ease.
Article #4:Deep-Sky Astrophotography Primer
by Dennis di Cicco
When many amateur photographers think of astrophotography, they imagine gorgeous skyscapes of lush, colorful nebulae and galaxies. The dedication and time required for these kinds of photos can seem intimidating. But it doesn't have to be! Find out the best equipment for this type of astrophotography, and get over the stumbling blocks facing many newcomers so that you can start capturing gorgeous deep-sky astrophotography.
---
Claim Your Free Guide to Astrophotography Tonight!
As a special thank you for downloading this free eBook, we'll welcome you to the Sky & Telescope family. This includes:
A free newsletter from Sky & Telescope filled with the latest astronomy and observing news.
Special offers on ShopatSky products any enthusiast would love.
Simply enter your email to get it today: