Quasars are among the brightest and most distant objects in the universe. Many are visible in amateur scopes if you know just where to look. We'll help you track them down.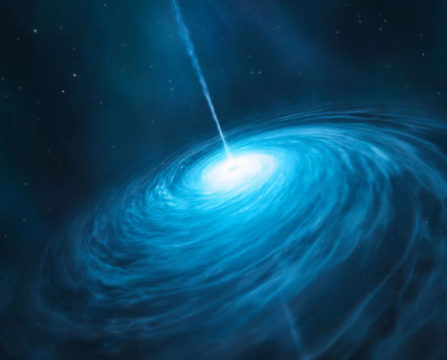 This week we'll visit 12 of the season's brightest quasars. A quasar or quasi-stellar object (QSO) is an exceptionally luminous and active galactic nucleus powered by a black hole billions of times more massive than the Sun.
Stars, dust and gas caught in the black hole's gravitational grasp swirl into an accretion disk where they're heated to millions of degrees by friction and the release of  gravitational potential energy. As it all literally goes down the drain into the black hole, copious amounts energy are released across the entire electromagnetic spectrum, making quasars the brightest objects in the universe.
Other particles are focused by powerful magnetic fields arising from the disk into twin jets of high-speed particles and energy that can extend for millions of parsecs above and below the accretion disk. The most energetic quasars are found in distant galaxies, where we see them in their youth, a time when there was still a lot of material in the galactic core for the quasar to feed on. Older galaxies like the Milky Way harbor more sedate QSOs.
Quasars are so bright they outshine their host galaxies, most of which are so incredibly distant they're invisible except in the very largest telescopes. When observing a QSO all you see is a pinprick of light that looks exactly like a faint star. Appearances are deceptive, though. I have to remind myself that tiny glimmer is pure energy radiating from an ongoing cosmic cataclysm.

Quasars, along with their relatives, the blazars, steadily crank out the equivalent of 10 to 100,000 Milky Ways worth of light. Both are essentially the same phenomenon, the difference between them is just a matter of perspective. Quasars are active nuclei viewed from the side. In a blazar we stare almost directly into the jet, like looking into the beam of a powerful LED flashlight. Blazars are also called BL Lacertae objects after BL Lacertae, one of the first of its class discovered.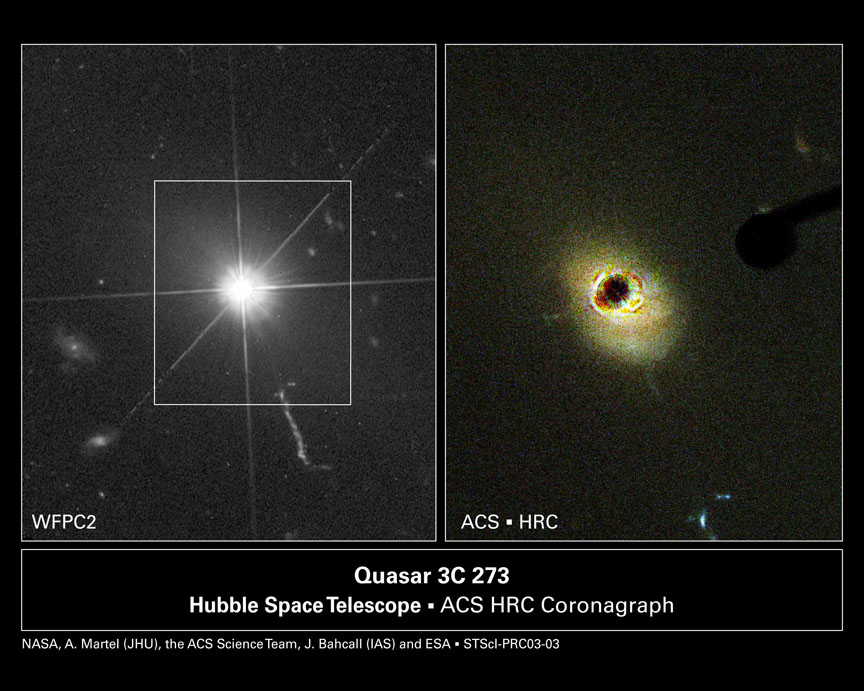 Quasars add depth to deep-sky observing in a big way, coaxing adventurous souls out into the dark of night as if drawn by the pull of their supermassive black holes.The first quasar discovered, 3C 273 in Virgo, is also one of the closest, lying 2.5 billion light-years from Earth or 1,000 times more distant than the Andromeda Galaxy. Yet, at magnitude ~12.9, you can see it in a 6-inch telescope from a reasonably dark sky. It was my first quasar, and no kidding, I tracked it down with my old 6-inch Edmund reflector back in 1980.

Quasars have a reputation of being wickedly faint and difficult, but many aren't particularly so. Most of those featured here currently shine around magnitude 14. Two are brighter: Markarian 421 at magnitude 13.4 and 3C 273 at 13.0. Only RX J1230.8+0115 appeared faint in my 15-inch at 14.8 magnitude. With the exception of the last, all should be visible in a 10-inch scope, several in an 8-inch, and at least one in a 6-inch.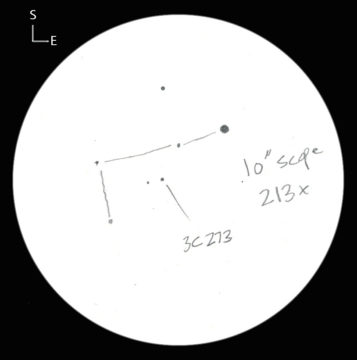 In one sense, spotting a 14th-magnitude quasar is much easier than digging out a similarly faint galaxy. If you know exactly where to look, seeing a point of light is considerably easier than trying to make out a distended tuft of haze.
Not all quasars are naked stellar pips, though. Two on our list gleam from within distant but visible galaxies. Keep in mind when seeking these objects that their magnitudes can vary, sometimes dramatically, due to variations in the flow of material through the accretion disk and down the pipe of no return. The magnitudes given here are my estimates made during the past week and a half. If you see a change of light, count yourself lucky. Despite their variable nature I've only seen a couple get winky on me.
I've made two types of charts — a panel of wide-field maps to get you in the neighborhood and then much more detailed maps with stars down to about 15th magnitude so you can waltz right up to your target. Each wide-field map has a bright field star circled. That same field star is circled on the detailed map. Find that star in your finderscope, center it in your eyepiece, then use the detailed map to star hop to the quasar. Make sense?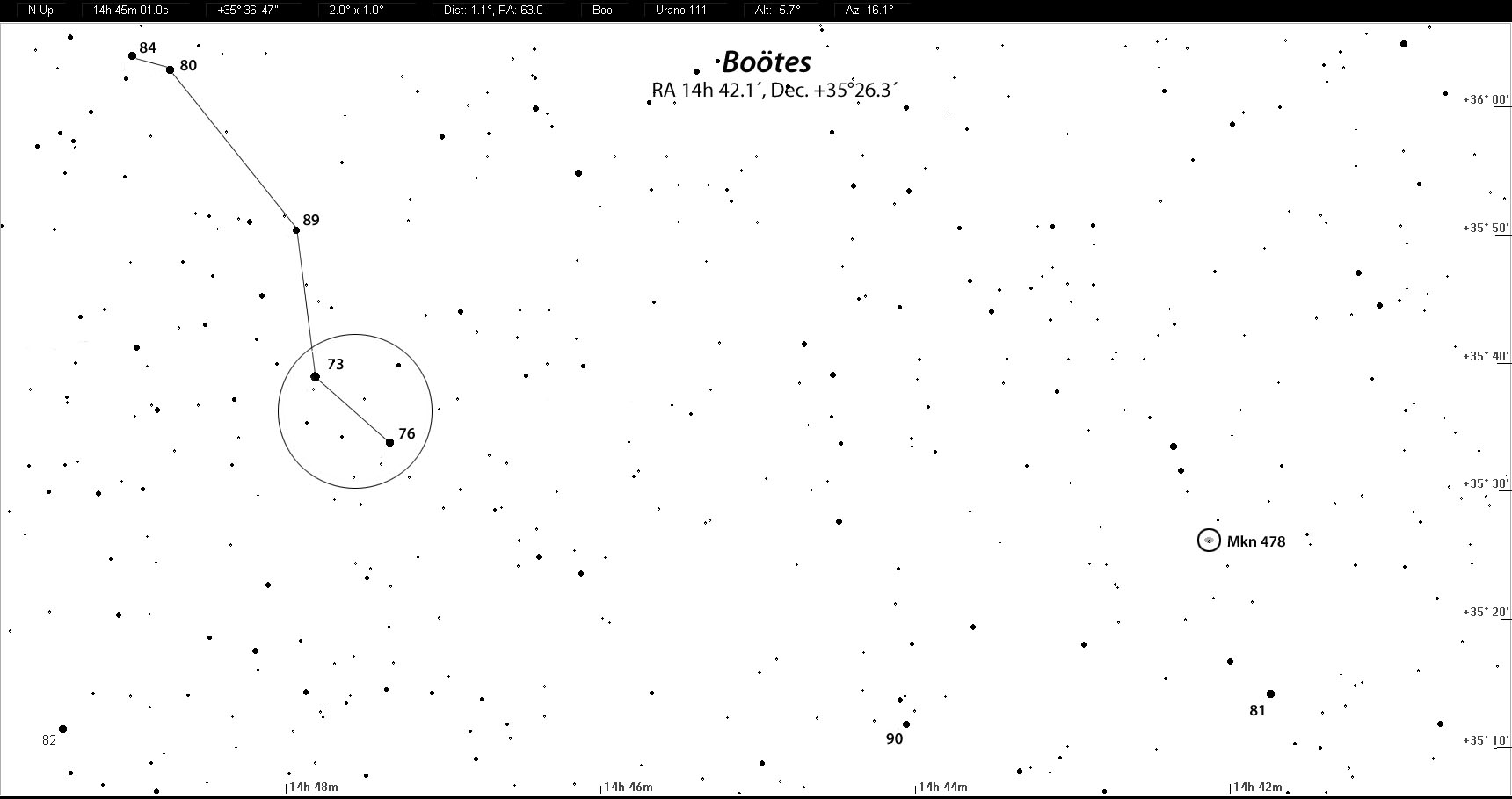 Right ascension and declination, field size, and other details are shown along the edge of each detailed map. I'm grateful to Perry Remaklus, publisher of Willman-Bell, for allowing me to share the maps which I created using MegaStar, my favorite deep-sky plotting software.
Here's our list of targets. Click a name for a detailed map. For more information and additional maps for each object, check out Stefan Karge's superb Frankfurt Quasar Monitoring site, one of the best resources out there for quasar hunters. Bookmark it and you'll have enough black holes for a lifetime. Several years back, Sky & Telescope's Tony Flanders compiled this excellent list of resources you'll also find useful.
By the way, the first half of this blog's title is taken from a delightful rhyme by Russian-American physicist George Gamow. He penned it in 1964 when we were only beginning to understand the nature of quasars. Here's the whole thing, titled Quasar:
Twinkle, twinkle quasi-star
Biggest puzzle from afar
How unlike the other ones
Brighter than a billion suns
Twinkle, twinkle, quasi-star
How I wonder what you are.
Let us know how you do and whether you break your own personal distance record. Good luck and clear, deep skies!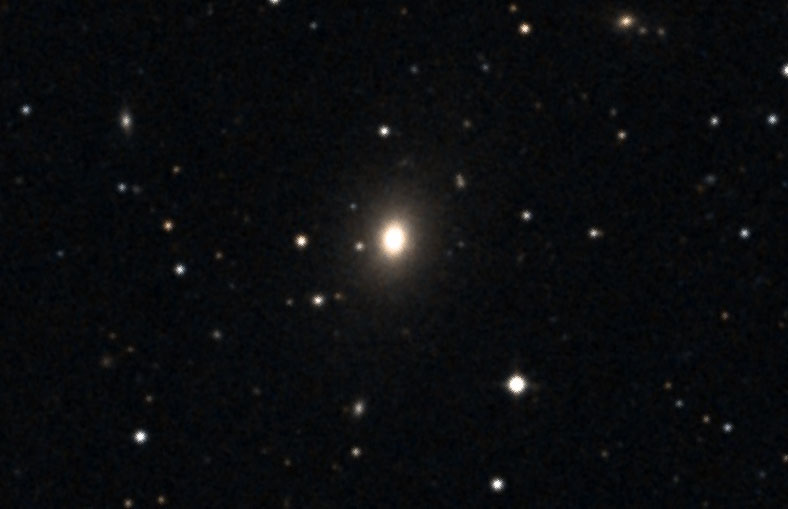 List of QSOs and Blazars (All charts created with MegaStar5 by Emil Bonanno, Copyright 1992-2002 by E.L.B. Software, Distributed by Willmann-Bell, Inc.) The AAVSO also has excellent charts of 3C 273, Mrk 421, and S5 0716+71 at different scales with star magnitudes included. Key in the name under Pick a Star, then select Create a Finder Chart.