So far, humans have sent five probes into space that are or will go far beyond the solar system: the Pioneers, the Voyagers, and New Horizons. As an exercise in fun, here's how you can find those probes' locations on the sky.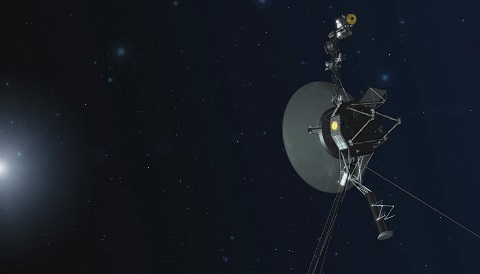 NASA's venerable deep space probe Voyager 2 recently crossed the threshold into interstellar space, and the similarly starbound New Horizons made its second flyby of a Kuiper Belt object on January 1st. So we thought this would be an excellent time to take a look at all five robotic spacecraft that are currently on interstellar trajectories — meaning they have surpassed the velocity required to escape the Sun's gravitational influence and are on their way toward the vast emptiness between the stars. Specifically, we thought it might be fun to look into how backyard astronomers on Earth can go about "seeing" these famous and far-reaching spacecraft. It's easier than you might think.
First, an example of what we're trying to achieve. One enjoyable backyard astronomy pursuit is to spot the Apollo landing locations through small telescopes. While obviously it's impossible to actually view the lunar module descent stages or any other artifacts themselves (but the LRO can!), pinpointing and viewing the overall regions where the landings took place is still a fun and satisfying exercise.
Similarly, the amateur astronomer who isn't afraid of a little star-hopping can take this same basic idea and apply it to the five probes that are on interstellar trajectories: Voyagers 1 and 2, Pioneers 10 and 11, and New Horizons. Just as with the Apollo landing sites, actually seeing or imaging the interstellar probes is impossible: the spacecraft are simply too small (the transmitter dish on the Voyagers, for example, is only about 12 feet in diameter) and their distance from us too great, for any telescope to resolve them.
But this doesn't have to stop us from locating and viewing the general locations of these intrepid explorers. From our point of view, the Pioneers and Voyagers don't move very much from year to year, so it's a simple enough matter to track down their basic positions. If you've ever gone asteroid hunting, you'll find that probe-spotting is a similar task. Let's look at each craft individually:
Pioneer 10
Launched in 1972, Pioneer 10 achieved the first flyby of Jupiter the next year. Besides collecting the first up-close images of the gas giant via its primitive yet effective imaging photopolarimeter, Pioneer 10 explored the planet's radiation belts, moons, magnetic field, and more. But a main goal of both Pioneer 10 and 11 was to pave the way for the soon-to-come and more sophisticated Voyagers. Much later, Pioneer 10 measured cosmic rays and other attributes in the far-reaches of the Sun's influence.
Pioneer 10 — which is no longer functioning and sent its last radio transmission in 2003 — is currently about 11 billion miles from Earth and, from our viewpoint, is located in the constellation Taurus. Finding Pioneer 10's approximate position is a fairly easy task, since it's happens to be very near a bright line-of-sight star, Elnath (Beta Tauri). To locate Pioneer 10's rough position, just find the impossible-to-miss Pleiades star cluster, and the familiar Aldebaran, the brightest star in Taurus. These two form a triangle with Elnath, an easy-to-spot 1st-magnitude star. Pioneer 10 is somewhere in the darkness just to the southwest of Elnath.
As of December 2018, Pioneer 10's position is:
Right ascension: 5h, 13m, 35s
Declination: 26°, 02', 25''
Pioneer 11
Pioneer 11, the identical twin of Pioneer 10, launched in 1973. Rather than performing a single flyby of one planet, Pioneer 10 used Jupiter's gravity to increase its speed and point it onward to Saturn. The spacecraft reached the ringed giant in 1979, making it the first to explore the planet from close range. Like its precursor, Pioneer 11 was used to test concepts that would be used in the Voyager program. It provided images and science data of the two gas giants, including polar views of Jupiter and the discovery of Saturn's "F" ring.
NASA ended communications with Pioneer 11 in 1995, and it is now at a distance of about 9 billion miles from Earth. Pioneer 11's current location can be found in the modern (17th century) constellation Scutum (the Shield). Finding the exact position here might be a challenge as Scutum is a faint constellation. However, there are a couple of stepping stones to help you find the way. First, locate the brightest star in Scutum, the magnitude 3.8 Alpha Scuti. From there, work your way to the open star cluster M26; Pioneer 11 flies somewhere just beyond M26. To find Scutum itself, look north-west of Sagittarius, or just south-west of Aquila.
As of December 2018, Pioneer 11's position is:
Right ascension: 18h, 51m, 57s
Declination: –8°, 55', 27''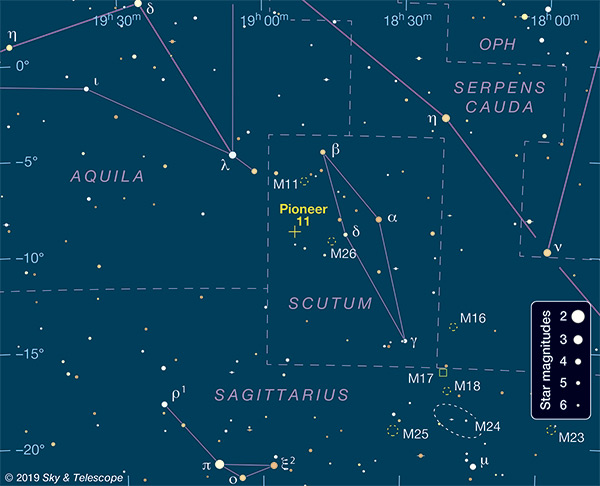 Voyager 1
Voyager 1 — launched in 1977 — was built on the Pioneer concept but with a more sophisticated design. The probe explored Jupiter and its moons in 1979 — producing fantastic images — followed up by an equally successful flyby of Saturn in 1980. One top priority of the mission was a close flyby of Saturn's moon Titan; however, this observation sent Voyager 1 on a trajectory up above the plane of the ecliptic, preventing any further planetary explorations. But in 1990, Voyager 1's cameras were activated one last time to capture a "family portrait" of the solar system, including the famous "Pale Blue Dot" image of Earth at a distance of about 3.7 billion miles.
Today, Voyager 1 remains active and, more than four decades after its launch, still transmits useful science data regularly from a distance of over 13 billion miles. It crossed the heliopause — and into the interstellar medium — in 2012. From our view — using H.A. Rey's visualization of the stars — Voyager 1 sits just outside the "head" of constellation Ophiuchus and just below the head of upside-down Hercules. Happily for probe-hunters, the latter star, Rasalgethi (Alpha Herculis), is the brightest star in the constellation at about magnitude 3 (other visualizations may show Rasalgethi as a stray star unconnected from the rest of Hercules). A short hop east brings you to the nearby Rasalhague (Alpha Ophiuchi), the brightest star in Ophiuchus. Finding these two alpha stars will help you hone in on the general area of Voyager 1; the probe is located a short distance south of Rasalgethi.
As of December 2018, Voyager 1's position is:
Right ascension: 17h, 13m, 3s
Declination: 11°, 58', 19''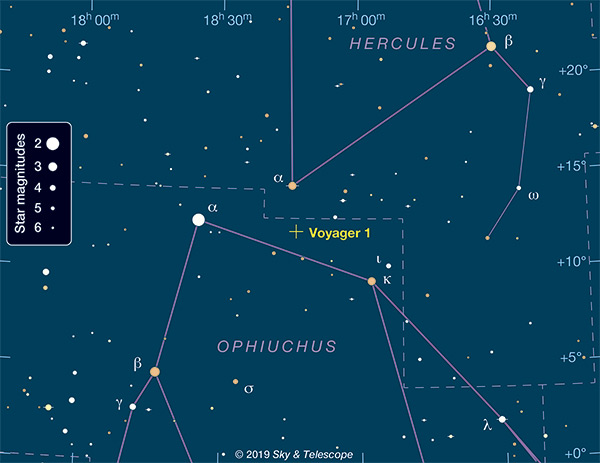 Voyager 2
Voyager 2 — arguably among the most productive space missions ever — followed on the heels of Voyager 1 and flew past Jupiter, Saturn, and their fleet of moons in 1979 and 1981 respectively. Unlike Voyager 1 though, Voyager 2 forwent a close flyby of Titan and instead remained on the ecliptic, where it was eventually able to visit Uranus in 1986 and Neptune in 1989 — remaining to this day the only spacecraft to provide close-range observations of these planets and their moon systems.
When Voyager 2 crossed the heliosphere in November 2018, it joined Voyager 1 as the only active spacecraft to do so. Voyager 2 continues to transmit science data about its surroundings from a distance of 11 billion miles.
After its flyby past Neptune in 1989, Voyager 2's trajectory took it below the plane of the ecliptic, so from our perspective today, Voyager 2's location is only visible from the southern hemisphere. Moreover, finding it might be more challenging, as there aren't as many bright stars nearby. Begin by locating constellation Pavo (the Peacock), a short hop from the Southern Triangle. Then look for Pavo's two brightest stars, Alpha Pavonis (itself also called "Peacock") and Beta Pavonis to get yourself in the general area; Voyager 2 sits relatively close to Alpha Pavonis.
As of December 2018, Voyager 2's position is:
Right ascension: 20h, 2m, 57s
Declination: –57°, 37', 12''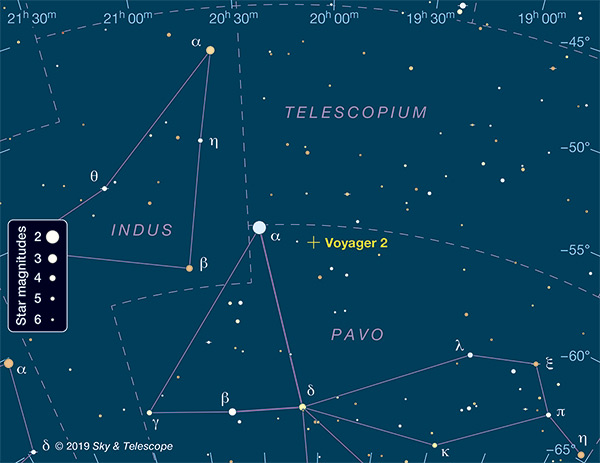 New Horizons
Following its launch in 2006 and a Jupiter flyby gravity assist in 2007, New Horizons began the long coast to its prime target Pluto and Pluto's moon Charon, reaching them successfully in 2015 with a spectacular flyby. After completing the first (and so far, only) close-range investigation of the dwarf planet, New Horizons met Kuiper Belt object 2014 MU69 (nicknamed Ultima Thule) on January 1, 2019.
It's unclear at this time where New Horizon's final path may take it; there is a possibility that it could visit additional Kuiper Belt objects. Regardless of its next target, though, New Horizons possesses the speed necessary to someday leave the solar system and follow its four predecessors into the interstellar medium.
Because New Horizons is closer to us than the other four interstellar probes, its position moves more quickly from year to year. New Horizons is currently in constellation Sagittarius — still not very far from Pluto, although the two will separate slowly over the next few years. The simplest way to find New Horizons is probably to look for Epsilon Sagittarii, a star that — despite its name — is actually the brightest star in its constellation at magnitude 1.85. From the lower corner of the Sagittarius Teapot, star-hop to the Teaspoon asterism. Locate magnitude-2.9 Pi Sagittarii at bottom of the Teaspoon's handle. New Horizons sits close to Pi.
As of December 2018, the position of New Horizons is:
Right ascension: 19h, 07m, 12s
Declination: –20°, 41', 23''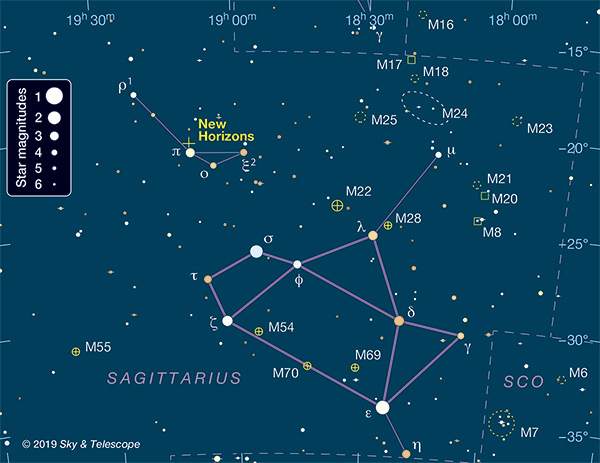 It can be fun to go looking for the locations of these robotic explorers. You not only can look back at space history, but you can perhaps gain a bit of a feel for the immensity of their interstellar environment. Have fun!