Comet 41P/Tuttle-Giacobini-Kresak begins its best showing of the year this week as it slingshots across the Big Dipper into circumpolar skies. Meanwhile, comet ace Terry Lovejoy has just discovered a new morning comet.
Update: The charts for this comet in the May issue of Sky & Telescope are significantly off, due to a change in the ephemeris. Use the finder chart below instead (where the ticks are for 9 p.m. EDT on the date given [i.e. 1h UT on the following date]).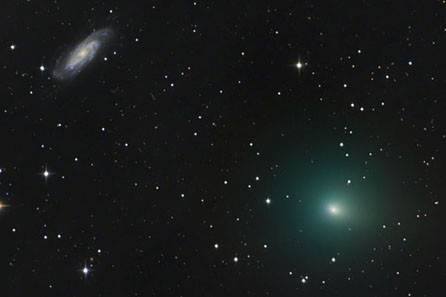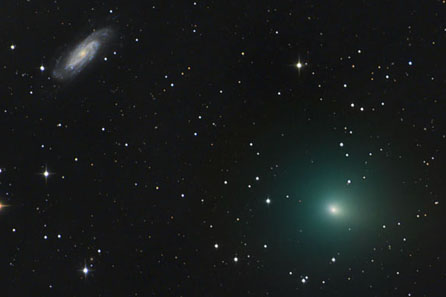 With St. Patrick's Day this week, green naturally comes to mind. I'm usually the one chastised by my co-workers for not wearing green. Just forgetful, that's all. When it comes to comets, we know that when one starts "greening up," it's a sign that it's getting closer and brighter. Only two weeks ago, before departing the evening sky, 8th-magnitude Comet 2P/Encke glowed pale emerald in my telescope. I hated to see it go.
But as often happens, when one astronomical objects departs the scene, another takes its place. This week, periodic comet 41P/Tuttle-Giacobini-Kresak begins the best part of its 2017 apparition, dashing across the circumpolar sky and brightening as it goes. Its timing couldn't be better. It's visible almost the entire night from anywhere in the northern hemisphere, so if you play your Moon-cards right, you can see 41P/T-G-K in dark skies part of every night now through about April 8th.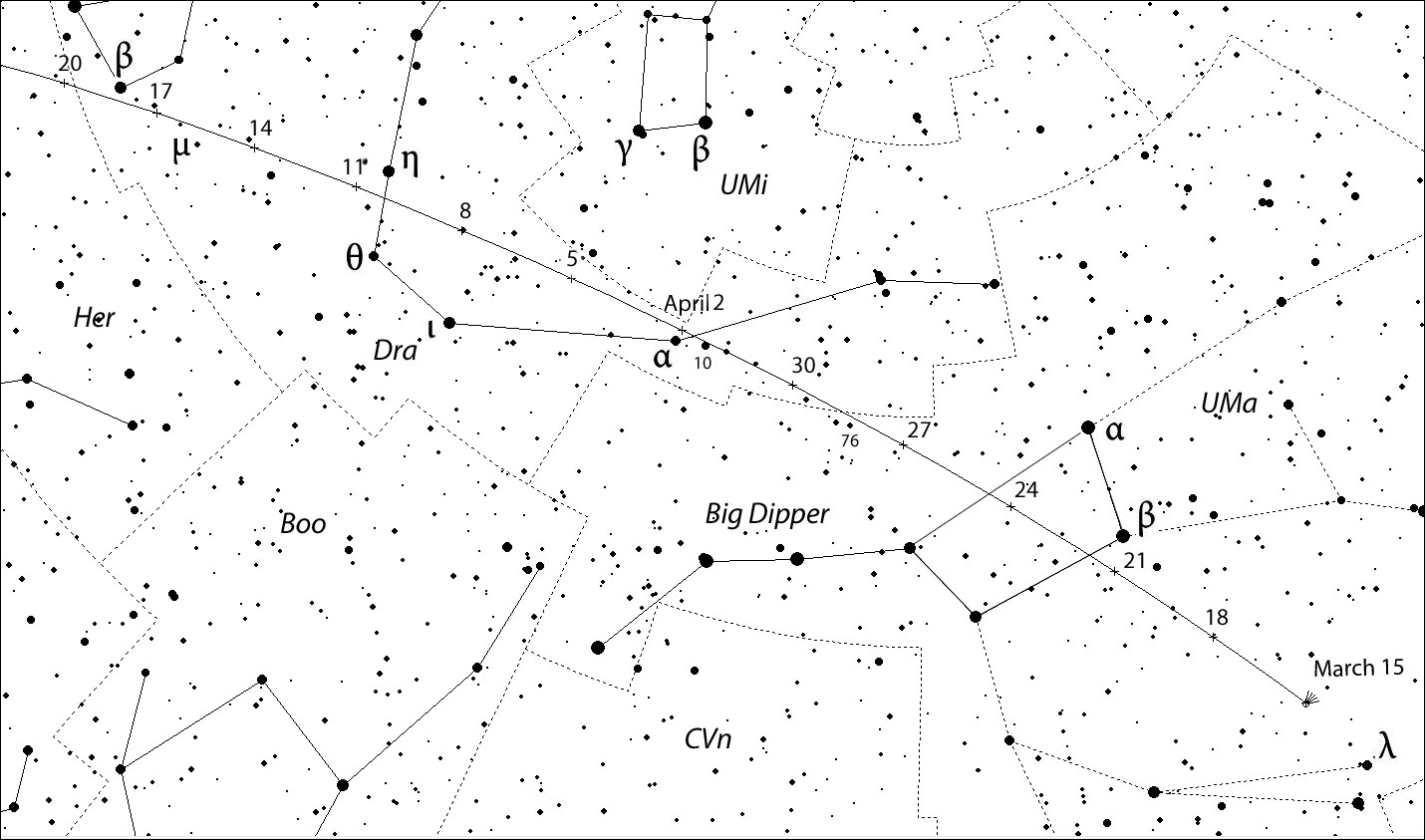 That's more than 3 weeks to catch the comet! And if you're like me, living in a region prone to spring clouds, you'll need it. A week ago, the comet shone at magnitude +9.2 and appeared moderately condensed with a 7′ coma. With a magnification of 64× in my 15-inch telescope, the nuclear region was a bright pip (not quite stellar) at center. Photographs taken a few nights ago hint at a southward coma extension which may be the start of a tail.

By March 14-15, the coma had swelled to at least 12′ across but appeared less compact and more diffuse through my scope. Apparently I was only seeing the core. Other observers using 10x50 binoculars and modest, wide-field instruments are now reporting coma diameter estimates of at least 30′ (Full Moon size) and a magnitude closer to +8. When you attempt 41P, know that its large coma will appear more obvious in a smaller, wide-field instrument than in a larger instrument with a smaller field of view.
Next week, the comet should brighten by at least half a magnitude and become easy prey in 50-mm and larger binoculars from rural and perhaps even outer suburban areas. More optimistic predictions call for 41P to reach a peak brightness of magnitude +6 during the first week of April. Will sharp-eyed skywatchers spot it with the naked eye in the wee hours before dawn?

The comet has its closest encounter with Earth in more than a century when it zooms past at a distance of just 21.2 million km (13.2 million miles) on March 31–April 1. As with the recent close pass of 45P/H-M-P on February 11th, it's likely that 41P will become large and distended. But unlike that comet, which blew by more than a month after perihelion, we'll see 41P at closest approach nearly two weeks before perihelion on April 12th. Instead of fading, the nuclear region should intensify as the comet grows in apparent size. Exciting!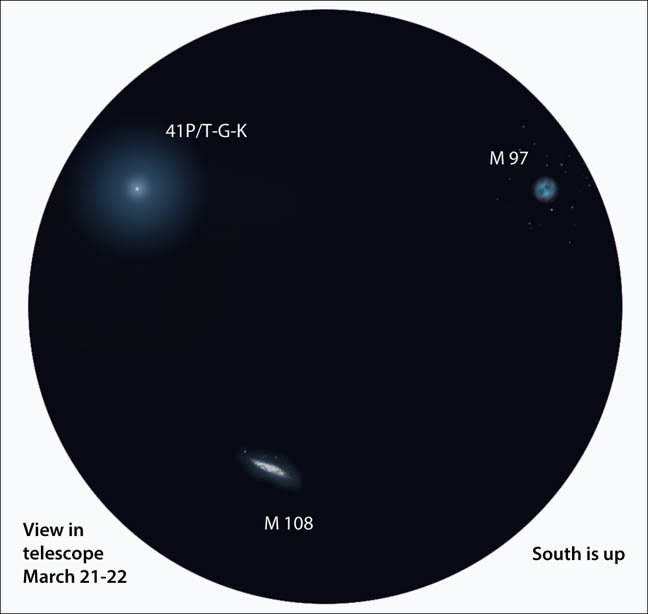 You can begin searching for the comet just as soon as the sky gets dark. The little blob brushes up alongside Ursa Major's back paw early this week while heading for a close approach (1.5°) with Beta (β) Ursae Majoris (Merak) at the end of the Big Dipper's bowl on the night of March 21–22. That same night, 41P/T-G-K will triangle-align with the Owl Nebula (M97) and the Surfboard Galaxy (M108) in a not-to-miss 3-for-1 special. Use a magnification that provides a 1° or larger field of view to see them all simultaneously.
Astronomers have kept their eyes on Comet 41P/T-G-K for a long time.This comet was first discovered in 1858 by Horace Tuttle of the Harvard College Observatory in Cambridge, Massachusetts, while he was comet sweeping, then re-discovered by Michel Giacobini in 1907. Lubos Kresák picked it up again in April 1951. Echoing the discovery of Halley's Comet as the same object observed over widely-separated apparitions, astronomers computed the orbit for Kresák's rediscovery that May, they realized that the comets of 1858, 1907, and 1951 were one and the same.
Now it's your turn to crack open the history book and see where you fit in. Clear skies!
New Lovejoy Comet!
This just in. Australian amateur astronomer Terry Lovejoy discovered a new comet, his sixth, on the morning of March 10th in the constellation Sagittarius. With the temporary designation of C/2017 E4, the 12th-magnitude object is moving at a good clip to the northeast and will soon become visible from mid-northern latitudes. It may reach magnitude +9 by mid-April when it arcs across Pegasus and Andromeda low in the pre-dawn sky. The comet reaches perihelion on April 23th.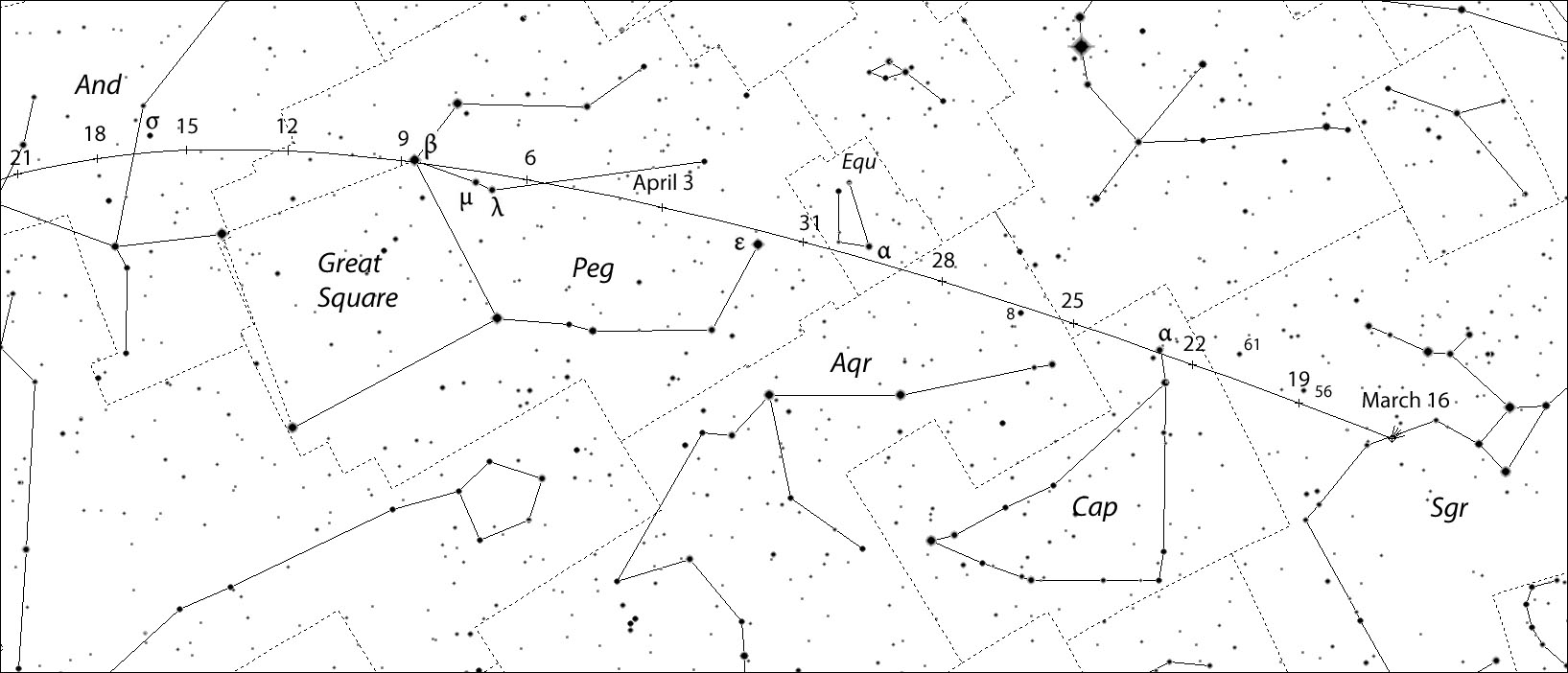 Lovejoy nabbed the new comet in a series of three photos taken with his 14-inch Schmidt-Cassegrain telescope using Moving Object Detection (MOD), a computer program he wrote that searches sets of images for moving objects like comets and asteroids. I've included a finder map based on the most recent orbital elements. Congratulations, Terry!