Want to find Neptune the easy way? Just point your binoculars or telescope at Mars the next few nights, when the two planets will be in close conjunction.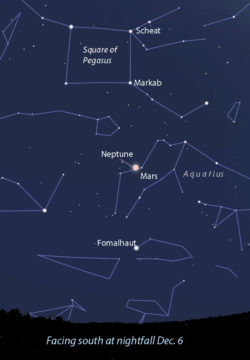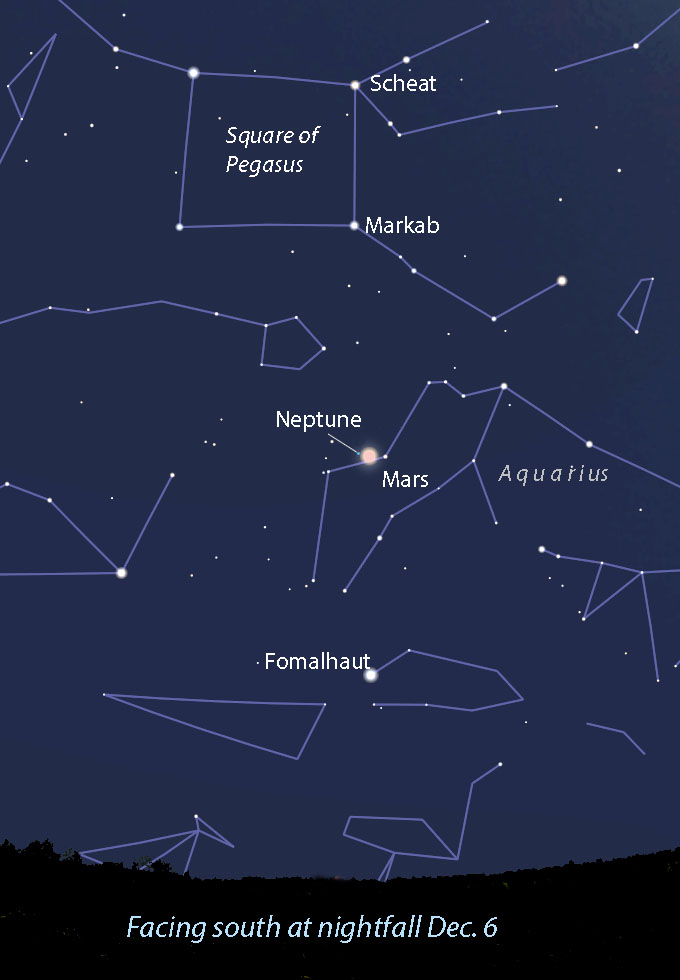 The other night I looked up, saw Mars and realized it wasn't alone. Out of naked-eye range, a much colder, more distant planet was in its sights — Neptune. Mars is headed there in a hurry! Not physically of course. The Red Planet is 8.7 light-minutes from Earth compared to more than 4 light-hours for Neptune, but the line of sight between the two will narrow to mere minutes of arc the next two nights as Mars speeds along its orbit.
Mars and Neptune were in close conjunction two years ago on New Year's Eve. This event will be similar. Depending on your location, from a 1/4° to as little as two arcminutes will separate the odd couple Thursday night (December 6th) and Friday (the 7th).
If you're like me and enjoy seeing multiple planets snugged together in the same telescopic field of view, you won't want to miss this week's opportunity: simply point binoculars or telescope at Mars and see Neptune right next door. Without bright Mars nearby, you'd otherwise have to track down the planet by hopping faint stars in Aquarius.
Neptune shines at magnitude 7.9 in early December and will be visible in 8×40 and 10×50 binoculars from suburban and rural skies parked to the upper left (northeast) of Mars tonight, December 6th, and to its lower right (southwest) on December 7th.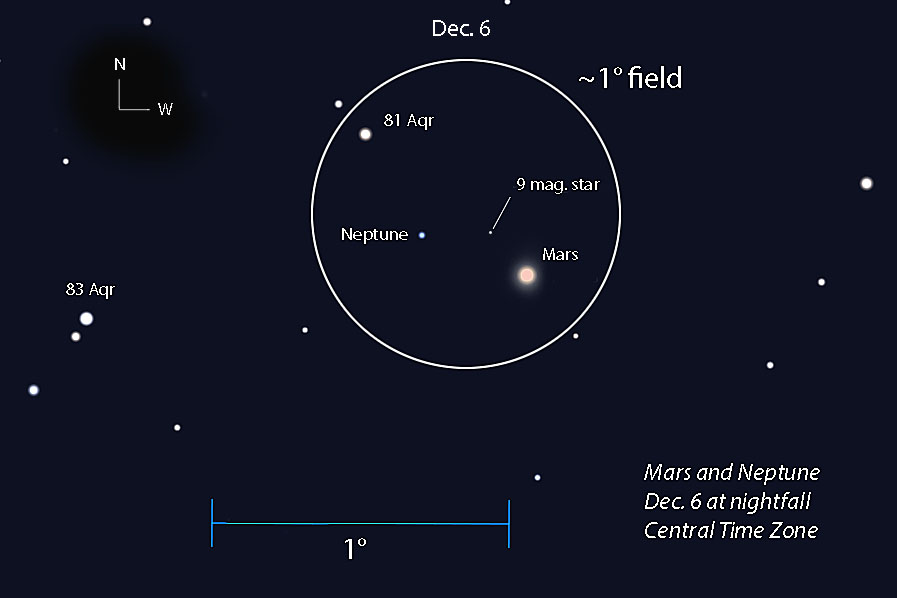 Telescopes of 3-inches and larger will show Neptune with ease. The larger the telescope, the more obvious the color contrast will be between the two planets. Neptune looks blue to me, similar to its appearance in photos and caused by the presence of methane in its atmosphere. Mars's red color comes from iron oxide, better known as rust.
For the central U.S., Mars and Neptune will be 22.5′ apart tonight and 16′ apart on Friday. Western European observers will see them separated by about half-a-degree. tonight and just 7.5′ Friday at nightfall. Closest approach occurs on December 7th about 14h UT when Mars squeaks by the slower planet, missing it by only 1′ 57″. Skywatchers in Asia, India, and parts of Australia will witness this exceptional pass.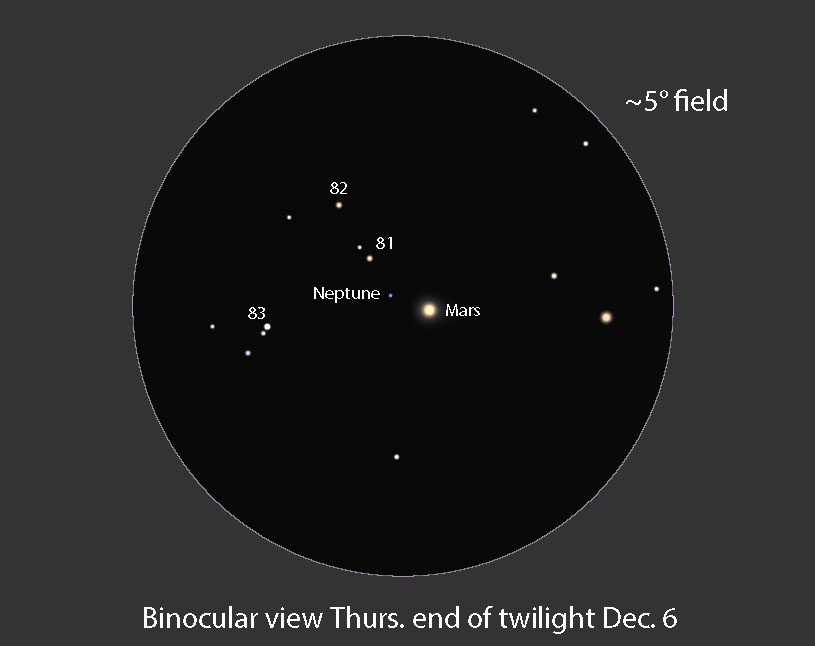 Mars has been shrinking since its summertime opposition and now measures just 8.9″ across. While small, that's still four times Neptune's 2.2″ apparent diameter. For maximum enjoyment in the telescope, cross your fingers for steady skies, so you can increase the magnification to clearly distinguish the disk of each planet. I'd recommend 150×–250×.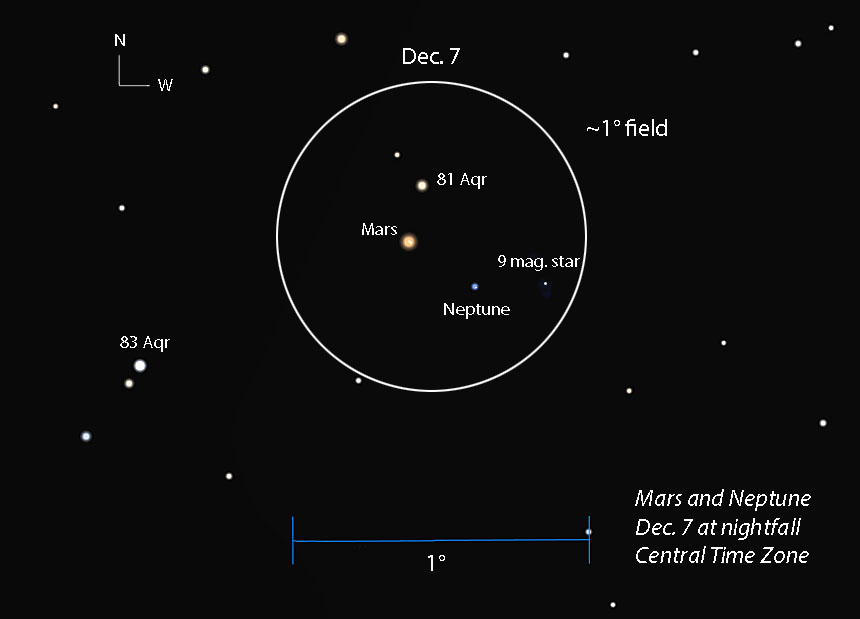 One of the Red Planet's most prominent features, the ancient shield volcano Syrtis Major, will be located on or near the central meridian (squarely in view) for observers in much of the continental U.S. this week. Given the planet's small diameter that may be all you see besides Mars's gibbous phase. Use Sky & Telescope's Mars Profiler for a quick look at what Martian features face your way any time you plan to observe.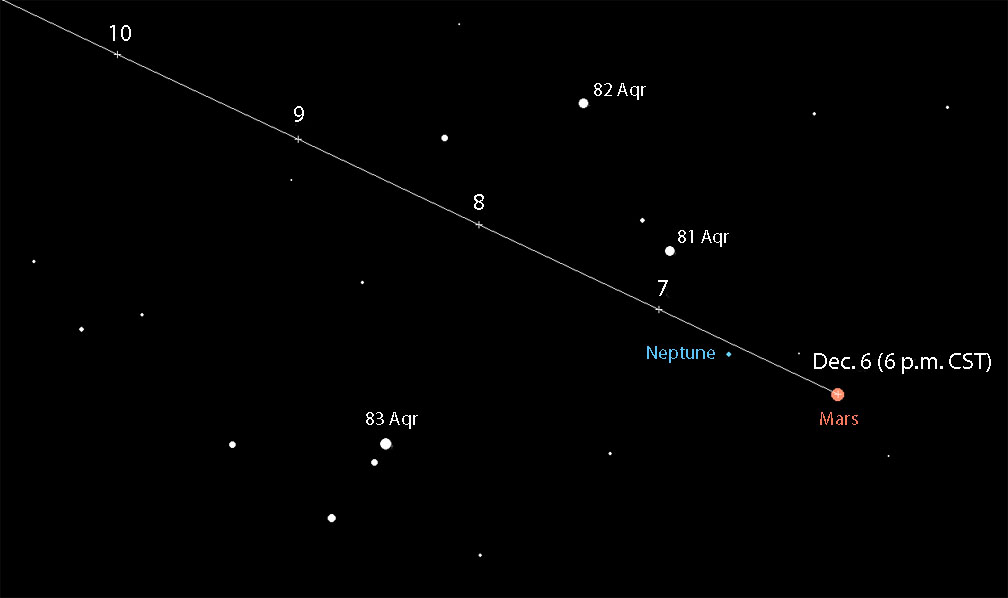 Although Neptune appears bland through most amateur telescopes, its brightest moon, Triton, is relatively easy to see at 200× and up. Lucky for us, Triton will be near southern elongation tonight and Friday around 0h UT. To know exactly where to look for it, hop over to the Triton Tracker.
I'm looking forward to this Neptune-Mars encounter as a warm-up for viewing Comet 46P/Wirtanen, which has been steadily brightening a couple constellations to the east in Eridanus. For a cold month, December's been running hot with astronomical fare.