It seems like forever since a bright comet has come around. We look at current and future prospects.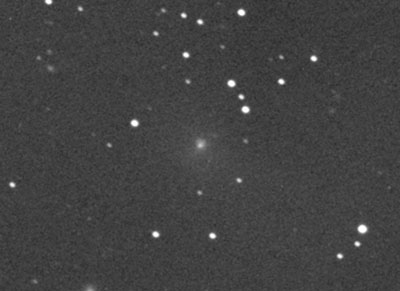 If you feel like there's something missing in your astronomical life, it may be a comet. When was the last time you saw one? They've been few and far between since the winter months. While we foresaw the coming scarcity earlier this year, we assumed (or at least I did) that one or two new objects would be discovered to fatten the larder. In fact, two dozen new comets have been found as of July 1st but none has risen to visibility in amateur telescopes.
Hang in there! Like an Arctic survivalist foraging for blueberries, I've spent the past week scrounging about for comets and bring good news. At least three are visible currently in 8-inch and larger telescopes and the prognosis for fall looks good.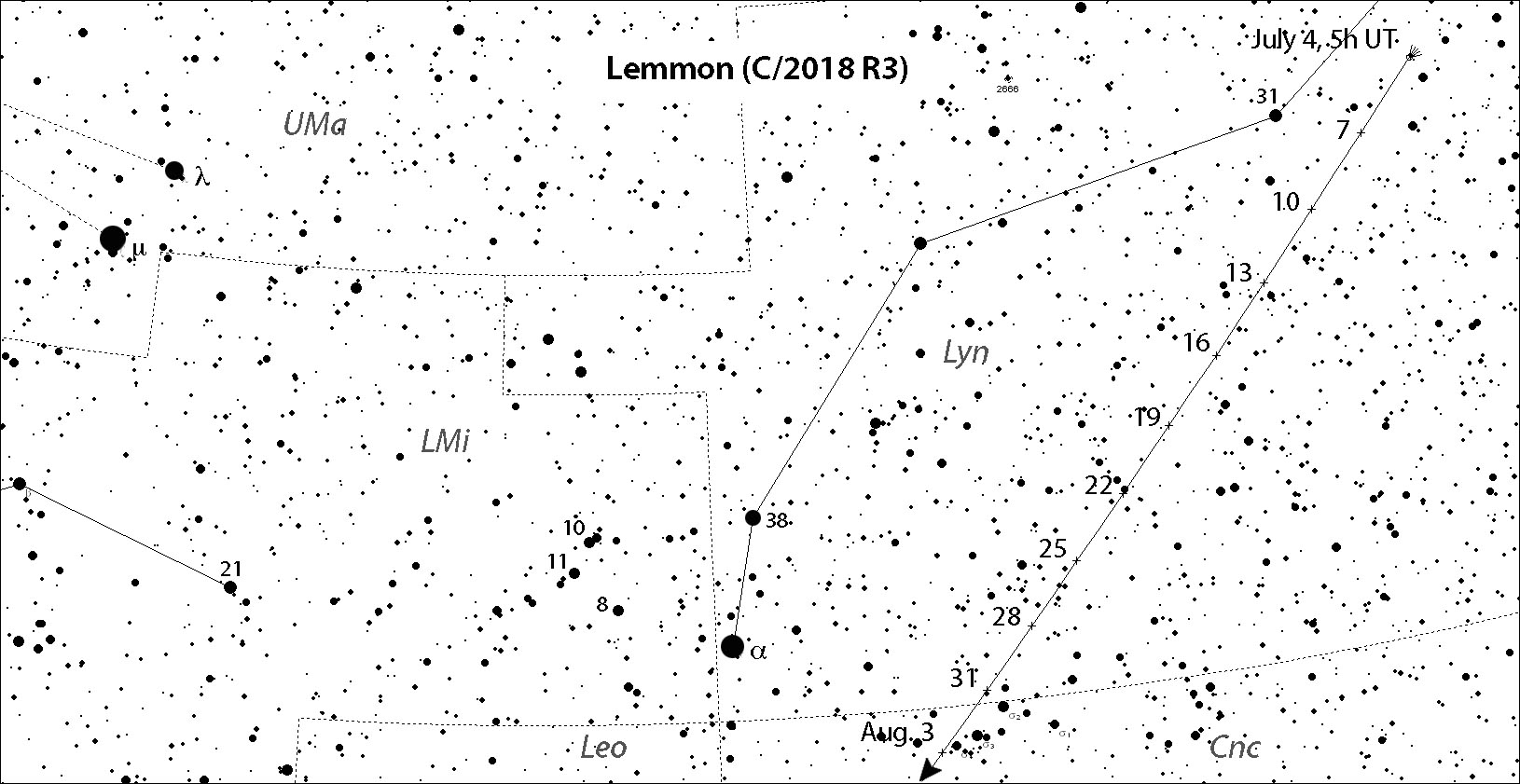 The brightest is Lemmon (C/2018 R3), visible very low in the northern sky at the end of evening twilight. I observed it on June 27.2 UT in my 15-inch reflector at magnitude 10.8. It showed as a largish, diffuse glow about 3′–4′ across with a degree of condensation, or "DC" (compactness), of 2 on a scale from 0 (totally diffuse) to 9 (starlike). If you have a Swan Band filter, which enhances a comet's molecular carbon emissions, you'll find it provides a nice contrast boost on this one. Pity Lemmon's low altitude — it's also headed south and slowly fading. That means you'll want to jump on this object right away for a last, best look before moonlight mortally wounds it.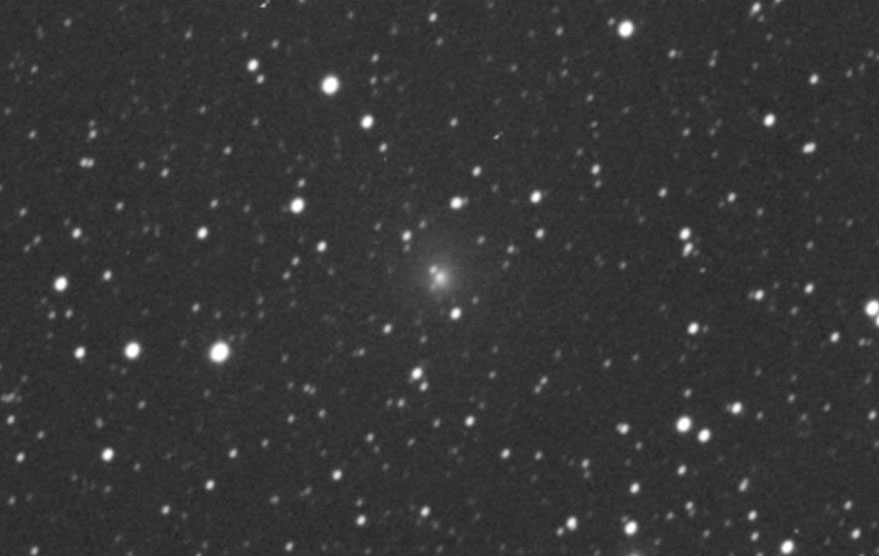 The future looks brighter for Comet Africano (C/2018 W2). Although meek at the moment, its star is on the rise. You'll find it in Camelopardalis not far from Perseus. At twilight's end Africano stands just past nadir about 10°–15° high in the northern sky, but it climbs to 30° by dawn's early light. I saw it on June 28.2 UT at magnitude 12.5 with a 1.5′ diameter, moderately condensed coma (DC=4) at a magnification of 142x. It did not respond to the Swan filter.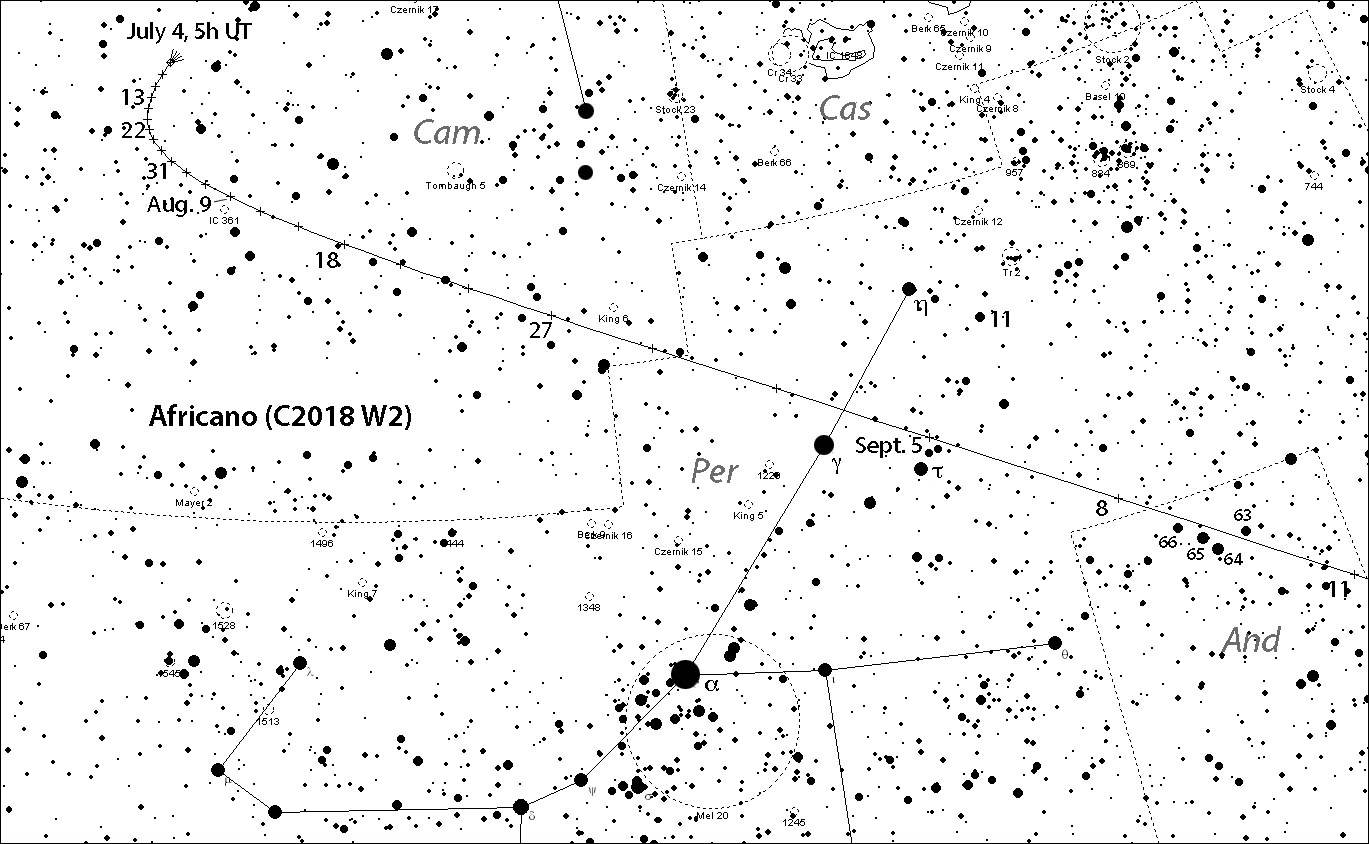 When I returned 90 minutes later I could discern motion to the south. For now, the comet is creeping along at a slow pace; come next month it accelerates from Camelopardalis into Perseus as if on a mission. Perihelion occurs on September 5th with a peak magnitude around 10 expected at the end of September when Africano passes closest to Earth at a distance of 0.5 a.u. This comet has nowhere to go but up, so keep an eye on it.
The third comet I had the pleasure of viewing this season is the ever-lively and unpredictable 29P/Schwassmann-Wachmann. Normally around magnitude 14, it undergoes routine outbursts when subsurface gases erupt through Sun-warmed crust that can boost its brightness up to 10,000 times. When caught in a fresh outburst, 29P looks like a small 9th- or 10th-magnitude planetary nebula. Its most recent outburst — a minor one — occurred in mid-June. On June 28.3 UT I arose just before dawn to spy the comet in central Pisces at an altitude of 33°. It was very faint with a magnitude of 13.0 and a moderately condensed (DC=3) 45″ coma at 245× in the 15-incher.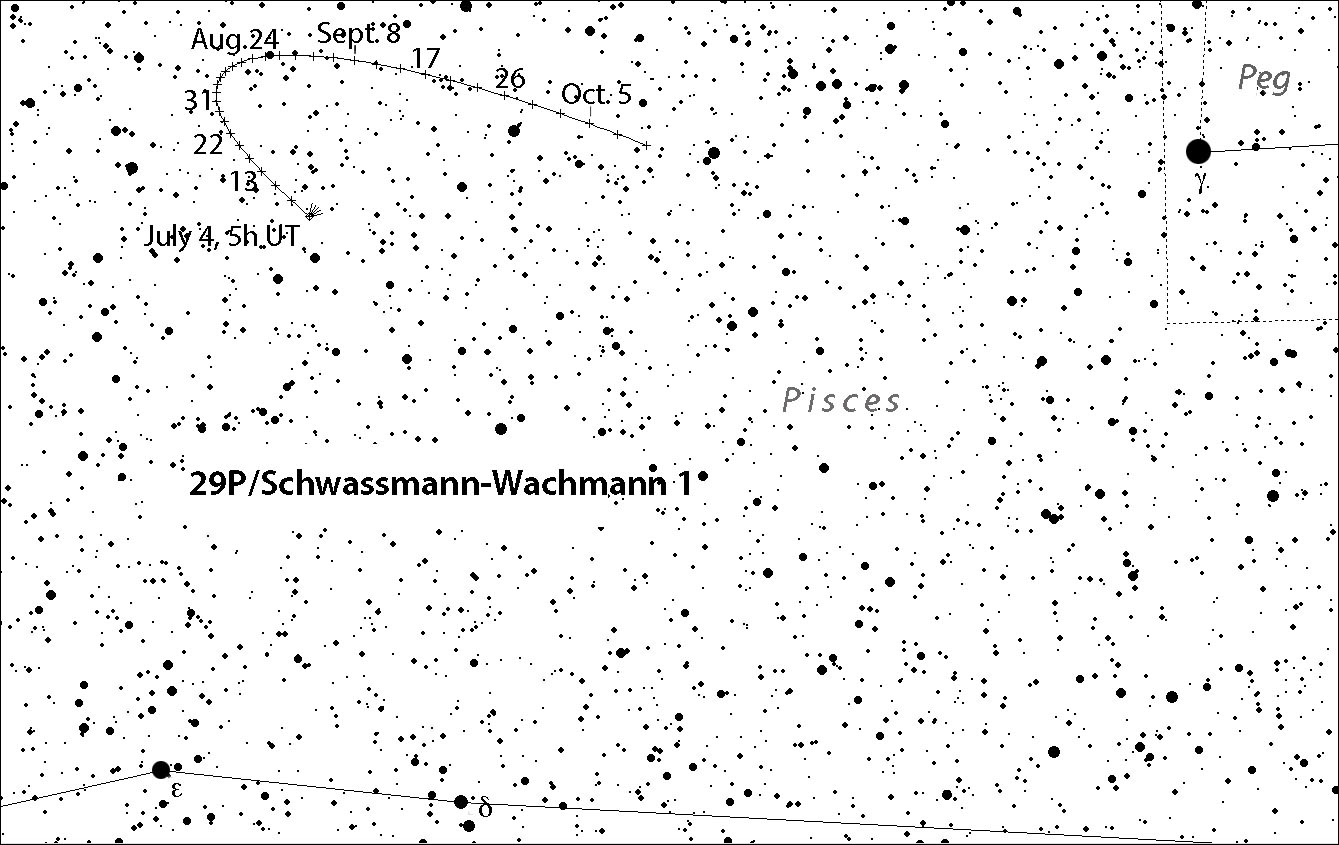 But you never know when it might blow. Regular monitoring means you might be the first to see the next bright outburst, an event which occurs several times a year and one of the greatest thrills for comet-watchers.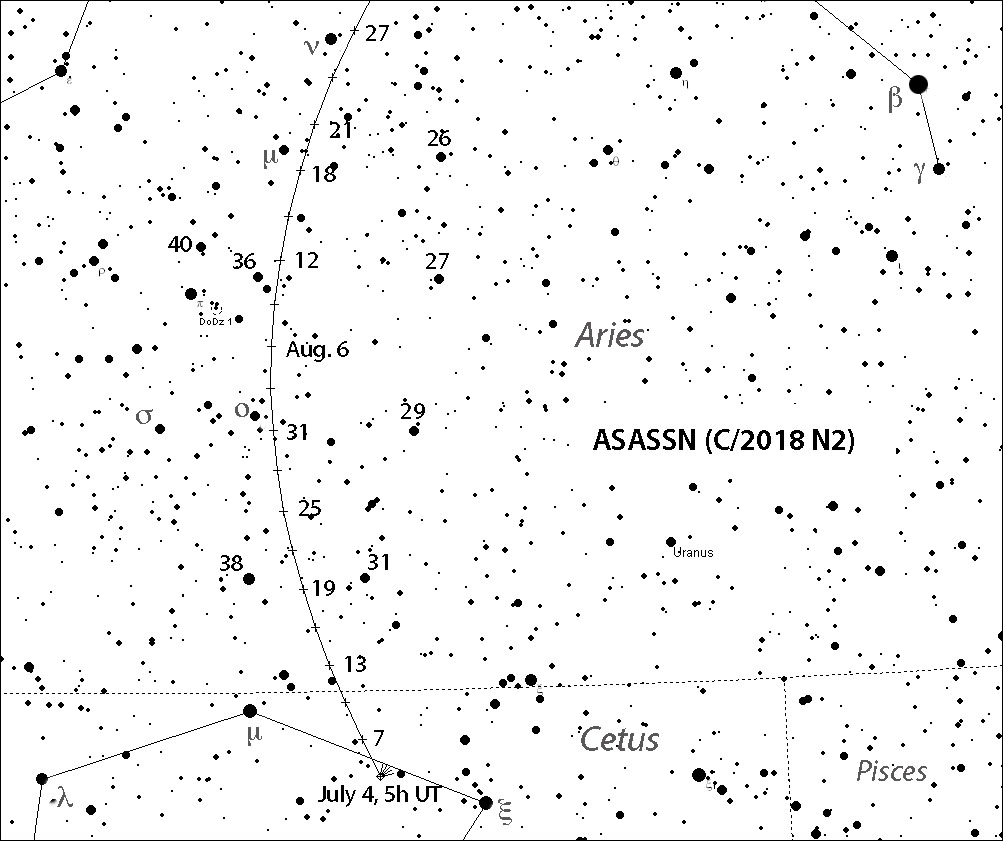 Another 13th-magnitude comet, ASASSN (C/2018 N2), currently burrowed in the head of Cetus, is headed north and gradually becoming better placed for viewing. Although too low from my location at the moment because of a tight solar elongation and early twilights, I encourage observers in the central U.S. and points south to go after this one later this summer as it slowly brightens to magnitude 11 by fall.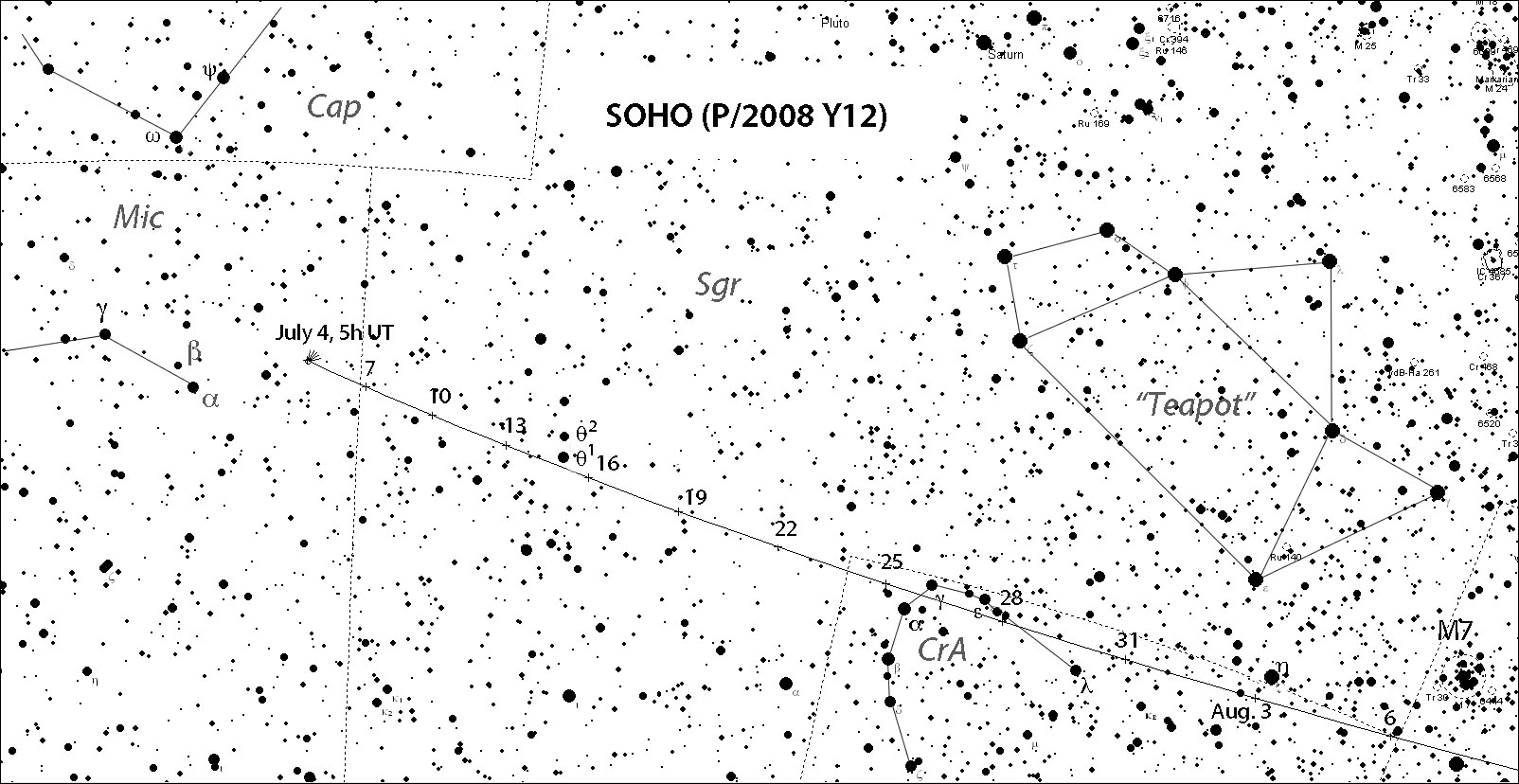 Then there's SOHO (P/2008 Y12), making its third return since discovery. Although low in the southern sky from mid-northern latitudes, the comet is brightening quickly. Predicted at magnitude 12.5 this week, it could reach 11.5 by mid-month and 10.5 by month's end as it speeds from Microscopium through Sagittarius into Corona Australis. So far, I've seen no posted observations of it though it should be visible from the central and southern U.S. in 10-inch and larger scopes under dark skies. Take a look and let us know if you see it.
Come summer and early fall, southern hemisphere observers may even be able to spot P/2008 Y12 in binoculars low in the west at twilight's end when it reaches magnitude 8 or better. Finally, we should keep watch on PanSTARRS (C/2017 T2). Now in Taurus at magnitude 14 with no recent observations to its credit, it will slowly wax in luminance and break the magnitude 12 barrier by early October while tracking across Auriga. In late November, when that constellation stands high in the eastern sky, the comet should be easily visible in 6-inch and larger telescopes at magnitude 10. Its heyday arrives in spring 2020 when it flirts with 8th magnitude, sailing across the northern sky while the first flowers bloom below.
OK, so none of these fuzzballs approach Hale-Bopp status, but any comet is fun to follow. You get to watch week-to-week (sometimes daily) changes in their appearance and visit places in the sky you might not otherwise explore. It's like hanging out with that friend who knows all the cool places to go in town.
For comet updates I recommend the following sites: