With Arcturus as our touchstone, we set off in a virtual time machine to visit the sky of the distant future.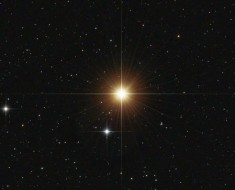 Bright orange Arcturus twinkles high in the southeastern sky at dusk this week. Its slow climb from the northeastern horizon every March heralds the arrival of spring. Earth's revolution around the Sun ensures that Arcturus follows a familiar path year after year.
But hidden within in its apparent motion across the sky is Arcturus's own intrinsic or proper motion of 2.3″ to the southwest (PA 209°) each year. This very tiny amount amounts to just 1⁄800 the diameter of the Full Moon. Even over an 80-year lifetime you'd never notice the star's movement with the naked eye. That's why we have telescopes.
Over time, those arcseconds add up. If you were to make a careful drawing or take a photograph of the star when you were 20 years old and then redraw its position say 40 years later, Arcturus would have moved 92″ or about 1⁄20 the Moon's diameter, a distance obvious even at low magnification. Advice to young readers: get crackin'!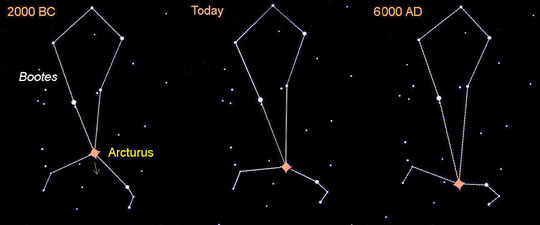 Arcturus stands out among its fellow stars because it's moving rapidly in relation to the Sun as well as perpendicular to the galactic plane in which the Sun revolves. I've included a map showing its gradual drift southward at the breathtaking velocity of 122 km/s (the Sun travels at 30 km/s).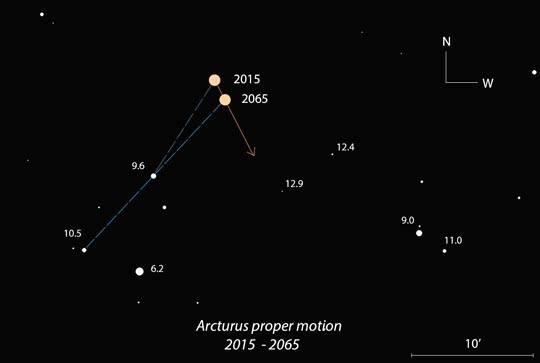 I like to imagine taking an after-dinner stroll with the Greek astronomer Hipparchus, who lived in the 2nd century BC. Among his many accomplishments were the compilation of the first detailed star catalog and the invention of the magnitude system to quantify star brightness. Keen observer that he was, I've no doubt he'd notice something amiss with the outline of Boötes with Arcturus having moved 1.2° southwest since his time.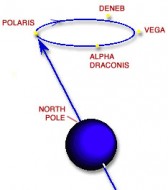 I've always loved time travel ever since seeing the movie The Time Machine as a kid. Astronomers using telescopes on the ground and in space (the Hipparcos satellite, of course!) have now measured the proper motions of many stars. Incorporated into commonly available software programs like Stellarium, The Sky, and others, they let us see the skies of the past, present, and future with a few clicks of the mouse.
Care to jump in my time machine for a look at what's ahead? I've chosen the year 27,800 AD because that's when precession of the Earth's axis will return Polaris to its seat near the North Celestial Pole. Precession, caused by torque produced by the Sun's and Moon's gravity on Earth's equatorial bulge, causes our spin axis to describe a circle in the sky with a period of about 26,000 years. In 3000 BC it pointed at Thuban in Draco; 12,000 years from now Vega will reign as polestar.
Constellations shift shape only slowly but given a precessional kick in the pants, we'd notice striking changes in 26,000 years. More distant stars like Spica will have budged just a little, while Arcturus and others practically leap across the sky.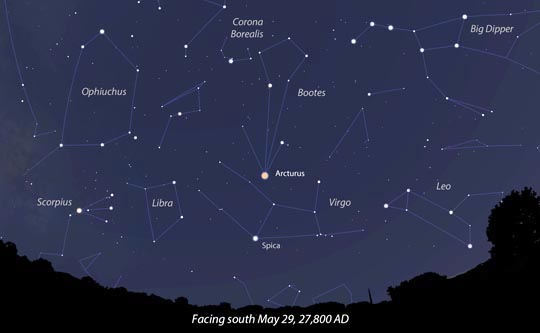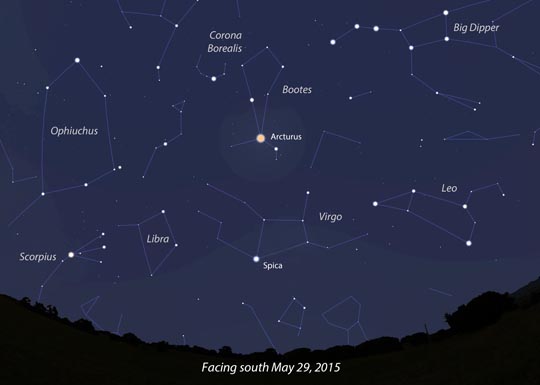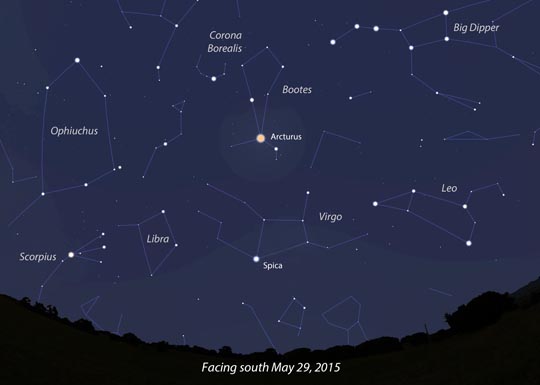 Overall, much of the sky would still look familiar, but with lots of Dali-esque twisting and stretching. Good examples of slightly mangled groups include Ursa Minor, Bootes, Virgo, and the Big Dipper asterism. Others like Cassiopeia might go unrecognized were it not for it location near figures less altered by time.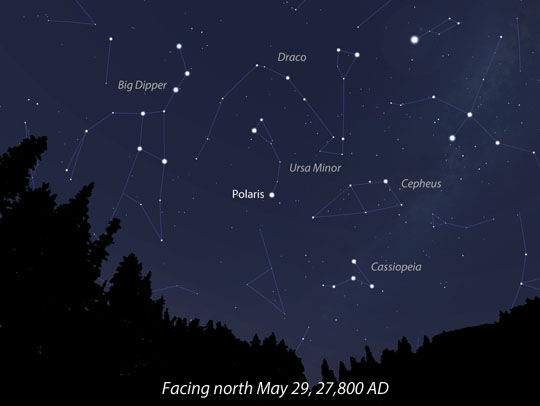 Star distances and hence magnitudes will likewise have changed. Arcturus is closest to Earth now but will be farther and fainter in the year 27,800.
I hope your enjoyed our brief foray into the future. Stop back next week, when I'll provide maps and details on finding and tracking two special stars that move so fast, you'll only need a year or two to catch them at their game.
---
Need to know what the sky looks like right now? The Sky & Telescope planisphere will show you what's up!