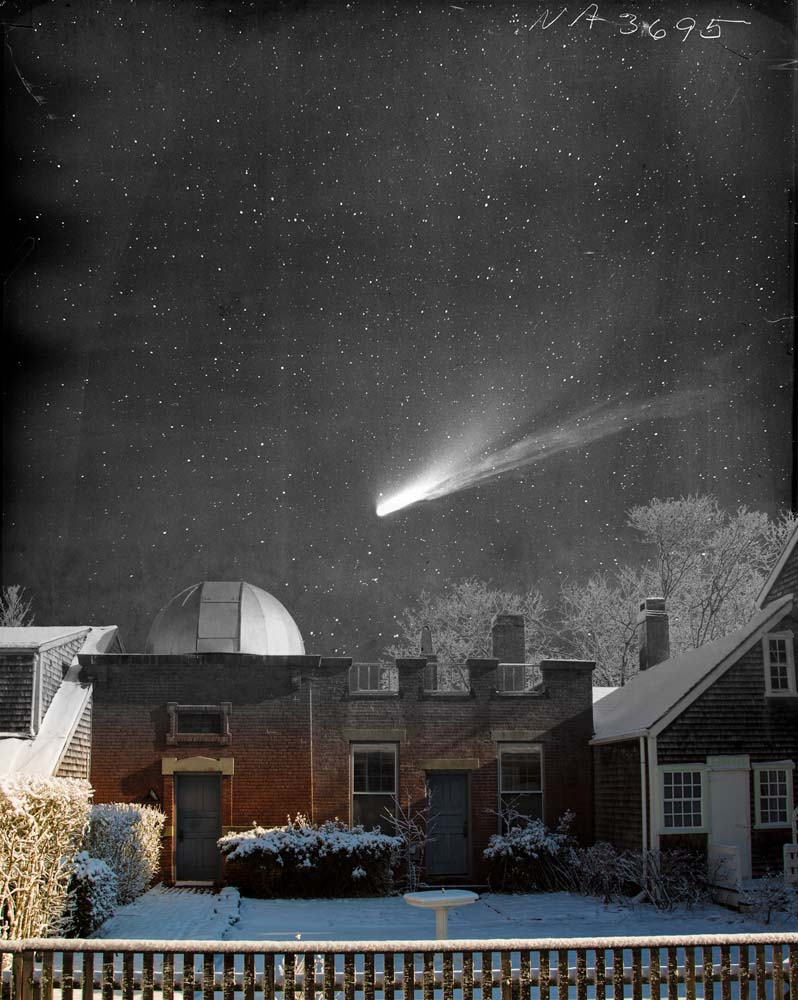 Photographer:
Michael West
Email:
Location of Photo:
Maria Mitchell Observatory, Nantucket
Date/Time of photo:
2013 and 1913
Equipment:
Canon 5D MkIII and 7.5-inch Alvin Clark refractor
Description:
November 2013 marks the 100th anniversary of the first photographic plate taken at the Maria Mitchell Observatory on the picturesque island of Nantucket. More than 8000 photographic plates were taken with the 7.5-inch Cooke/Clark refractor from 1913 to 1995. These large format glass plates measure 8 x 10 inches, covering a 13 x 16 degree area of sky. The richest sky coverage is in Sagittarius, Scutum and Cygnus, and the plates have been a valuable source of material for astronomical research, especially studies of variable stars. Image details: This is a composite image of a modern photo of the Vestal Street Observatory (built in 1908 to honor Maria Mitchell) blended with photographic plate number NA3695 taken at the observatory. This plate, taken in August 1957, captured Comet Mrkos. Please note: I can provide a much higher resolution version (6543 x 8136 pixels) suitable for printing in the magazine if desired. Image copyright and credit: Michael West and Maria Mitchell Observatory.
Website: