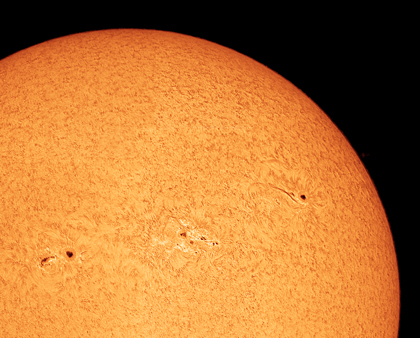 Photographer:
Craig & Tammy Temple
Email:
Location of Photo:
Hendersonville, TN, USA
Date/Time of photo:
August 2, 2011 at 8:56am CDST
Equipment:
Telescope: Lunt Solar Systems LS60THa/B1200CPT Accessories: TeleVue 2.5x Powermate Mount: Takahashi EM-200 Temma2 Camera: Imaging Source DMK31 Exposure: 1/154sec. - 1/120sec. Gain: 560 - 672 Length: 2:00 each Acquisition: IC Capture.AS (Uncompressed AVI) @ 30fps Processing: Registax 6: align, stack, wavelets Post-processing: Adobe Photoshop CS5 Capture time: August 2, 2011, 8:56am - 9:57am CDST Capture conditions: 81.1°F - 85.2°F; transparency: Avg. 3/5; seeing: Good 4/5
Description:
This image is composed of 7 separate images that were captured on August 2, 2011 then "stitched" together to create a single image. On this day the Sun was sporting three active regions with some nice sunspots. The one on the left in this image is AR1263. The center grouping is AR1261 and the right-most region is AR1260. The filament next to the sunspot in AR1260 actually developed during our imaging session.
Website: