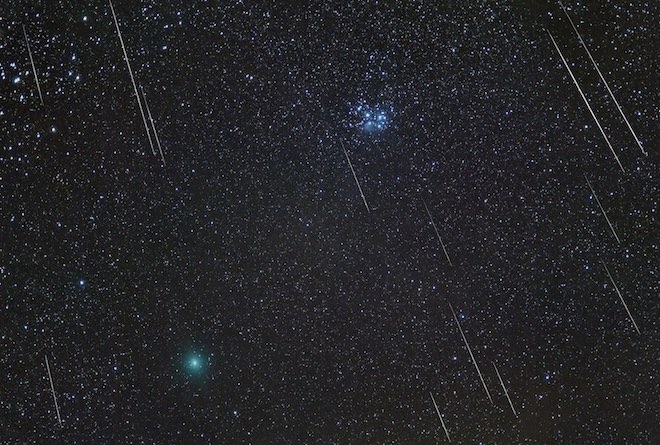 Photographer:
Antonio Martin-Carrillo
Email:
Location of Photo:
Teide observatory, Tenerife, Canary Islands, Spain
Date/Time of photo:
Friday 14 December 2018
Equipment:
Canon 80D ISO 6400, Sigma 17-50 f2.8 at 50mm
Description:
n December 14 the Geminid meteor shower peaked as it does every year. However, in this occasion there was something special happening in the sky. Comet 46P/Wirtanen was approaching Earth at a speed of about 10 km/s (6 miles per second) and getting ready to flyby the Pleiades cluster. Two days before the closest approach, this rare encounter was surrounded by meteors of about 3 cm falling into Earth's atmosphere and burning up. This shot was taking tracking this location with a star tracker and a 50mm lens on a DSLR over a period of 2 hours at the IAC Teide Observatory on the Canary Island of Tenerife. About 25 meteors were found crossing the region of comet 46P-Pleiades including 3 that didn't come from the Geminid radiant. This image shows the 13 brightest Geminid meteors almost parallel from each other. The background image with the comet and the Pleiades is a stack of 24x20 seg.
Website: