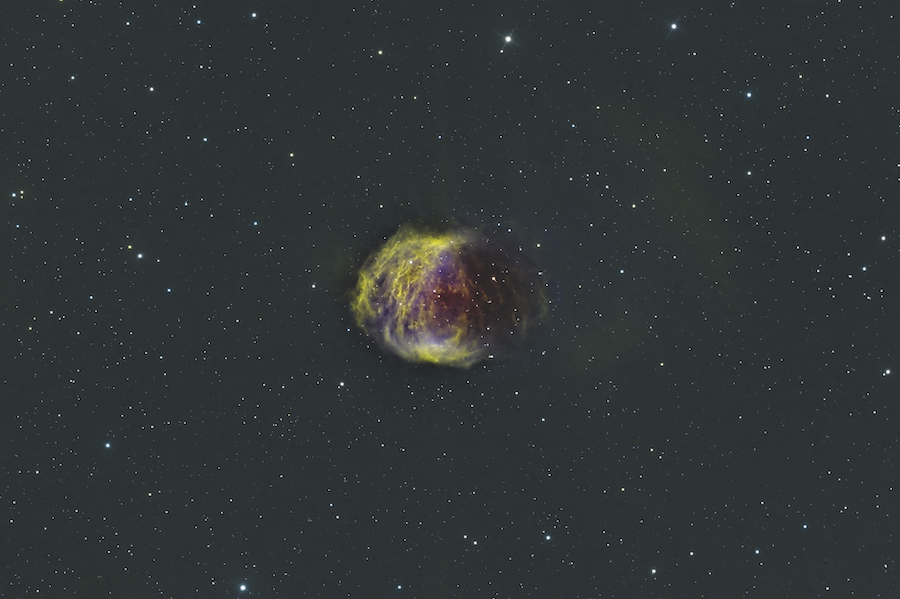 Photographer:
Jon Greif
Location of Photo:
Nerpio, Spain, remotely from La Jolla, CA, USA
Date/Time of photo:
March 18 and 20, 2023, from 9:30 pm to 11:30 pm local time
Equipment:
Planewave 12 inch CDK telescope, QHY 600M camera with Astrodon 5nm Ha and Sii filters. Paramount PME mount.
Description:
The Medusa nebula, catalogued as Abell 21, is an old planetary nebula some 1,500 light-years away in the constellation Gemini. It is estimated to be over 4 light-years across. The central star of Abell 21 is a PG 1159 star, often also called a pre-degenerate star, with a hydrogen-deficient atmosphere that is in transition from being a red giant to becoming a hot white dwarf. This image was taken remotely over two nights this week from our house in La Jolla, using the iTelescope.net facility in Nerpio, Spain (where the weather was much better than here!). Total exposure time was 5 hours through narrow band filters, Hydrogen-alpha (for red and green colors) and Sulphur-ii (for blue color).
Website: