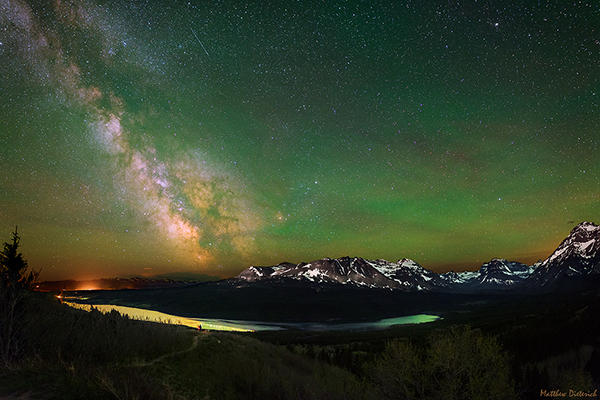 Photographer:
matt.dieterich@yahoo.com
Email:
Location of Photo:
Glacier National Park Montana
Date/Time of photo:
May 23rd/2am
Equipment:
Nikon D750 and 24mm lens
Description:
This image is a 4 panel mosaic of the Milky Way with green airglow in the night sky over Glacier National Park in Montana on May 22nd, 2015. A road overlooking this beautiful snow-capped mountain range and glacial lake made for a memorable scene to capture. My fellow astrophotographer friend David Lane can be seen down the small trail standing as mere tiny dot with his camera gear compared to the wide open landscape. Amazing how the lake water reflected the star light and airglow. For me, this is one of my favorite photos that I captured this past summer. Being out under the stars away from city lights opens up an entirely new world that I hope all humans can experience. If you ever are in Montana during summer, make sure to stop up at Glacier National Park and view the stars on a clear night. I used my Nikon D750 and 24mm lens set to ISO 5000 and F/1.4.
Website:
http://www.mdieterichphoto.com/p28115804/h509bbdb9#h6ddf1279